Save Money On No Gym Memberships To Buy
Just Think! 
✓ A 2 For 1 Fitness
✓ Do Resistance Training
✓ Fold It In Half
✓ Do Recumbent Exercise
✓ Ride Upright
✓ Excellent For All Fitness Levels
–
This Is The Most Dynamic and Adjustable Fitness Machine! 
✓ Set Intensity of Your Workout with 8 Levels of Magnetic Resistance
✓ Simultaneously Work On Cardio and Upper Body Strength
✓ Track Heart Rate For The Optimal Workout
✓ Stay In Your Target Zone With Hand Held Sensors
✓ Ride Comfortably With A Superior Soft Cushion
–
I think we can agree that most of us need more exercise every day. We all seem to have some excess pounds to shed off our bodies. The Slim Cycle Stationary Bike is a 2-in-1 fitness bike that provides for an intense cardio workout that will help to keep off those extra pounds. Instead of going to the gym or spending lots of money and time for fitness memberships, you can have a great workout right in your own home. All you need is just 10 minutes a day and the right diet.
Even if you don't have to shed any excess pounds, this bike will give you a great exercise to keep you slim and fit.
For instance, it has eight different resistance settings that provides a more challenging workout for both men and women. The resistance settings knob provides choices from 1 to 8. The higher the number the greater the magnetic resistance you feel during the workout.
The Digital Display Panel
The bike has a large easy to read digital display that keeps track of the calories you are burning, the distance traveled, the speed, how many miles you have ridden and an accurate heart rate reading during the workout. So, you can keep an accurate record on well you are doing after each workout.
For example, another nice feature of this bike is that it folds in half so it can be stored in a closet or even under the bed. It also has wheels to move it easily from closet to workout area and back. However, some assembly is required with this bike is delivered.
The digital display requires two AA batteries to work and they are included.
The results will vary depending upon the amount of time spent on the bike and your diet. Discuss your goals, lifestyle, and diet with your doctor or nutritionist to determine a realistic timeline that's best for you.
Assembly Is Required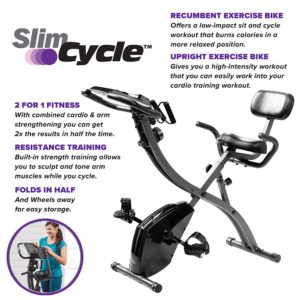 It comes with all the parts and tools needed for the assembly. Please allow about 45 minutes to 1 hour to assemble the entire bike. It is highly recommended that you arrange all of the parts first to assemble them per the instructions.
The video below describes how to assemble this bike from start to finish. You may want to view this video first before beginning your attempt to assemble the bike. The video shows which part to start with on down to the last one and what tools to use with each part.
Video – How To Assemble The Slim Cycle Bike
In this video, you will be shown how to assemble the 2-in-1 Slim Cycle Bike. Just follow all of the instructions as mentioned. Pause the video, as needed, to perform the specific tasks as outlined. Restart the video after completing a step before moving on to the next one. All parts shown in this video are included with the Slim Cycle Bike purchase and the tools needed to complete the assembly.
How Does The 2-in-1 Bike Work?
It works just like riding a bicycle but it's stationary. Besides providing a benefit of cycling by placing your feet on the pedals, at the same time the arm resistance bands allows you to sculpt and tone arm muscles all while you are cycling. It offers a low-impact sit and cycle workout that burns calories in a more comfortable position. The seat is adjustable to fit anyone from 4' 11" to 6' 4" in height. The digital display panel shows at a glance the number of calories burned, how fast you are going, how many miles traveled and your heart rate. After your workout, you can fold the bike in half and store it in the closet until the next scheduled workout.
Video – Slim Cycle Stationary Bike In Action
Take a look on how this 2-in-1 bike works.
Product Specifications
Awards: Amazon's #1 Best Seller
Manufacture: BulbHead
ASIN: B07J4VF676
Color: Black
Product Weight: 39 lbs.
Assembled Dimensions: 46" L x 20" W x 38" H
Number Strength Training Settings: 8
Magnetic Resistance: Yes
Digital Display: Yes
Folds Up for Storage: Yes
Can Be Used Outside: Yes
App Included: Echelon app is compatible with Android & Apple Devices
Weight Capacity: 300 lbs.
Seat Adjustment: 4' 11" to 6' 4"
Digital Display Tracks: Calories, Distance, Speed, Miles Traveled, Heart Rate Monitor
Batteries: 2 AA Batteries Included
Tools: Included
Parts: Included
In The Box: One Slim Cycle Stationary Bike, Batteries, Instructions, & Tools for Assembly
Product Pricing
The price of this exercise stationary bike is provided for consumers so they can compare them with other similar products.
Note: The price of this product is subject to change without notice and may not be the actual price you pay at the time of purchase.
Price: $199.98
Product Rating:

[usr 4.6]
This product is was rated by 1,131 customers.
You can read all of the reviews about this product by clicking on the following link:
Customer Reviews!
Questions People Are Asking About This Product
Below are just some of the questions that people are asking about this stationary exercise bike.
Question: Does this bike require any external electricity to operate?
Answer: No.
Question: What is the maximum weight this product can support?
Answer: Individuals that weigh up to 300 lbs.
Question: How long does it take to assemble and are the instructions clear?
Answer: It takes about 1 hour to assemble, less if you have help. Yes, the instructions are clear on the steps to assemble the bike.
Question: What tools are needed to assemble the bike?
Answer: All of the tools needed come with the product to assemble it in your home.
Question: Does the digital display show the number of calories being burned?
Answer: Yes, it does.
You can read all of the 120 answered questions by clicking on the following link: Answered Questions!
PROS
The unit can be folded in half for easy storage.
The seat can be adjusted to fit individuals who are between 59 and 76 inches tall.
Great for individuals that are under 300 lbs.
Digital display monitors speed, calories burned, miles traveled and heart rate.
Bike makes no noise when using it. You can watch TV or listen to music during the workout.
CONS
Price.
Some assembly is required.
Individuals below 4' 11" and taller than 6' 4" will have difficulty in using this exercise bike and should not purchase it.
The handlebars are not adjustable.
Conclusion
So, if you are tired of having to wake up early every morning to drive to the gym to get your exercise, we highly recommend you trying the Slim Cycle Stationary Bike. You get to workout in your own home at a time that is convenient to your schedule. No annual memberships to pay for and the unit will pay for itself within the first year. The bike has an adjustable seat to fit individuals between 4'11" and 6'4″ tall. So, why don't you give this bike a try, because you will be glad you did. Now, shed those excess pounds at your convenience.
Shop Exercise Bike
You can shop for this 2-in-1 exercise bike by clicking on the "Buy Now" button below. You will be taken to Amazon where you can purchase this product.
Note: You also have the option to purchase the product with expert assembly assistance for an additional charge.
Did not find what you were looking for? No problem. Enter a search term in the Amazon Box below to search on Amazon for other products.
Go back to the Pros Cons Shopping home page.