How To Find An Affiliate Program With An Automated Tool
Want To Know How To Find An Affiliate Program The Easy Way To Save Time? For Years We Did It Manually. Now We Use An Automated Tool. See How It Works.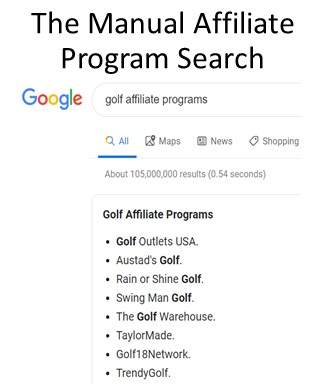 The time we spend searching to find an affiliate program for our niches has decreased dramatically since the automated Affiliate Program Tool became available. Gone are the days we have to do this manually. This Program Tool  gives us so much information at the click of a mouse. It does the following.
✓ Finds Affiliate Programs For Niches
✓ Gives Niche ideas For Popular Product Categories, Keywords and Trending Opportunities
✓ Lists High Commission Products
✓ Allows Affiliate Program Comparisons
✓ Provides Link To Affiliate Program Sign Up
✓ Manages Multiple Affiliate Program Signups With Tracking Ids
This truly is an amazing tool. It makes finding an affiliate program so much easier and faster. Learn more details below.
How To Find The Tool Which Automates Finding An Affiliate Program
Finding the tool involves two steps
1. Sign Up For A Free Account.
Here is the image link below to create a free account. Signing up for a free account is easy. Enter your name, email address and select a user name and password.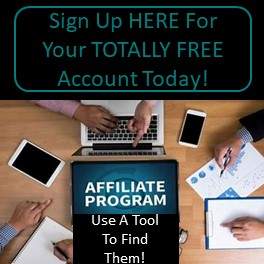 2. Log into your new account.

Look For The Affiliate Program Icon On the Left Sidebar. Selecting the Icon will display the tool options.

How To Find Affiliate Programs Using The Search Feature
The tool allows three types of searches: 1) By Affiliate Network Name, 2) By Niche Category and 3) By Niche Name. Here are the details for each search type.
Search By Affiliate Network Name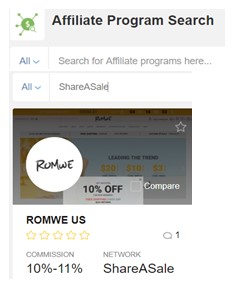 This option searches for global affiliate networks whose primary purpose is to provide and manage affiliate programs for companies who choose not to manage their own.
Here are the seven most popular affiliate networks.
ShareASale
ClickBank
Rakuten
Commission Junction (C.J.)
Awin
Avangate
Giddy Up
Etsy
Affiliate programs such as Amazon, and EBay are not included because they provide and manage their programs independently.
Search For An Affiliate Program By Niche Category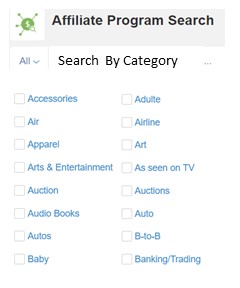 This option is extremely helpful because it provides all affiliate networks that manage programs for companies who sell products within a category and pay a commission.

Search For An Affiliate Program By Product Name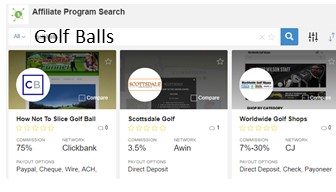 When a specific product is of interest, the product name can be entered in the search bar and all related programs will display. This provides an opportunity to choose the best, highest paying program.

How To Get Niche Ideas Using Preprogrammed Search Results
The tool provides the results from five preprogrammed searches. They are 1) Best Affiliate Program Payouts, 2) The Top Rated Products, 3) Most Popular Categories, 4) Most Popular Keyword Searches and 5) Trending Opportunities.
Here are the details about each of the preprogrammed search results.
The High Percentage Affiliate Program Payouts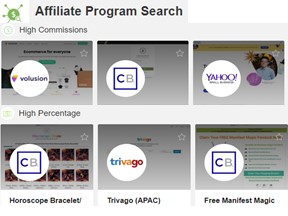 Rather than spend hours trying to find the highest paying programs, this tool will display those programs with the Highest Commissions and those with the Highest Percentage payout.
The Top Rated Products
The Top Rated products selected are highly rated for their popularity and consumer satisfaction.
The Most Popular Categories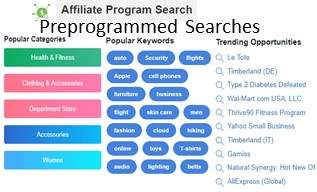 This preprogrammed search will automatically list the top five most popular categories.
The Most Popular Keyword Searches
This will list the top twenty most popular keyword searches
Trending Opportunities.
This will list the top ten trending opportunities which are updated every thirty minutes. This option is extremely helpful when looking for some new niche ideas.
How To Filter The Search Results
When we looked for affiliate programs manually we were challenged to identify programs that fit our criteria. This tool automates this challenge. The search results does not need to be overwhelming. Search results can be filtered by the following to save time.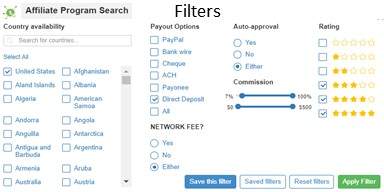 ✓ Country – This is a globally designed tool.
✓ Payment Options – Since this is a global tool, the currency payment type is included as well as how the affiliate wishes to receive the payment.
✓ Cost To Be An Affiliate – Most programs are free; however some are pay per click or lead.
✓ Method Of Approval To Become An
Affiliate Marketer
– Approval to the program is dictated by the company with the products. Some are automatic approval and others are manual approval.
✓ Desired Commission Range – Each affiliate marketer has a different goal and expectation; therefore programs with low commissions can be filtered out.
How To Learn More Details About The Company With The Affiliate Program
A "View Program Details" button is provided to view detailed information for each company found in the search results.
The view includes a Company Bio and program rules, keywords to identify the products available, as well as the commission, commission percentage, approval type, currency type, payout options, minimum payout, and country where the program is available. Each affiliate marketer has different needs; therefore it is necessary to use the suitability features to determine if the specific program is a fit.
Lastly, a link is provided to view the company's website. Viewing the company site give an affiliate marketer confidence before signing up.
How To Sign Up As An Affiliate Marketer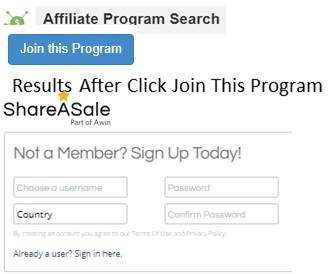 The tool makes sign up to the Network Affiliate Program for a specific company easy. A "Join This Program" button is provided to link directly to the Network which manages the company's affiliate program. The link takes the affiliate marketer directly to the "Create An Account" form.

How To Manage Multiple Network Affiliate Program Signups

Being an affiliate to only one network program makes login and tracking easy; however when an affiliate marketer joins multiple programs, remembering program names, login Ids and tracking ids can become overwhelming.
A "My Affiliate Links" button is provided for quick reference later.
Conclusion
If you have read this page in its entirety you will probably agree with us that this is an amazing tool. It saves so much time and makes searching so much easier. This is our go-to tool now to find niche affiliate programs.
Until we started using this affiliate program tool, we never realized how much was involved in trying to find an affiliate program manually. Searching for affiliate program manually took us many hours. Because it took so long we usually resorted to using the Amazon Affiliate Program. With The Automated Tool we have found so many affiliate program options.
Next Steps
Why not sign up and try this time saving tool? Discover for yourself how useful it is.
Here is the image link to create your FREE account.
Cheers and Happy Affiliate Program Finding!!