Vehicle Emergency Roadside Kit
LED Flares Make For Safe Emergency Lights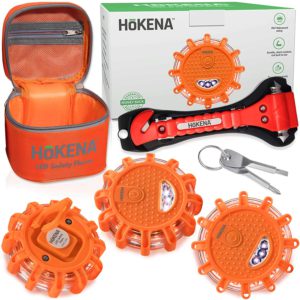 There are times as you travel either by yourself or with family members that the car just might breakdown somewhere at the most unusual time. If this should happen at night, you will need something to protect you from any oncoming vehicles. Usually, a flare is lighted to warn oncoming cars of something ahead and to slow down. Now, you can use the vehicle emergency roadside kit by Hokena that uses no flares to light and burn but flares that use LED lights to warn any oncoming vehicles up to 1 mile away. This is a lot safer because it does not use any matches (may not have any one you) to light the flare and prevent you from getting burned.
The flare emergency kit is also great if you should get a flat tire at night. The flare unit has a "flashlight mode" which will light up the area so you can change the tire with ease.
The flare emergency LED lights come in a kit of three flare units. They use 3 AAA batteries each to power them for a total of nine batteries. The factory pre-loads the batteries into all three flare units. So, when they arrive at your door, they are ready to use. The flares contain 15 LED's with 12 amber and 3 white. Besides the flares, the kit also contains a key chain screwdriver set (Phillips and regular), window breaker, seat belt cutter escape tool, and a carrying bag to store the flares and accessories.
The flare units are magnetic and can be placed on the car without scratching the paint. You have nine lighting options to select from and they are:
Rotate
Quick Flash
Single Blink
Alternating Blinks
Morse Code
Solid on High
Solid on Low
Side Light
Flashlight
A nice feature of the flare units is they have a built-in memory to remember the last lighting mode selected. Each of the lighting modes have a different battery life run time. You can check this out by clicking on the following link: lighting mode run times.
The flare units are crush proof and can hold up to 1000 pounds before breaking. They are also waterproof and will float in water.
If your household has more than one vehicle, you might consider ordering one for each car. Also, this kit is great for boat, bicycle, and motorcycle owners as well.
These flare kits also make for great gifts.
Video – Product Review and Use
The video below provides you with a brief review of the product and shows you most of the lighting modes in action. Take a look!
Product Description
You get 3 industrial grade LED road flares that are crush proof up to 1000 pounds, use three AAA batteries included and pre-installed, and can be used in any road side emergency. They are safe and easy to use without the risk of fire or burns. They are magnetic and can be placed on the car without scratching the paint. There are nine (9) different lighting lights; rotate, quick flash, single blink, alternating blinks, Morse code, solid on high, solid on low, side light and flashlight. The package includes the carrying storage bag to fit all the pieces, window breaker, key chain screwdriver tools, 3 LED flare lights, and seat belt cutter escape tool. They contain 15 super bright LED's (12 amber, 3 white) and can be seen up to 1 mile away. The flare units have a built-in memory to remember the last lighting mode used.
Product Specifications
Manufacture: HOKENA
Model: FL-1801
ASIN: B077W2S7L4
Size: 4 inches in diameter
Weight: 5.6 ounces
Color: Orange
Batteries: 3 AAA (Included & Pre-Installed)
Crush Proof: Yes, up to 1000 Lbs.
Lighting Modes: 9
Waterproof: Yes
Floats In Water: Yes
Battery Life: 10 to 30 hours (depends upon lighting mode used)
In The Box: 3 LED Road Flare Lights, 9 AAA Batteries (pre-installed), Key Chain For Battery Replacement, Window Breaker, Seat Belt Cutter, Carrying Bag, & Instructions
Warranty: Lifetime
Product Pricing
The price of this product is produced to consumers so they can compare them with other similar products.
Price: $31.99
Note: The price for this product is subject to change without notice and may not be the actual price at the time of purchase.
Product Rating & Customer Reviews
This product is rated 4.9 stars out of 5, which is outstanding by over 257 customers. You can read all of the reviews about this product by clicking on the following link: Customer Reviews!
Questions People Are Asking About This Product
Below are some of the questions people are asking about this product.
Question: What approximate distance can these be seen?
Answer: They are very bright at night. I'm pretty sure they could easily be seen at the very least 300 to 500 yards out at a minimum. Plenty of warning time in traffic.
Question: Do these have a strong enough magnet to be used on farm machinery when traveling down the road and highway?
Answer: Yes! We only use powerful rare earth magnets in our flares so they will aways stay put.
Question: Where is this product made?
Answer: In China.
Question: Do they flash orange?
Answer: Kind of reddish orange also a white light for a flash light.
Question: Can flares be purchased individually?
Answer: No.
Question: How long are the batteries meant to last when not used?
Answer: The AAA batteries can last several years in the flares, depending on the storage conditions. However, similar to a smoke detector, it's best practice to test or replace your batteries annually if you want to be extra cautious.
Don't forget that you can always store spare AAA batteries in the zippered pocket of the carrying case and use the included key chain screwdriver tools for anywhere, anytime battery changes.
Lighting Mode Run Times
The nine lighting mode running times will vary depending upon battery quality. Run times listed below are approximate.
Rotate: 20 hours
Quick Flash: 25 hours
Single Blink: 30 hours
Alternating Blink: 15 hours
Morse Code (SOS): 15 hours
Solid on High: 10 hours
Solid on Low: 35 hours
Side Light: 20 hours
Flashlight: 20 hours
Don't forget to periodically check the batteries and replace the used ones. Keep a set of three fresh AAA batteries in the storage bag for emergencies. You just might want to check up on them every six months to ensure they are working.
PROS
Nine different flare lighting options.
Waterproof, magnetic and crush proof.
The LED flare lights have high visibility which can be seen up to 1 mile away.
The nine AAA batteries come pre-installed and the flares are ready to use.
Window breaker and seat belt cutter for use in emergencies.
Carrying storage bag that houses all the flare lights and accessories.
CONS
Price.
Batteries have to be replaced periodically.
Shop LED Flares
 You can shop for the Hokena flares by clicking on the image below. You will be taken to Amazon to place the order.
As an Amazon associate I earn from qualified purchases.