Read This Before You Start A Free Website. Avoid Common Pitfalls. We Show You Step By Step How To Start A Free Website And Get Traffic. Learn From Our Successes.
We did a comparison of companies offering free websites. The results were shocking; therefore we are including our comparison results so you can see for yourself. Since we did not want the limitations placed by the majority of companies offering free websites, we kept searching for a better company. We found it. Continue reading to discover what the better company offers for those taking advantage of the start a free website offer.
Here are the topics discussed for How To Start A Free Website
Read This Before You Start A Free Website! Shocking Results Revealed!
Not all free website offers give the same options and the same results. The following questions help you understand the differences between offers and why it matters where you start your free website.
Do you want banner ads appearing on your website pages and blogs?
WIX, Weebly, Webs, Webnode, WordPress (the .com company not the content management software), Site123, and Jimdo offer free websites, but place ads in your content.
If you want companies to earn money from your free websites okay, but personally we do not want ads appearing on our free websites.
How long do your want the websites to be free?
Strikingly, Go Daddy and SquareSpace place a trial period on free websites. After the trial period your website is no longer free.
Do you want a size limit for the number of images and blogs your free website can contain?
SimpleSite limits their free websites to 300 images. They specialize in sites for portfolios. IM Creator allows only 50MB of space. This is space for around 100 blogs without images.
Other companies such as Webnode provide 100MB which calculates to around 200 pages without pictures. Five large sized images can require 1MB. Weebly, WIX, and Mozello allow 500MB which means your free website could have approximately 1000 blogs and no images or 800 blogs and 100 images. This is a fairly decent amount of space but don't forget Weebly and WIX place ads on your blogs and pages.
Strikingly gives 5GB of storage and bandwidth, but they also have a trial period of fourteen days which forces you to pay to continue.
WordPress, the company not the content management system software, offers 3GB which allows for expansion for several years; however you must pay for hosting a free website.
Is monetization a freedom you would like to have for your free website?
The following companies place limitations on product monetization.
Strikingly allows the promotion of products; however they must be selected from their free suite Simple Store. SimpleSite allows monetizing of five products. Mozello allows ten products to be placed in a free site. Jimdo and IM Creator also have limits on the number of products allowed.
Are you interested in maximizing search engine generated traffic?
All of the free website builder sites listed above give you a free folder domain name not a sub domain name. It has been proven that search engines do not index and rank folder domain named websites well. Folders are indexed as part of the company.com website so in actuality your website improves their search engine indexing and ranking instead of yours.
Shocking Results, Right? Is There A Better Company Offering Free Websites?
Personally we did not want the limitations of a free-website from any of the companies mentioned above. Fortunately, we found a better company that offers free websites without the above listed limitations. Here is what we get from this company.
✓ Two free websites
✓ No banners or advertising.
✓ No time limitations; instead free for life
✓ Extremely high size allowances of 30GB (this is even more space that many commercial sites) and 500,000 visitor bandwidth per month
✓ Complete freedom to monetize with affiliate links from the affiliate program of our choice such as Amazon. Signup for the Amazon affiliate program is free.
✓ High search engine indexing and ranking potential with sub domain names. With sub domain names our free site gets a boost from the company's domain authority. (When we created our free websites. Google indexed and ranked them within three hours.)
Start Free Website Offer Still Available From The Better Company
Here is the free signup for two free websites from the far superior company we use.
Signup for two free websites and free access to the details of the proven step by step process.

Now that you have signed up for the two free websites, let's begin the step by step process of how to start a free website.
How To Start A Free Website Bird's Eye View
From a Bird's Eye View, the process is simple. It is the details within it that make it powerful and successful.
Here is what we do. It works. Follow a proven step by step process that works and you too will experience success!
By the way, when you sign up for your free websites and free access to the program, you will have free access to the four step process for life. So there is no need to start taking notes, unless that is your way of learning.
The process is simple; but success comes by repeatedly following the details! Bookmark the website after you get access. The 70 lessons are yours for reference and help forever.
Now let's begin the four step process.
Step 1 How To Start A Free Website – Choose An Interest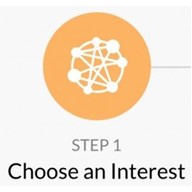 This is your website. Let it reflect your interest, hobby, passion or something new you want to learn about. Think about it! Do not rush! Decide what will keep you interested, motivated and help you accomplish your goals long term. Remember this is a free website for life.
Think about what you want to do with your-website. Do you want to blog, include images, and make money? Or do you want to start a website for a not for profit organization? These are all things you can do. You get to decide what motives you.
If you want to monetize your-site, why not browse Amazon to see what products are being sold that relate to your interest. Books can also be included. Do not sign up for a free affiliate marketing account yet however. Wait until after Step 3 in the process.
Now that you have selected your interest or niche, we are ready for step 2.
Step 2 How To Start A Free Website – Build The Website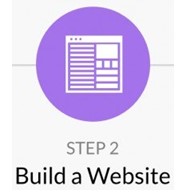 Relax! The software does the technical website building. You are not required to do any coding. Let the software do it. Blink your eyes! It takes only 30 seconds!
Choose A Domain Name
Before your free website can be created, it needs a name. The best names include at least one word mentioning your interest. For example, if fashion is your passion, how about something like: DressingForSuccess or TheCasualDressLifeStyle or MyWardrobeFashions.
Select a website name that is easy to remember and spell. Make the name catchy! After all you can tell your friends about it, encourage them to buy from your Amazon links and help you earn a commission.
Including your niche idea in the website name gives your website a slight search engine index and ranking advantage.
One word of caution. Do not include dashes in your website name. Run the words together without spaces like we did above.
Choose A Design
Choose a free design for your free-website. A design is known as a WordPress Theme. The theme has the technical code in it to work with the website builder. Together they do the technical stuff. You can use the theme as it is out of the box or make customization to your liking such a color and front page image.
In today's technological age, it is important to choose a WordPress theme that is responsive, sticks to the top of the page when scrolling and becomes a collapsible hamburger style menu icon which opens up as a view able menu by clicking the hamburger icon).
Menus
Multiple menus make visitor navigation easier. We like to use a theme that allows for an at-the-very-top menu which we use for About Us, Privacy Policy and Contact Us, a main menu for pages, posts and categories, and a footer menu for key pages we want our visitors to view.
Footers
Three or four column footers are an easy way to showcase what your website is about.
Our favorite theme, Hestia, provides all of the above features and more.
Plugins
Add WordPress Plugins for functionality that is not included in the theme. These are functions that are better performed outside of the theme however in conjunction with it.
Our most commonly used plugins include All in One SEO Pack, Backup WordPress, EWWW Image Optimizer, and WordPress Ping Optimizer.
Initial Pages
Create the initial pages required to start a website. These include the About page, the Contact page, and the Privacy Policy.
Now that the site has some design and the initial pages, it is time to think about how to get traffic.
Step 3 How To Start A Free Website – Attract Visitors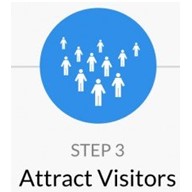 Now is the time to begin writing content for your website. Use the page template to write information that is constant and is more than an opinion. Use the post template to write information such as your thoughts, opinions, and ideas. The more insightful and content rich your pages and posts are, the more visitors will want to visit your site and return over and over again. Visitors are looking for help to solve problems, meet needs, answer questions, and find reviews for products of interest and on and on.
Once visitors come to your site, make sure they have an enjoyable time navigating. The site navigation menu needs to be created and organized so content is easy to find. The free-70-lesson training provides more detailed instructions.
Give the visitors who really like your content a way to thank you and share it with others. Allowing comments and adding social media avenues is a great way for you to let them promote your good work. How to work with and set up social media is covered in Phase 3 Lesson 30.
Learn how to set up the free Google tools: Google Analytics and Google Search Console. The training emphasizes what a great resource they are. These tools track how often the topic (keyword) of your page or post is displayed in the search engines, how much traffic you have visiting specific pages and posts, how many seconds or minutes they stay the page and where they go after they leave the initial search page that captured their attention.
Step 4 How To Start A Free Website – Earn Revenue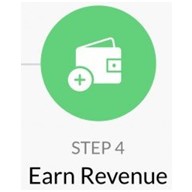 If your goal is to write helpful content and earn revenue from it, when you get over 15 visitors to your site in a week, it is good to begin adding affiliate links for products. Many affiliate marketing programs exist such as eBay, Amazon, Etsy, Shopify, Rakuten, ShareASale and many more, The free training presents various ways to monetize a website. Take advantage of these proven training lesson.
As traffic increases, you will become even more motivated to add helpful content to increase readership and add new visitors.
How To Use Your Free Website To Achieve Your Goals
A smart website owner monitors the traffic activity of the site and continues adding rich content. Content is King. Learn the art of keeping your visitors interested and willing to take action on the content presented.
Learn how to view your-website from the eyes of a visitor. Ask yourself the following questions and make changes accordingly.
✓ How pleasing it is to the eyes?
✓ Is the content style easy to read?
✓ Does the navigation menu make it easy to find content?
✓ Are the social icons easy to find and click?
✓ Is Comments activated so visitors can comment and ask questions?
✓ Is the content accurate and up-to-date?
Remember, your web-site is a reflection of who you are.
How To Sign Up for Your Free Websites?
Now that you understand a lot more about how to start a free website, what do you think? Are you ready to sign up if you have not already done so?
What Next?
Enjoy this opportunity. Let us know if you need help or have additional questions.