Are You Looking For More Traffic To Your Blog? We are! We Give You Two Lists To Help You. Find Out How To Increase Traffic To My Blog. These Lists Work!!
We looked and there are over 200 blogs on how to increase traffic. How are we going to write something new and interesting? We probably can't! So what should we do? We are thinking that maybe providing lists that could be printed and attached to the work area would be the best thing.
How To Increase Traffic To My Blog With Two Lists
So here is what we are going to do: Prepare two check lists which you can print, hang in your work area and use every time you write a new blog. Sound OK? Oh, why are we doing two lists? There are two audiences reading the content: Humans and Search Engines.
Here are two lists. Enjoy! We hope they will be helpful. Let us know what you think below.

The Human List
✓ Create Unique, Fresh, And information Filled Content. Solve A Problem Or Answer A Burning Question. Use Who, What, When, Where And Why.
✓ Use Professional Looking Images Which Are Large Enough To See and Which Support the Content by Illustration and Example.
✓ Make The Content Easy To Read With Short Sentences, Short Paragraphs With Content Revealing Titles And One Thought Per Paragraph, And Easy To Understand Vocabulary.
✓ Keep Plenty Of White Space So Long Blogs Don't Seem So Long.
✓ Use The Active Voice Which Helps The Reader Feel Everything Here And Now.
✓ Write The Way You Speak So There Is Thought Progression And Continuity.
✓ Make Blog Navigation Easy. For Long Blogs Include A Clickable Table Of Contents.
✓ Be Sure Your Content Is Accurate. Readers Will Return To Blogs You Write If They Are Credible.
✓ Use A Blog Title That Reveals The Content Of The Entire Blog. Include The Key Word Or Phase In The Title.
✓ Add Sub Headings To Further Reveal Paragraph Content.
✓ Make Sure Each Sentence Includes Only One Idea. Avoid Rambling Sentences.
✓ Use Your Blog Key Phase In More Than One Sub Heading. But Do Not Over Use It So The Blog Looks Like Spam Or Key Word Stuffing.
✓ Structure The Blog So The Content Flows. Use Transition Words And Statement To Tie Paragraphs Together. The Content Flow Should Feel Like A Road Map.
 
Once the preceding lists have been applied to your blog, it is time to evaluate how you are doing. Save time by using a free plugin. We recommend the WordPress plugin Yoast.
We use Yoast. Yoast is a marvelous tool that very accurately checks the content both for Human and Search Engine readability. We just discovered this Plugin recently. Now we cannot write without it. Try it and see if you like it.
Will Following The Two Lists Increase Traffic To My Blog?
The easiest way to check the possibility of an increase of traffic to my blog is by letting a tool determine the potential. The free WordPress Plugin Yoast is our favorite. Yoast scans the blog content quickly and accurately. It lets us know what needs to be fixed. We cannot write without it anymore. It saves so much time and improves our rankings. Try it and let us know what you think.
What Do The Results From The Human List Say?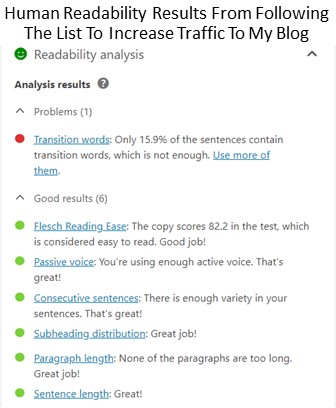 Here are the results Yoast provides regarding the readability of our Human List.
✓ The Flesh Reading Ease is 82.9 percent which rates Good.
✓ Usage of Transition Words is Low. Only 12.7 percent of the sentences use transition words. To get a higher score we need to use more words such as "therefore, in other words, however, in addition, after that" and others. However. We realize using transition words will be limited because our blog contains lists.
✓ Sentences using the active voice is rated Great.
✓ The writing style is Great because it uses a good variety of introduction words.
✓ Subheading are Sufficient. The evaluation indicates whenever a section contains 300 words or more it should have a subheading.
✓ The paragraph lengths are Excellent. None of them are over 300 words.
✓ Sentence length is Great. The percentage of sentences longer than 25 words is less than 25 percent.
 
Our response to the results from Yoast is delight. We did a Great Job which means our readers will enjoy reading the content. Good human readability means the chances of reading to the end of the blog are great. We know from experience that the longer a reader stays on our blog, the more favorable our blog will rank over time.
What Do The Results From The Search Engine List Say?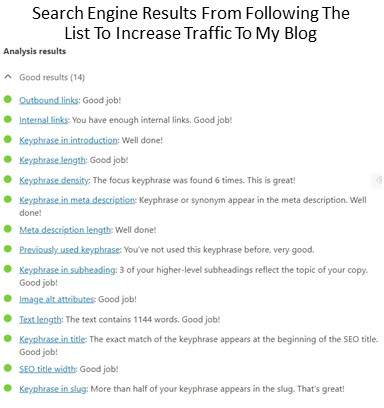 Based on the results from Yoast, we did very well. Here are the detailed results.
✓ An outbound link exists. This was rated Good Job because outbound links are important.
✓ Sufficient internal links were found within the post to give it a comment of Good Job.
✓ The key phase, How To Increase Traffic To My Blog, gets a Well Done because it is found in the introduction.
✓ Key phase length is Good. It has only 4 functions words.
✓ The key phase density is Great since it shows up 6 times.
✓ The meta description contains the key phase and is the right length. Ours was less than 160 characters so we were rated Well Done.
✓ We have not previously used the key phase which is Very Good.
✓ The key phase is found in three of the higher level heading which reflects the topic of our blog which is Good.
✓ Images have alternate descriptions which is Good because if the image can't be viewed, the description can be read.
✓ Over 1,100 words comprise the blog. Anything shorter does not rank as well.
✓ The key phrase in the title appears at the beginning of the blog introduction. This is Good.
✓ More than half of the key phrase appears in the blog's URL This is really Great.
We are excited to see how the Search Engine List results appeared in Yoast. The results are defined as Great.
Conclusion: Following The Lists Will Increase Traffic To My Blog
Based on the result from Yoast for both the Human Readability List and the Search Engine List, our blog is well-written. This means that even if many other blogs discuss how to get more traffic, our blog has a great chance of ranking well over time and beating some of our competition.
What Next?
We highly recommend you utilize our two lists to increase your chances of traffic to your blogs. Ask Yoast to evaluate your writing. Learn from the results. Fix the problems. Then watch your traffic increase.
If you find this blog helpful, let us know. How does it help you?
Access to more free training is available.
Enter your email address and name so the system can identify you from over one-million members.