Great Tasting Popcorn Anytime!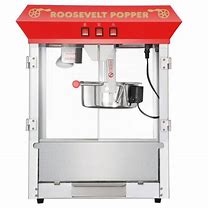 Quick Info On Great Northern Popcorn Recipes!
Regular Popcorn Recipe: All that's needed is oil and kernels.
Theater Popcorn Recipe: Coconut oil, kernels and Flavacol.
Caramel Popcorn Recipe: Caramel recipe, popcorn, and oil.
Cheese Popcorn Recipe: Coconut oil, kernels, and cheese powder.
Chocolate Popcorn Recipe: 6 cups popped kernels, 1/4 cup oil and cocoa powder.
Note: The recipes for each of these flavors are mentioned below.
Whether you have a large or small family, having popcorn on movie night or at anytime can be a wholesome treat for everyone. You might even own a Great Northern Popcorn machine to enjoy great tasting popcorn. This article on Great Norther Popcorn Recipe will provide some recipes and the proper ratio of oil to kernels you can use even if you don't own a Great Northern popcorn popper.
Popcorn is a great snack and is healthy for you as well. Making your own popcorn just like you get in the movie theater is best as it gets.
Recipes For Great Northern Popcorn Machine
Below are the instructions for the proper amount of oil and popcorn kernels to use when popping with your Great Northern popcorn machine. You will note, that the recipe is determined by the size of the popcorn unit.
Regular Popcorn Recipe
The only ingredients needed for basic popcorn are oil and popcorn kernels. The amount needed is dependent upon the machine size. Below are the portions needed based on machine size: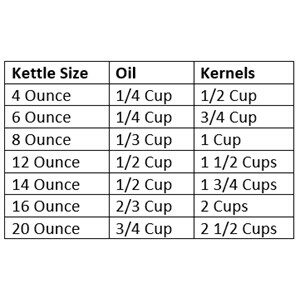 Note: You may add salt as follows 1/2 tablespoon per each 1/4 cup of popcorn kernels. Or, cook without salt and have each individual add salt to their preference.
Theater Popcorn Recipe
The secret to making theater popcorn at home with your popcorn machine is owing coconut oil and flavacol flavoring. To make theater popcorn you will need: oil, kernels, and Flavacol. Use the oil and kernel portions as mentioned in the regular recipe above for the type of machine you own. Place the oil in the machine and then add the flavacol flavoring portions based on the machine size. Below are the Flavacol portions needed to be added to the oil before adding the kernels as follows: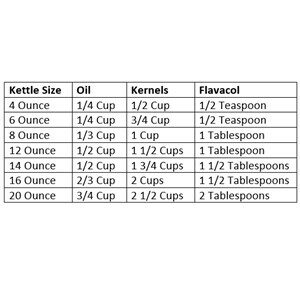 Now, add the kernels into the kettle.
Note: After the popcorn has finished popping salt will not have to be added to the popcorn. However, individuals can add additional salt according to their preferences.
Caramel Popcorn Recipe
Caramel popcorn is everyone's favorite type of popcorn. You can make it yourself using your popcorn machine. Before starting, you will need to use mushroom popcorn kernels. For the caramel you will need:
2/3 cup butter
2 cups brown sugar
1/2 cup corn syrup
1 teaspoon salt
1/2 teaspoon baking soda
1 tsp vanilla extract
Instructions:
Make popcorn in your machine using 1/2 cup mushroom kernels 1/4 cup oil
Dump popcorn into a large bowl and set aside
Preheat oven to 250 degrees
To glaze the popcorn with caramel
In a medium saucepan over medium heat, melt the butter. Stir in brown sugar, corn syrup and salt. Bring to a boil, stirring constantly. Boil without stirring for 4 minutes. Remove from heat and stir in baking soda and vanilla.
Pour caramel over popcorn in a thin stream and use wooden spoons to stir coating on popcorn ensuring all kernels get coated.

Place the coated popcorn in one large (12 x 18 inch) baking pan lined with parchment paper. If you don't have one, use two smaller pans.

Place in oven and bake stirring every 15 minutes for 1 hour.

Remove from the oven and let cool for a few minutes until still very warm but manageable to handle. At this point start quickly separating the popcorn into individual pieces and spreading them out. It helps to do it on a large table so you have enough space. Don't let the popcorn cool completely before doing this otherwise the pieces will stick together and will break when you try to separate them.

Serve. Otherwise, store popcorn in an airtight container if you are not going to eat the popcorn right away. The popcorn can be stored for a couple of weeks.
Cheese Popcorn Recipe
To make cheese popcorn you will need popcorn kernels, oil, and cheese powder. Follow the instructions below to make cheese popcorn. You can use white cheese powder if you prefer that over cheddar powder.
Ingredients:
1 batch of popcorn (1/4 cup oil, 1/2 cup kernels)
1/4 cup butter melted
1/4 cup cheese powder
Note: You can increase cheese popcorn by doubling the recipe. (2 batches of popcorn)
Instructions Single Batch:
Make 1 batch of popcorn (1/4 cup oil, 1/2 cup kernels makes between 6-7 cups)
Melt butter using a medium saucepan.
Pour popped popcorn into a large bowl.
Drizzle popcorn with melted butter.
Sprinkle popcorn with cheese powder.
Using wooden spoons, toss popcorn so all pieces get coated with cheese.
Serve.
You can store left over cheese popcorn in an airtight bag or container to eat later. The popcorn will last between 1 to 2 weeks.
Chocolate Popcorn Recipe
This recipe calls for 6 cups of popped popcorn. 1/4 cup of dry kernels equals 6 to 7 cups of popped popcorn. Make a batch of popcorn using 1/4 cup of kernels and 1/2 cup of oil in your machine without salt.
Ingredients:
5 tablespoons of unsalted butter
1/4 cup of brown sugar
2 tablespoons of unsweetened cocoa powder
1/4 teaspoon of baking soda
Kosher or sea salt to taste
Instructions:
Gather the ingredients and preheat oven at 250 degrees.
Melt the butter in a small saucepan over medium-low heat.
Whisk in the brown sugar and cocoa powder.
When the mixture boils and sugar dissolves, remove from heat. Stir in the baking soda.
Spread the popcorn out on a rimmed baking sheet or jellyroll pan in an even layer. Pour the chocolate butter mixture over the popcorn. Season with salt.
Using plastic or wooden spoons or utensils toss popcorn to coat the popcorn with the chocolate mixture. Taste to determine if more salt is needed.
Bake in preheated oven for 30 to 40 minutes stirring every 15 minutes until popcorn is dry and crispy.
Remove from heat and let cool on the baking sheet.
Serve.
Store any leftover popcorn in an airtight bag or container. Popcorn will last for a couple of days.
Make Theater Popcorn Using Home Popper
So, you want to make theater tasting popcorn at home and you don't have a popcorn machine. No problem. You can make theater popcorn using your home popper or pot on the stove. All you need is to use a popper that requires oil to pop the kernels. To make theater popcorn at home without a Great Northern Popcorn Machine requires two ingredients:
Coconut Oil
Flavacol Flavoring
Popper Directions:
Place the coconut oil into the popper.
Add Flavacol flavoring according to instructions on container after oil is melted.
Add the kernels.
Allow the popcorn to pop according to manufacturer's instructions for the popper you own.
After popping is done, turn off popper and serve.
On Stove Directions:
Use a 6-quart saucepan and lid.
Place saucepan on stove using medium heat.
Add coconut oil.
Add Flavacol flavoring after oil is melted according to instructions on container.
Add kernels and place lid on saucepan.
Allow the kernels to pop.
After popping is done, turn off heat and remove saucepan from stove.
Serve by dumping popcorn into large bowl or individual serving bowls.
Unfortunately, you cannot use an air popper to make theater popcorn. The reason is you cannot add any oil into the popper as the kernels are popping. This defeats the purpose of this brand of popper to pop kernels without using any oil.
Factors To Consider When Popping Popcorn
Owning a nice popcorn popper is great, but you need to consider some factors when using the popper for family time or anytime you want a good snack.
Oil
Popcorn Kernels
Salt
Butter
Oil
In this machine you can use any type of oil to pop your favorite popcorn. Some of these options are:
Extra Virgin Olive Oil
Walnut Oil
Avocado Oil
Canola Oil
Peanut Oil
Coconut Oil (Theaters Use This Oil)
Most owners tend to use coconut oil as it closely resembles theater popcorn as its popping. Use the oil that is best for you and your family. All of the oils listed are healthy and can be used in making popcorn. Coconut oil is best as it contributes flavor and prevents kernels from burning as they pop. You can taste the difference between popcorn being popped with coconut oil and any of the others. Each oil has its own unique flavor to the popcorn.
Kernels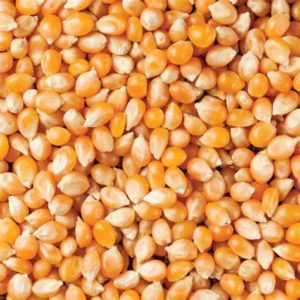 The kernels come in many types of varieties. The two basic types of kernels are yellow or white. Just about every movie theater today uses yellow corn kernels. The biggest difference between yellow and white kernels is yellow kernels pop bigger as white pop smaller. White kernels tend to be more tender after popping when compared with the yellow popped kernels.
Yellow kernels are healthier as it contains beta carotene which converts to vitamin A during digestion.
However, yellow kernels have a better taste. Also, 99% of the popcorn grown today is of the yellow variety. Whichever type you use, they will pop great in a kettle popping machine.
Salt
Generally speaking, salt can or not be used to flavor your popcorn. With a kettle machine, you would add the salt after all the kernels are done popping. Another option is to not use salt but your favorite seasoning. Or just eat it as it comes out of the kettle without any salt or seasoning. Let your guests or family members decide. Either way, the popcorn will taste great.
Butter
Butter is an option to provide your guests or family members. You will need to melt butter while the popcorn is popping so it will be ready when the popping stage is finished. Kettle poppers do not have a butter slot to allow the butter to melt as the popcorn pops. Again, not all people may want to add any butter to their popcorn. Allow your guests and family members to decide.
Oil To Popcorn Kernels Ratio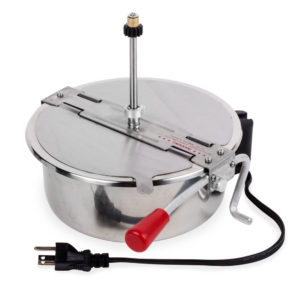 The type of oil to kernel ratio will depend upon the type of kettle machine you have. Below are some of the suggested oil to kernels proportions to be used when making batches of popcorn using a kettle type popcorn machine.
Kettle Size 4 oz.: Use 1/4 cup oil with 1/2 cup of kernels
Kettle Size 6 oz.: Use 1/4 cup oil with 3/4 cup of kernels
Kettle Size 8 oz.: Use 1/3 cup oil with 1 cup of kernels
Kettle Size 12 oz.: Use 1/2 cup oil with 1 1/2 cups of kernels
Note: The user manual may recommend the proportions to use. If the manual does not state specifically, use the above proportions as a guide.
Popcorn Recipe Info
The popcorn recipes basically are determined by the type of oil you want to use in the kettle. Each of the oils mentioned above will emit a different flavor to the popcorn. You will have to experiment on which oil is the best one for you. Your taste buds will have the final say.
Also, to enhance the flavor of popped popcorn, you can add salt, butter and other seasonings that can enhance the popcorn flavor.
When choosing your oil select the type that you like best and follow the ratio mentioned above for the amount of oil needed for a batch of popcorn based on the kettle size.
Please note that whenever you use a kettle machine to pop popcorn, never use honey or sugar in the popper as this will ruin the kettle.
Note: Stale popcorn can also alter the popcorn taste. To avoid this, after using the kernels for a batch, store the kernels in an airtight glass or plastic container. This step extends the life of the unpropped kernels. It's recommended to use them within about two years of the production date, or about 6 to 12 months past the date on the label.
Benefits of Popcorn
In case you may not be aware, popcorn does have some benefits. It is high in several important nutrients, such as vitamins, minerals and polyphenol antioxidants. Not only that, but it is also incredibly tasty and one of the world's best sources of fiber. If you don't use any butter, it's low in calories as well.
Adding Other Things To Popcorn
Since you cannot add any sweeteners of any kind in the kettle while the popcorn is popping, you can, after the popcorn is fully popped, add cheese or other flavors to the popcorn. You can even add caramel to the popcorn and mix the cheese and caramel together for great tasting popcorn treat. You can even add chocolate to make a greater tasting treat anytime.
Questions About Popcorn 
What is the proper ration of oil to popcorn kernels? Answer: The proper ratio for an 8-ounce kettle is 1/3 cup of oil to 1 cup of kernels. And for a 4 oz. kettle it's 1/4 cup of oil to 1/2 cup of kernels.
How do you make Great Northern Popcorn? Answer: Using a Great Northern Popcorn Machine. However, you can make great tasting popcorn using any brand of popcorn machine.
Can I use canola oil in my popcorn machine? Answer: Yes. Beware that the taste of the cooked popcorn will have a different taste than using coconut oil.
What ingredients do I need for a popcorn machine? Answer: You only need the oil of preference and kernels. Most people choose yellow kernels when making popcorn in their popcorn machines and coconut oil.
Why does movie theater popcorn taste better? Answer: They use coconut oil, yellow kernels and Flavacol seasoning when popping their popcorn.
Conclusion
There is probably no one that doesn't like to eat popcorn unless you are allergic to corn itself. Popcorn is a good healthy snack. Popcorn recipes are basically decided by the individual making the batch of popcorn for the family or guests by the type of oil and seasonings used.
Shop Popcorn Accessories
Below you can shop for Flavacol, cocoa powder, and cheese powder to make your favorite popcorn recipe as mentioned in this article. You will be taken to Amazon to place the order for the products of interest.
As an Amazon associate I earn from qualifying purchases.
Did not find what you were looking for? No problem. Enter a search term in the Amazon Box below to search on Amazon for other products.
Go to the Pros Cons Shopping home page.