Now Serve

 

Movie Theater Popcorn At Home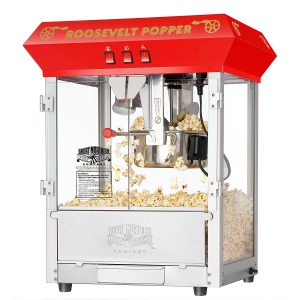 If you are like most people, you like to eat popcorn. It's great tasting and healthy snack and is easy to make. Now, if you can make great theater tasting popcorn that just might be just the thing you are looking for. The Great Northern popcorn 6010 Roosevelt Popper Machine is the product that fits the bill perfectly. It pops great tasting fresh popcorn just like at the movie house.
Most of us remember the theater popcorn when you were growing up was the best tasting popcorn you ate and wanted more.  The primary oil used was coconut oil. Using coconut oil just made the popcorn taste better than using other oils. Now, you can make theater tasting popcorn in your own home with this popcorn machine.
With the antique style design, you will be reminiscing about your early days at the ball game, carnival, or the movie theater.
This popper has a built-in warmer light to keep the popped corn warm. It also comes with reject kernel tray, oil scoop, popcorn scoop, 50 serving bags and plastic serving cups. This is a commercial quality popcorn popper.
Note: Some assembly is required before using.
After using it a while you will see a buildup of carbon on the inside of the kettle. When you see this, it's recommended that you clean the inside of the kettle. The special kettle cleaning compound does this job very well.
Read about popcorn makers for the full story.
Great Northern 8 Oz. Popcorn Machine Video
The video below is short and provides information about this model of popcorn maker. Take a look!
BRAND:
Great Northern Popcorn Company
NAME:
Great Northern Popcorn 6010 Roosevelt Popper Machine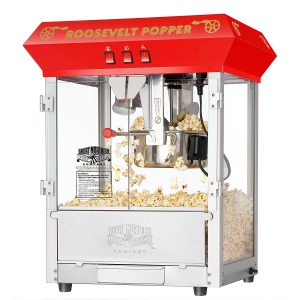 DESCRIPTION: The Great Northern Popcorn Machine Makes Great Tasting Theater Type Popcorn, and has the following features: 860 Watts, Voltage 110V, Weighs 36 lbs., Built-In Warmer Light, Kettle Size 8 Ounces, Kernel and Oil Scoops Included, Makes 3 Gallons of Popcorn Per Batch, 5-Year Warranty, Model Number 6010 Roosevelt Top.
CATEGORY: "Kitchen & Dining", "Small Appliances", "Specialty Appliances", "Popcorn Poppers"
PRODUCT #: B000QWE6S4
REVIEW RATING: 4.2 stars, based on 854 reviews
Product Features
Below are the product features that you can use for comparing with other products.
Manufacture: Great Northern Popcorn Company
Model: 6010 Roosevelt Top
ASIN: B000QWE6S4
Dimensions: 5 x 20.5 x 25.8 inches
Weight: 36 lbs.
Wattage: 860 watts
Voltage: 110V
Color: Red & Silver
Material Type: Steel
Built-In Warmer Light: Yes
Switches: 3, includes spot light warmer, stirrer, and pot heater
Kettle Size: 8 ounces
Kernel Scoop Included: Yes
Oil Scoop Included: Yes
Makes: Roughly 3 gallons of popcorn per batch
Reject Kernel Tray: Yes
Warranty: 5-Years of the date of purchase
In The Box: Popcorn machine, 50 popcorn bags, 3 plastic serving cups, 1 Kernel and 1 oil scoop.
Note: A cart can be purchased separately it weighs 26 lbs.
Popcorn Recipe
Everyone's tastes will be different and this is especially true when making popcorn using this machine. The standard kernel to oil recipe is as follows for an 8 ounce popper:
1/3 cup oil and 1 cup of kernels
You can adjust the oil to fit your taste. Most users of this type of popcorn machine recommend using coconut oil. You can use other oils which will affect the taste of the popped popcorn. You can use salt and butter to taste. Some may just like it as is right out of the popper without added salt or butter. Your entire family will like the fresh tasting popcorn just like they get at the movie theater.
Operating To Do's
When the machine arrives at your door, before using it for the first time you will need to do the following:
Clean the interior of the glass surfaces.
Wipe the inside of the popper with a clean damp sponge.
Place the machine on a dry level surface.
Plug the unit into a suitable grounded electrical outlet.
It's recommend that you thoroughly clean the heat pot after using 3 to 4 times or before prolonged periods of storage.
Product Pricing
The price for this popcorn machine is provided to consumers so they can compare them with other similar products.
Note: The price of this product is subject to change without notice and may not be the actual price you pay at the time of checkout.
Product Rating & Customer Reviews
Rating: [usr 4.2]
The product was rated by over 987 customers and gave this product a very good rating.
You can also read all of the reviews for this product by clicking on the following link: Customer Reviews!
Questions People Are Asking
Below are a sample of some of the questions people are asking about this product.
Question: Can you make batches of popcorn using less than 8 oz of kernels?
Answer: Yes, you just reduce the recipe as any other. But, after using this popcorn maker, you may end up making the full batch. It is that good! Besides, with the light bulb and the heater under the floor, it is just as good the next day!
Question: Does this include any prepackaged packets, or do you buy them separately?
Answer: No. You will need to purchase them separately.
Question: About how long does it take to pop a single batch?
Answer: About 3-4 minutes to preheat a cold kettle, another 3-4 minutes to pop.
Question: Does this model come with the starter kit with the scoop, measuring cups, and bags?
Answer: Yes it does!
You can also review the 264 answered questions concerning this product by clicking Here!
PROS
It has a full metal body. It has Powder coated steel and stainless steel construction.
The back panels and sides are made of tempered glass which is light and shatter resistant.
As the hot oil kettle is made of stainless steel so it is easy to clean.
The steel construction of the kettle means that it disperses heat evenly and uniformly. This maximizes the amount of popped kernels.
The kettle also has a flip-up lid which is a free moving lid assembly. This means that the popcorn come out as soon as they pop without slightest manual effort.
This popcorn maker is also equipped with a pull-out kernel catcher that will separate uncooked kernels from your popcorn when you scoop it out.

T

the built-in warming light keeps the popcorn warm and fresh from above while the warming deck keeps them warm and fresh from below.

It also has an old-maid drawer and a built in stirring system.
CONS
Price.
Takes up a large space for storage.
Must purchase oil and popcorn.
Shop Popcorn Machine
Shop the Great Northern Popper 6010 Roosevelt Popper Machine. Click the Buy Now button below. Place your order now and be glad you did.
Below you will find additional popcorn supplies.
As an Amazon associate, I earn from qualified purchases.
Did not find what you were looking for? Enter a search term in the box below to search other products on Amazon.
Go back to the Pros Cons Shopping home page.