Make Great Tasting Bread That Everyone Can Eat!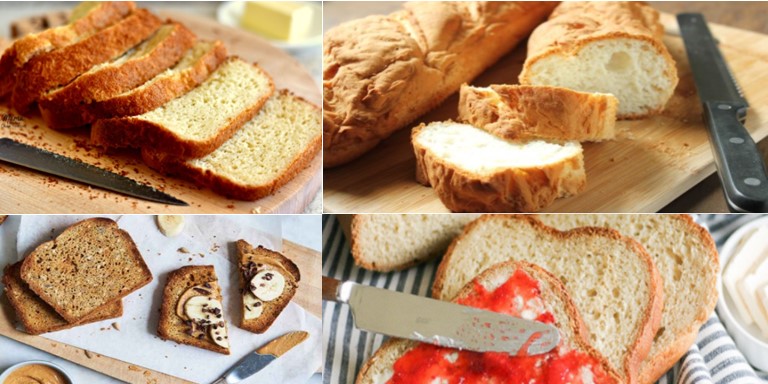 Just Think! 
✓ Select And Use Ingredients You Buy
✓ Healthier Than Store Bought Bread
✓ Saves Money
✓ Make Bread Anytime You Need It
✓ Freeze Leftovers
✓ Recipes That Everyone Can Enjoy
✓ Non-Stick Bread Pan Is Easy To Clean
–
Great Tasting Bread For Everyone To Enjoy!
✓ Makes Baking Bread Easy As Machine Does All The Work
✓ Use Fresh Quality Ingredients With No Preservatives
✓ Select Bread Size To Bake
✓ Make Other Gluten Free Doughs
Table of Topics
Below are topics of interest that you may find interesting. Just click on a topic of interest and you will be taken directly to that section. Or, you can scroll down to view them all.
Introduction
Eating gluten free bread is good for people that suffer from gluten sensitivities. Gluten free bread recipes for bread machine help individuals make different breads that family can enjoy.
If you like making bread, use a bread machine that does all the work and makes a great smell when it's done. Bread is a great mainstay for making fast creative meals when gluten sensitive individuals are hungry.
Bread machines can bake gluten free bread of all types which include French, sourdough, and pizza dough just to name a few. Many bread machines on the market today have these features.
The objective of this article is to provide some recipes covering the different types of breads and doughs for making other dishes like cake, jam and yogurt. All of these can be made using gluten free ingredients.
Our focus will be on bread recipes you can use in your bread machine. The following bread recipes will be shared below. Some recipes will require using the oven to finish the baking process.
Check out our latest post on best rated bread machines. The top 9 bread machines are reviewed for you. Select the best one with the features you need.

Gluten Free Sandwich Bread Recipe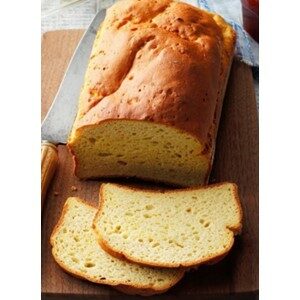 Wet Ingredients
1 cup warm fat-free milk
1 teaspoon vinegar
2 large eggs room temperature
3 tablespoons of canola oil
Dry Ingredients
2 ½ cups of gluten-free all-purpose baking flour
2 ½ teaspoons of xanthan gum
2 tablespoons sugar
1 teaspoon unflavored gelatin
½ teaspoon salt
1 tablespoon active dry yeast
Directions
Step 1: Select gluten free setting on bread machine
Step 2: Place wet ingredients into bread pan
Step 3: Place the dry ingredients on top of wet, yeast last
Step 4: Select the 1.5 lb. loaf setting
Step 5:   Select crust setting of your choice
Step 6: Press start
Step 7: When done, let bread cool in pan for 10 minutes
Step 8: Remove bread and place it on wire rack to cool
Nutrition Facts
1 slice: 110 calories, 4g fat (0 saturated fat), 27mg cholesterol, 95mg sodium, 17g carbohydrate (3g sugars, 2g fiber), 4g protein. Diabetic Exchanges: 1 starch, 1/2 fat.

Gluten Free French Bread Recipe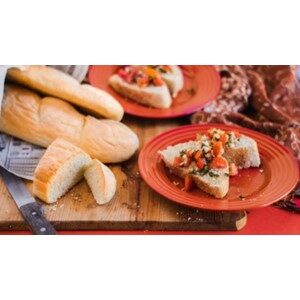 Using Bread Machine
Wet Ingredients
1 1/2 cups warm water (110 degrees)
3 egg whites, beaten slightly
1 teaspoon rice vinegar
2 tablespoons soften butter
Dry Ingredients
2 cups white rice flour
1 cup tapioca flour
3 tablespoons non-fat dry milk
2 tablespoons golden flax meal (optional)
1 tablespoon xanthan gum
1 ½ teaspoons salt
2 tablespoons sugar
2 tablespoons rapid rising yeast
2 tablespoons sesame seeds (optional)
Directions
Step 1: Place ingredients in bread machine wet ingredients first and then the dry.
Step 2: Start machine on dough setting.
Step 3: When dough cycle ends, remove dough with floured hands and cut in half on a floured surface.
Step 4: Take each half of dough and roll to make a loaf about 12 inches long in the shape of French bread. Optional: Place sesame seeds on top of dough.
Step 5: Place each loaf on a greased baking sheet and cover with a towel.
Step 6: Let dough rise about 45 minutes.
Step 7: Preheat oven to 400 degrees.
Step 8: Bake for 15 to 20 minutes or until golden brown. Turn pan around once halfway during baking.
Step 9: Remove baked loaves to wire racks to cool.
Gluten Free Cinnamon Raisin Bread Recipe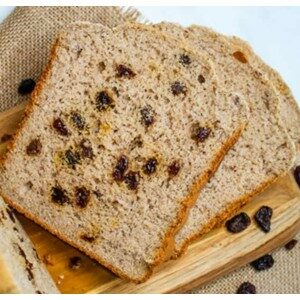 Note: This recipe works very well using organic ingredients.
Wet Ingredients
3 eggs room temperature
1 cup warm water
2/3 cup almond milk
3 tablespoons vegetable oil
1 teaspoon cider vinegar
2 tablespoons honey
Dry Ingredients
2 ¼ teaspoons bread machine or instant yeast
2 cups white rice flour
2/3 cup potato starch
1/3 cup tapioca flour
¼ cup flaxseed meal
3 teaspoons psyllium husk
1 ½ teaspoons salt
3 tablespoons white sugar
3 teaspoons cinnamon powder
½ cup raisins
Directions
Step 1: In a medium bowl, combine all wet ingredients. Mix thoroughly with a whisk and set aside.
Step 2: In another bowl, combine all the dry ingredients, including the yeast.
Step 3: Add the wet ingredients into the bread machine pan. Then add the dry ingredients on top.
Step 4: Select the rapid cycle setting on your bread maker. Select the 2 lb. setting. Select the crust setting of choice.
Step 5: It will take about 1.5 hours to cycle to complete the baking process.
Step 6: Let it cool in the pan for 10 minutes. Remove from pan and lay loaf on its side. Let it cool for 15 minutes. Flip to other side and cool for additional 15 minutes.
Nutrition
Calories: 248, Carbohydrates: 43g, Protein: 5g, Fat 7g, Saturated Fat: 4g, Cholesterol: 41mg, Sodium: 281mg, Potassium: 211mg, Fiber: 4g, Sugar: 2g, Vitamin A: 59IU, Vitamin C: 1mg, Calcium: 57mg, Iron: 1mg
Gluten Free Baguette Recipe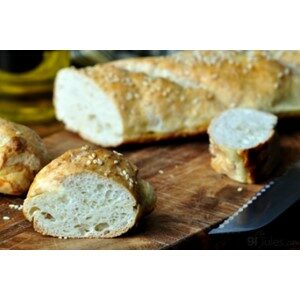 This recipe does not use a bread machine.
Ingredients
2 egg whites room temperature
9 cups (445 ml) of warm water
Mix egg whites and water well
2 1/3 cups of gluten-free flour
2 teaspoons xanthan gum
1 teaspoon salt
½ tablespoon dry active yeast
1 tablespoon sugar
Directions
Combine dry ingredients mix well.
Add dry ingredients into a stand mixer & mix with paddle on low speed.
Slowly add water and egg mixture and mix until smooth about 3 minutes.
Cover bowl with cling film and let dough rise for 2 hours.
Dust with flour.
Weigh out ½ of the dough.
Bake remaining dough straightway or reserve in fridge for up to 5 days.
Roll 1/3 of dough into baguette shape and gently taper ends & repeat with the other 2/3 dough.
Score with a wet knife at 45 degree angle and brush with water.
Cover dough with cling film and let rise for 40 minutes.
Preheat oven to 445 degrees F and place a baking tray on bottom shelf.
Line a second baking tray with parchment paper and transfer dough to baking tray.
Line bottom tray in oven with ½ cup of water.
Bake for 25 to 35 minutes or until golden brown.
Remove from oven and let bread cool or serve hot from oven.
Gluten Free Artisanal Bread Recipe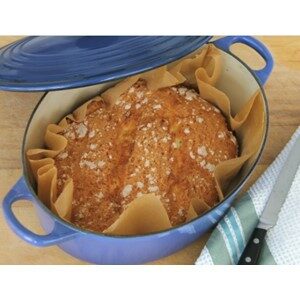 This bread is made without using a bread machine.
Ingredients
2 teaspoons active dry yeast
2 teaspoons sugar
1 ½ cups warm water (105 degrees F)
1 teaspoon xanthan gum if your all-purpose flour does not contain it
2 tablespoons olive oil
3 cups gluten-free flour (More for dusting)
2 teaspoons kosher salt or fine sea salt
2 large eggs, lightly beaten
1 teaspoon apple cider vinegar
Directions
Step 1: Place Dutch oven with lid on in the oven and preheat to 450 degrees F. (Keep the pot in the oven while the bread rises).
Step 2: In a medium size bowl, combine yeast, sugar, and warm water and whisk to dissolve sugar.
Step 3: Let sit until it is foamy and doubled in size. (Takes about 5-6 minutes).
Step 4: In an electric mixer bowl, combine flour and salt fitted with the paddle attachment. Mix to combine.
Step 5: Add the yeast mixture, olive oil, eggs, and vinegar. Mix on low setting to combine. Scrape down the sides and bottom of the bowl once.
Step 6: Turn mixer on high and mix for 3 minutes.
Step 7: Place a piece of parchment paper in a bowl just large enough to fit into the Dutch oven and dust it with gluten-free flour.
Step 8: Scrape the dough onto the parchment paper. Smooth over the top.
Step 9: Cover bowl with a clean towel and let it rise until doubled in size. About 45 minutes. Cut 1-inch deep slits into top of dough to allow steam to escape. Dust the top with a little gluten-free flour.
Step 10: Carefully remove the pot from the oven and remove the lid. Lift the parchment paper with the dough on it and lower it into the pot.
Step 11: Replace the lid and bake for 45 minutes.
Step 12: Remove lid and check to see if loaf is nicely browned. If not, bake for an additional 10-15 minutes.
Step 13: Lift out the paper with the bread on it and place it on a wire rack to cool.
Note: If your flour does not contain xanthan gum, add 1 teaspoon to the olive oil and mix, and add to mixer after the eggs.
Gluten Free Multigrain Nut Seed Bread Recipe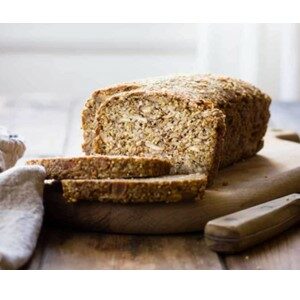 This recipe uses the oven for baking.
Ingredients
1 cup sunflower seeds
1 cup sliced almonds
1/3 cup buckwheat goats
1/3 cup millet seed
2 1/4 cups gluten free old-fashioned rolled oats
1/2 cup whole flax seed
1/3 cup psyllium husk flakes
1/4 cup whole chia seed
2 teaspoons fine sea salt
2 tablespoons maple syrup
1/4 cup coconut oil
2 3/4 cups water
Instructions
Position rack in center of oven and preheat to 325 degrees F.
Spread sunflower seeds, almonds, buckwheat goats, and millet seed on a rimmed baking sheet. Toast in oven until golden & fragrant about 8 to 12 minutes.
Meanwhile, in a large bowl combine oats, flax seed, psyllium husk, chia seed and salt. When sunflower seed mixture has toasted add to bowl and stir to combine. Add the maple syrup, melted coconut oil, and water. Stir to combine well. Use hands if needed.
Line a loaf (8×4 or 9×5″) on all sides with parchment paper. Scrape the dough into the pan and use damp fingers to smooth the top, creating a slight dome. Cover the dough and let sit at room temperature for 2 hours (24 hours maximum).
When ready to bake, position rack in center of oven and preheat to 400 degrees F. Uncover the bread and bake until deeply bronzed about 1 1/2 hours. Check it at 1 1/4 hours. Remove bread from oven and let cool at least for 2 hours. Remove bread from pan and discard the parchment paper.
The bread keeps well, refrigerate airtight, for up to 7 to 10 days. Slice and toast for best results.
Notes: 
Be sure oats are certified gluten free.
Trade maple syrup for honey.
Trade coconut oil for olive or sunflower oil.
Go back to the Pros Cons Shopping home page.