Homemade Ice Cream Made Easy
It is hard to image anyone not liking ice cream, especially when it's your homemade recipe. The Cuisinart Ice Cream Yogurt Maker not only makes ice cream, but also yogurt, and sorbet without having to buy rock salt and ice. Saving you the mess and spills. All you need to do is make your favorite ice cream recipe and pour it into the canister and after twenty minutes, you have ice cream ready to serve and eat.
This particular ice cream maker does use electricity but no ice or rock salt. You must freeze the bowl first before using the ice cream maker. The bowl contains a cooling liquid that freezes. Once the liquid is completely frozen, you can begin adding your recipe ingredients into the double insulated bowl.
The bowl can make up to 1.5 quarts of ice cream, yogurt or sorbet frozen treats using your favorite recipes within twenty minutes.
The parts of this machine are not dishwasher safe. You must hand wash the parts after every use. Do not use abrasive materials on the plastic parts when cleaning or you could damage the plastic surfaces with permanent scratches.
Warning: When placing the liquid freezing bowl in the freezer be sure it is resting on a flat surface.
Video – Cuisinart Ice Cream Maker In Action
You can look at this short video of the parts and how it works making ice cream.
BRAND:
Cuisinart
NAME:
Cuisinart Ice Cream Yogurt Maker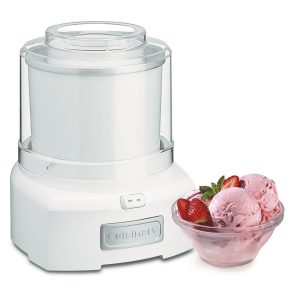 DESCRIPTION: The Cuisinart Ice Cream Maker Allows You to Make Ice Cream Without Using Any Ice or Rock Salt, and has the following features: #1 Best Seller on Amazon, Capacity 1.5 Quarts, Decibels 79-82Db, Freezer Bowl 5 x 7″, Mixing Time 20 Minutes Soft Serve, Rubber Feet, Weight 9 lbs., 3-Year Limited Warranty, Model Number ICE-21.
CATEGORY: "Home & Kitchen", "Kitchen & Dining", "Small Appliances", "Ice Cream Machines"
PRODUCT #: B003KYSLMW
REVIEW RATING: 4.5 stars, based on 5,080 reviews
Product Specifications & Features
Manufacture: Cuisinart
Model: ICE-21
ASIN: B003KYSLMW
Colors: Glossy White, Pink, Red, White
Capacity Limit: 1.5 Quarts
Product Dimensions: 8 x 10.8 x 15.8 inches
Weight: 9 lbs.
Bowl Materials: Plastic on outside, stainless steel on the inside
Freezer Bowl Dimensions: 5 inches wide, and 7 inches across
Decibels: 79-82 Db
Customer Service Phone: 1-800-726-0190
Cord Storage: Unused cord is easily pushed into the base to keep counter neat
Ingredient Spout: Easy to pour recipe ingredients through the spout
Rubber Feet: Nonslip feet to keep base stationary when in use
Best Results: The mixture should be chilled overnight before using
Mixing Time: 20 minutes (soft serve ice cream) Store in freezer 2 hours for a firmer consistency ice cream before serving
Machine Makes: Ice Cream, Yogurt, Sorbet & Freezing Drinks
Freezer Bowl: Contains a cooling liquid within a double insulated wall to create fast and even freezing.
Warranty: 3-Year limited warranty
Recipe Manual Link PDF: Recipe Manual
Freezing Time and Bowl Preparation
The freezer bowl must be completely frozen before you begin your recipe. Before freezing, wash and dry the bowl. The length of time needed to reach the frozen state depends on how cold your freezer is. It is recommended that you place the freezer bowl in the back of your freezer where it is the coldest. Be sure to place the freezer bowl on a flat surface in its upright position for even freezing.
Generally, freezing time is between 16 hours and 24 hours. Shake the bowl to determine whether it is completely frozen. If you do not hear the liquid within the bowl moving, the cooling liquid is therefore frozen. For the most convenient frozen desserts and drinks, leave your cooling freezer bowl in the freezer at all times. Use the bowl immediately after removing from the freezer. It will begin to quickly defrost once it has been removed from the freezer. Prepare all the ingredients first before removing the bowl from the freezer.
Note: Your freezer should be set to 0°F to ensure proper freezing of all foods.
Recipe Substitutions
You may substitute lower-fat creams (e.g., half-and-half) and milk (reduced fat or low-fat) for heavy cream and whole milk used in many recipes. However, keep in mind that the higher the fat content, the richer and creamier the result. Using lower-fat substitutions may change the taste, consistency and texture of the dessert. When substituting, be sure to use the same volume of the substitute as you would have used of the original item. For example, if the recipe calls for 2 cups of cream, use a total of 2 cups of the substitute (such as 1 cup cream, 1 cup whole milk).
Product Pricing
The prices for this ice cream maker is provided so customers can compare them with other similar products.
Glossy White: $43.18
Pink: $51.23
Red: $43.27
White: $40.99 (Pictured)
Note: The prices of these products are subject to change without notice and may not be the actual price you pay at the time the order is placed.
Product Rating & Customer Reviews
Rating: [usr 4.5]
This product was rated excellent by over 5,080 customers.
You can read all of these product reviews by clicking on the following link: Customer Reviews!
What Questions People Are Asking About This Product
You can read some of the questions about this product below.
Question: Does this machine make yogurt?
Answer: Yes. I have made the lowfat frozen strawberry yogurt and even used less sugar than it called for and it was great.
Question: Yes, it's safe to leave the bowl in the freezer longer than 24 hours? 
Answer: I leave it in the freezer indefinitely so I will have it ready for whenever a craving strikes. I do not leave the ice cream in the bowl though–that I take out right away and put it in another container.
Question: What's the dimension of the inner container?
Answer: It is cylindrical; diameter is 7″ and height is 5.5″.
Question: How much ice cream do you all make in one batch? It holds 1.5 quarts but whats the measurement of an average recipe?
Answer: I use 3 cups whole milk, 2 cups whole cream, vanilla (whatever flavor), sugar, dash salt and turn it on. There should be room to add a cup of fresh, chopped fruit or nuts near the end of the 20 minutes. I always make the maximum amount which is about 5 cups (a quart and a cup).
You also can read the rest of the 679 answered questions concerning this product by clicking Here!
PROS
1). Ingredient Spout – It's easy to pour recipe ingredients through the spout. It's used to add ingredients like chips or nuts, without interrupting the freezing cycle.
2). Motor Base – The base contains a heavy duty motor that's strong enough to handle ice cream, frozen yogurt, sherbet, sorbet, and frozen drinks.
3). Freezer Bowl – The double insulated freezer bowl eliminates the need for using ice.
4). Easy Lock Transparent Lid – The easy lock transparent lid with large spout makes adding ingredients simple and mess free.
5). Cord storage – The unused cord is easily pushed into the base to keep the counter neat and safe.
6). It's An Amazon #1 Best Seller
Note: The product is built to North American Electrical Standards and is BPA free
CONS
1). Price.
2). Warranty does not include shipping to and from the manufacture. If you need to return a broken part or get a replacement for any reason, you pay shipping both ways.
3). The machine is noisy during operation.
Shop Ice Cream Yogurt Sorbet Maker
Shop the Cuisinart Ice Cream Yogurt Maker. Click the Buy Now button below. Place your order now and be glad you did.
In case you may want an extra freezing bowl, we provided a link for that accessory as well.
As an Amazon associate, I earn from qualified purchases.
If you did not find what you were looking for here, enter a search term in the box below to search other products on Amazon.
Go back to the Pros Cons Shopping home page.