Use The Icing Tips To Decorate Like A Pro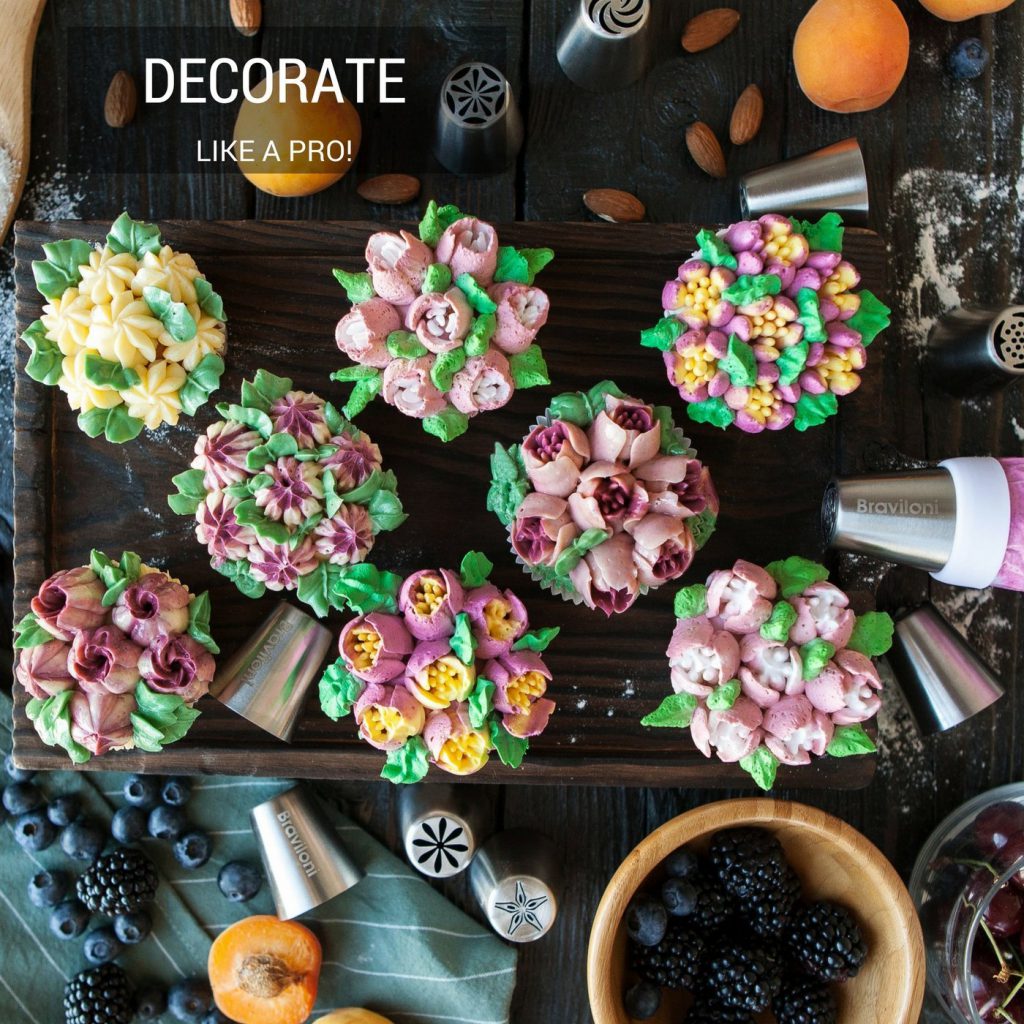 You have a huge birthday party, anniversary, or special celebration coming and would like to decorate the cake, cupcakes or cookies like a professional. The Braviloni Russian Piping Tips will allow you to make very decorative cakes, cookies, muffins or cupcakes that will make for a lasting impression. The decorating supplies baking kit includes 23 different icing Russian piping tips that make beautiful flowers. The kit also contains 15 disposal pastry bags and coupler to complete the set.
All of the materials in this kit is FDA approved and are 100% free of any toxins that make for a save environment in the home or apartment. The tips do not have any sharp ends on them so your children can join in and have lots of fun decorating their own cookies, cakes, cupcakes and muffins under your supervision.
These tips are top notch and are made with professional grade 304 stainless steel so they should last a long time. The tips are extra-large which will provide great decorative toppings that will make cakes, cookies, muffins and cupcakes like a picture in a garden and it's all made out of icing.
The Russian tips that come in the set work best using a butter cream icing. Below is a butter cream icing recipe you can use or you can use your own. Using these tips you can create beautifully grand decorations with ease; everything from enticing round, petal, leaf, flower and drop designs.
By using these tips you can make very creative designs that will make your guests marvel on how you did it. They will look so good that they just want to admire your work instead of eating them.
All of the tips are easy to clean.
This set also makes for a great kitchen gift or for any occasion including Mother's Day, an anniversary, birthday, housewarming or Christmas.
Included in the set is a chart for piping tips to help you identify them and a brochure with recipes.
Video – Piping Tips Use In Action
The video below shows you how to use some of these tips in action.
Note: To learn more about how to use these icing tips, check out more videos on YouTube.com.
BRAND:
Braviloni
NAME:
Braviloni Russian Piping Tips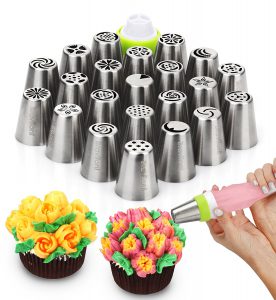 DESCRIPTION: The Braviloni Russian Piping Tips will allow you to make very decorative cakes, cookies, muffins or cupcakes that will make for a lasting impression, and has the following features: Weighs 9.6 ounces, Dimensions 6.1 x 5.9 x 1.9 inches, Material is 100% free of toxins, Comes with 23 Icing Tips, 15 Disposal Pastry Bags, 1 Coupler, Model Number None.
CATEGORY: "Kitchen & Dining", "Bakeware", "Decorating Tools", "Icing Dispensers & Tips"
PRODUCT #: B01JSMPBSQ
REVIEW RATING: 4.4 stars, based on 429 reviews
Product Specifications
Manufacture: Braviloni
Model: No Model
ASIN: B01JSMPBSQ
Weight: 9.6 Ounces
Dimensions: 6.1 x 5.9 x 1.9 inches
Tip Dimensions: 1.67" High, 0.9" Wide Top, 1.45" Wide Bottom
In The Box: 23 icing tips, 15 pastry bags, 1 coupler, tip chart, and recipe brochure
Butter Cream Recipe
Ingredients
Unsalted Butter 1½ Cups (3 sticks) (336g)
Hi Ratio Solid Vegetable Shortening 1½ Cups (336g)
Confectioners' Sugar (Domino Brand 10X Sugar) 6 cups 720g)
Heavy Cream 6 Tablespoons (90ml)
Vanilla Extract 2 teaspoons
Butter Extract 1 teaspoon
Salt ¼ teaspoon
Instructions
Combine the butter and shortening in the Kitchen Aid (or stand mixer) bowl with the paddle attachment.
Whip on medium to high speed for about 3 minutes.
Scrape the sides and bottom of the bowl to make sure it is evenly mixed and add the salt. Mix well.
Stop mixer and add the sifted confectioners' sugar all at once.
Mix on low speed until incorporated, scrape the bottom and sides of the bowl and then mix on high speed for 3 minutes.
Scrape the bowl again and then while mixing on low speed slowly drizzle in the heavy cream.
Increase speed to high and whip for another 5 minutes
Add the flavor extracts and then you are done!
The icing will gain volume almost to the top of a 6qt Kitchen Aid bowl and get very white.(If you are using a hand beater, the volume will not get as high since the hand beaters cannot incorporate air as efficiently as the Kitchen Aid or stand mixers)
Notes
This recipe will store at room temperature in an airtight container for up to 3 days.
Refrigerate for longer storage up to 4 weeks.
Freeze for 6 months.
Product Pricing
The price for this product is provided to consumers so they can compare them with other similar products.
Note: The price of this product is subject to change without notice.
Product Rating & Customer Reviews 
Rating: [usr 4.2]
This product was by over 429 customers.
You can read all of the reviews for this product by clicking on the following link: Customer Reviews!
What Questions People Are Asking?
Below is a small sample of the questions people are asking about this product.
Question: Are the bags that come with the set reusable?
Answer: No, they are not reusable. You must purchase replacement bags separately.
Question: Does this set come with a storage container?
Answer: It comes with a brown box that can be used as a storage container.
Question: Does this set come with a chart showing which tip does what?
Answer: Yes, there is a chart showing just what each tip does.
Question: How many piping bags come with the set?
Answer: There are 23 icing nozzles and 15 pastry disposable bags and a coupler that comes with the set.
You can read all of the 34 answered questions concerning this product by clicking Here!
PROS
Extra Large Tips – With a height of 1.67", 0.9" top diameter, and 1.45" bottom diameter, these are some of the biggest icing nozzles you'll find anywhere. So you'll now create beautifully grand decorations with ease; everything from enticing round, petal, leaf, flower and drop designs.
Built for Durability –

They are made with professional­ grade 304 stainless steel to design the Russian piping tips, giving them durability that is unmatched. They never rust, have a seamless build for added sturdiness, are dishwasher safe, and handle stiff icing without ever losing shape.

Decorate Like A Pro –

You'll have everything you need to start decorating your cakes, muffins, cupcakes and cookies with a professional touch. This cake decorating kit comes with 23 icing Russian tips, pastry bags, and a coupler, designed for the baking veteran or newbie.

All the materials are also FDA approved to be completely free of toxins. So you get a decorating baking set will not only serve you for years, but also ensures your family is kept perfectly safe.
CONS
The tips do not come with any numbers or identification marked on them to identify what type of flower they make.

No instructions come with the set on to use them.
Shop Russian Piping Tips Set of 23
Shop the Braviloni Russian Piping Tips. Click the Buy Now button below. Place your order now and be glad you did.
As an Amazon associate, I earn from qualified purchases.
Extra Pastry Bags


If you did not find what you were looking for, enter a search term in the box below to search other products on Amazon.
Go back to the Pros Cons Shopping home page.