Pretreat Tough Pet Stains While You Clean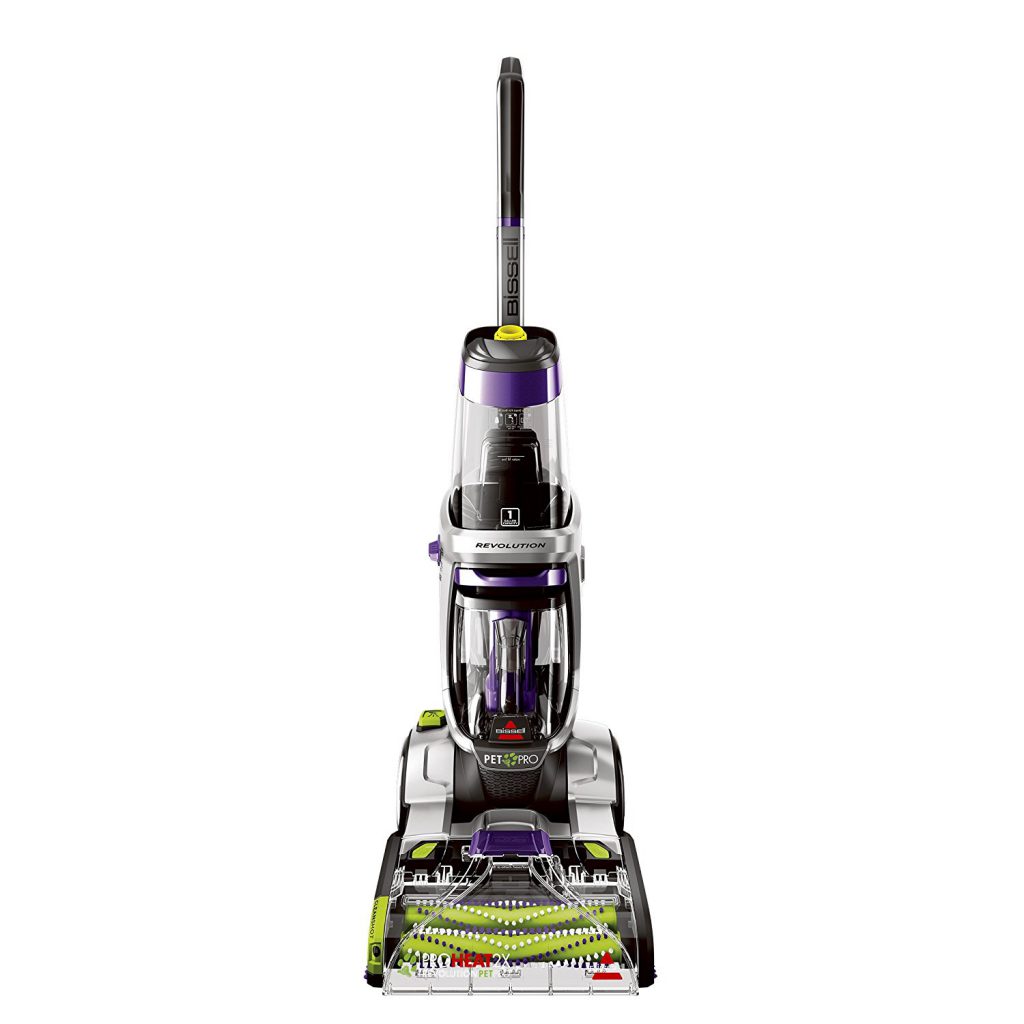 In many homes today, there may be a pet around like a cat or dog that sometimes has an accident that gets the carpet messy from urine or coming in from the outside with dirty paws. Even young children coming in from the outside can bring in dirt as well and mess up the carpet. Over time this dirt is building up and the rug requires cleaning. The Bissell ProHeat 2X Revolution Pet Pro Carpet Cleaner has just come to your rescue. Now, you don't have to rent or call a professional carpet cleaner to do the job. You can clean your own rugs using this very valuable carpet cleaner.
This model has two separate compartments for holding water. One has the formula and warm water and the other holds the dirty water being sucked up by the machine from the carpet. Both are easy to remove for emptying and filling with new solution as needed.
It also has a foot activated pretreater for those messy urine stains made by your pet or the stains made by the kids.
It has a unique system that uses the heat from to motor to keep the water in the holding tank with the formula in it warm throughout the cleaning process.
If you use the express clean mode for quick cleanings it will dry in about one hour. The other is the deep clean mode which can take up to 4 hours to dry depending upon the conditions in the room.
Cleaning results will vary depending upon how long the stain or stains have been in the carpet. This machine will provide you with long lasting results.
This carpet cleaner does not perform well for hardwood and tile floors. Since the unit uses water, it has difficulty in sucking up water from a floor without a rug or carpet. This machine will remove strains from door mats and other small rugs around the house.
All you need to do is place hot water in the container along with the formula and let the machine do its work. It has a 25 foot cord so you can reach a lot of areas before having to plug the cord in another outlet.
Another great benefit is the manufacture provides the owner a 5-year limited warranty if anything should go wrong with the unit.
As an Amazon associate, I earn from qualified purchases.
Carpet Cleaner Video
You can view a short video on how this carpet cleaner works. Take a look!
Product Description
Eventually, every pet will make a mess of some kind. Whether it's tracked-in mud, food spills, or even accidents, the Bissell proheat 2x Revolution pet pro handles tough pet messes thanks to the exclusive pet pro clean-up system. The system includes clean shot pretreated to remove spots and stains; the 2-in-1 pet upholstery tool to remove pet hair, stains, and odors from upholstery; a Trial size of Bissell professional pet urine Eliminator + Oxy; and an EZ clean brush roll cover to make maintenance of the machine easy. The deep clean mode offers powerful cleaning to out clean the leading rental, and carpets dry in about an hour using the express clean mode. All of this cleaning power comes in a lightweight and maneuverable machine with a low-profile foot that gets under furniture.
Benefits of Owning A Carpet Cleaner
Below are some of the benefits of having your own carpet cleaner:
Don't have to rent a machine and return it after the job is done.
You do not have to hire a professional to clean your carpets.
You are in control of cleaning the carpets and in which room or rooms to start.
Save money over time by not having to contact a professional cleaner to clean the carpets.
BRAND:
Bissell
NAME:
Bissell ProHeat 2X Revolution Pet Pro Full-Size Carpet Cleaner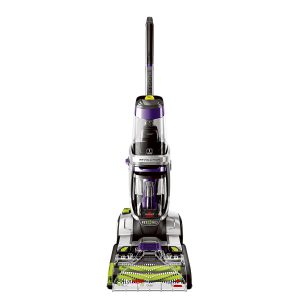 DESCRIPTION: The Bissell Carpet Cleaner in the deep clean mode offers powerful cleaning to out clean the leading rental, and carpets dry in about an hour using the express clean mode, and has the following features: 8 Amps, 25′ Cord, Weighs 20 lbs., Heatwave Technology, Main Cleaning Head 11 1/2″ Wide, Dimensions 15 x 12.5 x 43.5 inches, Removable Brush Roll Cover, 5-Year Warranty, Model Number 1986.
CATEGORY: "Kitchen & Dining", "Vacuums & Floor Care", "Carpet & Upholstery Cleaners & Accessories", "Carpet Cleaners & Deodorizers", "Carpet Cleaners"
PRODUCT #: B06VSJ9D1H
REVIEW RATING: 4.5 stars, based on 276 reviews
Product Specifications
Manufacture: Bissell
Model Number: 1986
ASIN: B06VSJ9D1H
Weight: 20 lbs.
Dimensions: 15 x 12.5 x 43.5 inches
Cord Length: 25 feet
Uses Heatwave Technology: Yes
Motor Amps: 8
Main Cleaning Head: 11 ½" wide
Accessories Included: Upholstery Hose, 3-inch Brush, Nozzle clean out tool, measuring cup, and 2 trial size bottles of cleaning formula
CleanShot Pretreater: Yes
Removable Brush Roll Cover: Yes
Bissell Customer Support Number: 1-800-237-7691.
Warranty: 5-Years Limited
Product Pricing
The price for this product is provided to consumers so they can compare them with other similar products.
Note: The price of this product is subject to change without notice.
Product Rating & Customer Reviews 
Rating: [usr 4.5]
This product was rated by over 779 customers.
You can read all of the reviews for this product by clicking on the following link: Customer Reviews!
Questions Customers Are Asking About This Product
You can read some of them below.
Question: How easy is it to wash out the dirty water tank?
Answer: Very easy. Not like the old machine.
Question: Does this machine have more then one belt to be replaced if needed?
Answer: Yes, it has three rubber belts.
Question: How good is the suction and how long does it take to dry?
Answer: The suction on this machine is very strong and have to empty the dirty tank more then filling the clean water tank. Express clean dries in about a hour, the deep clean dries in about 6 to 8 hours.
Question: What type of belts does this unit take?
Answer: Replacement belts can be ordered direct from BISSELL online or over the phone at 1-800-237-7691.
You can read all of the 315 questions concerning this product by clicking Here!
PROS
Great Deep Cleaning System – Deep cleaning system for cleaning up pet messes and includes a trial version of the Professional Pet Urine Eliminator + Oxy Formula.
Clean Shot Pretreater – Foot activated pretreater targets and attacks spots and stains. Pretreating stains gets spots and stains cleaner than deep cleaning alone.
2-in-1 Pet Upholstery Tool – 2-in-1 Pet Upholstery Tool – Dry and Wet Cleaning Innovative 2-in-1 Pet Tool removes pet hair, stains, and odors all with one tool. In dry mode, vacuum pet hair and dry debris from your upholstery, capturing the mess in its own dry dirt tank for easy disposal.
EZ Clean Brush Roll Cover – Removable brush roll cover gives you easy access to the brush rolls and brush cover to easily clean and maintain your deep cleaner.
Easy To Clean – The machine is very easy to clean and take apart.
Warranty – 5-Years limited
CONS
Price.
Does not have a switch to turn off brushes.
Should not be used on hardwood floors as the water may be difficult in sucking up.

Requires vacuuming of the area to be cleaned first.
Shop Carpet Cleaner & Supplies
Shop the Bissell ProHeat 2X Revolution Pet Pro Full-Size Carpet Cleaner. Click the Buy Now button below. Place your order now and be glad you did. There will be supplies for the carpet cleaner available as well.
If you did not find what you were looking for, enter a search term in the box below to search other products on Amazon.
Go back to the Pros Cons Shopping home page.