Remove Pet Odors Easily With Angry Orange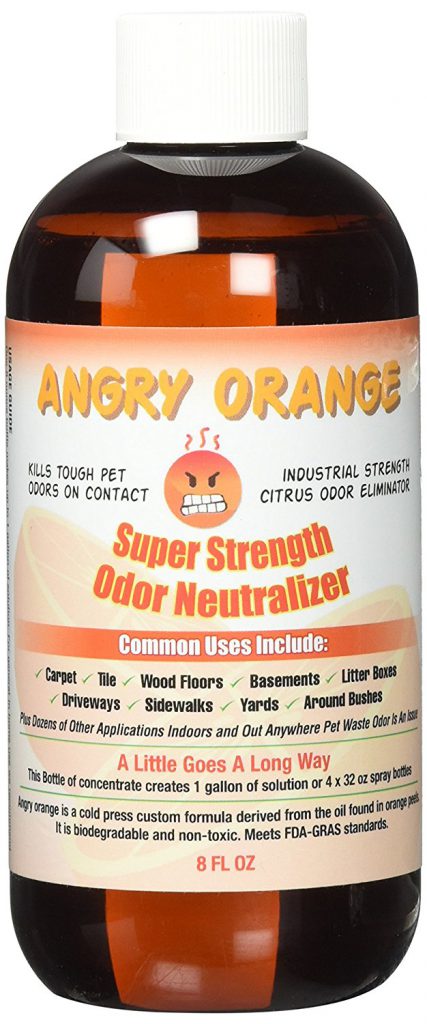 Introduction
Most pet owners probably have experienced this problem when they get home their pet had an accident and left some urine smells on the carpets, rugs, furniture, and floors. You have tried all types of pet odor eliminators, home remedies, and they all have failed to remove the odors. How about giving Angry Orange Odor Eliminator a try and see if you will have different results. This product will surprise you on how it removes and kill odors not only inside the home but also outside.
This odor eliminator is safe to use on grass and shrubs as its non-toxic. It won't hurt the environment and safe on plants. This is a highly concentrated liquid that makes one gallon of odor eliminator or (4) 32 oz. spray bottles from one 8 ounce bottle. It removes pet odor anywhere where pet waste is an issue.
It leaves behind a wonderful orange citrus smell that is just great. What is nice about this company is if you are not completely satisfied with the product, they have a 100% money back guarantee.
Some common uses of this product are:
Carpet
Tile
Wood Floors
Basements
Litter Boxes
Driveways
Sidewalks
Yards
Around Bushes
Bathroom Cleaning and Disinfectant
Kitchens
Stainless Steel Grills
Appliances
Other Stains and Odors That Are Not Pet Related
Angry Orange is a cold press custom formula derived from the oil found in orange peels. It's biodegradable and non-toxic. It meets FDA-GRAS standards.
Getting rid of pet odors is important so now you can have guests come over and enjoy your company without those bad pet smells being around.
To mix the concentrate with water you add 2 ounces of Angry Orange with 32 ounces of water and pour the mixture into a spray bottle. Or, fill up a 32 oz. spray bottle with water and add 2 ounces of Angry Orange.
Angry Orange Video
Below you can view a short video on Angry Orange uses.
How To Use Angry Orange On Hardwood Floors
You may have a puppy or cat that is not potty trained yet and is peeing on your beautiful hardwood floors. The angry orange is a concentrate that can be mixed with water to make up to one gallon of solution. You place the mixture into a spray bottle to be used when accidents happen by your dog or cat.
Mix 2 tablespoons of concentrate into a 32 oz. spray bottle.
Add water.
Secure cap and spray affected area.
Store away until next use.
Shake bottle before spraying.
Product Description
 This product removes and eliminates the toughest pet odors on contact and leaves behind a wonderful smell. It can remove pet odors from urine from hard wood floors, concrete, sidewalks, driveways, basements, carpet, rugs, furniture and clothes. It even removes those odors from the yard where your pet does his business.
Video – How To Use Angry Orange
This is a video showing you how to use the Angry Orange odor eliminator.
Product Specifications
Price: $22.97
Manufacture: Angry Orange
ASIN: B00OI20SXA
Weight: 8 ounces
Makes: 4-32 oz. bottles of solution
Product Pricing
The price of this product is provided to consumers so they can compare them with other similar products.
Price: $22.97
Note: The price of this product is subject to change without notice and may not be the actual price you pay at the time the order is placed.
Product Rating, Customer Reviews & Frequently Asked Questions
Product Rating: [usr 4.5]
This product was rated by over 44,750+ customers which gave this rating. You can read all of the reviews for this product by clicking the following link: Customer Reviews.
What Questions Customers Are Asking?
Below is a sample of some of the questions that customers are asking about this product.
Question: Can you place this on fabrics that have been urinated on prior to washing?
Answer: Yes, I have used it numerous times to pretreat cat urine items before putting them in the wash. I also add half a cup of the mixture to the wash every time and I don't have to wash more than once. 
Question: Is it safe to use on wood floors?
Answer: Be sure to rinse the area or wipe off well after using on wood floors. The product works great but will make the area lighter if you simply spray it on the floor and leave it.
Question: Will it leave a residue on my carpet that the dirt will stick to like some deodorizers?
Answer: No. I've used it liberally numerous times on a light beige carpet with no residue issues.
There are over 358+ frequently asked questions about this product and you can read these by clicking on the following link: Frequently Asked Questions.
You can read all the reviews and frequently asked questions about the product before purchasing.
PROS
Guaranteed to get rid of tough pet odors.

Concentrate makes 1 gallon of cleaning solution or 4 32 oz. bottles.

It can be used on both the inside and outside to remove pet odors.

It is non-toxic so it won't harm the animals or the environment.

Made in the USA.

100% money back guarantee.

Meets all FDA-GRAS standards.
CONS
Price.

Does not remove stains as this product is an odor remover.
Shop Angry Orange Odor Eliminator
You can shop for the Angry Orange odor eliminator by clicking on the "Buy Now" button below. You will be taken to Amazon to place the order.
We have provided links to other odor eliminators and you can click on any image and can place the order on Amazon.
–
–
Did not find what you were looking for? Enter a search term in the Amazon Box below to search on Amazon for other products.
Go back to the Pros Cons Shopping home page.