Protect Important Documents – Use A Laminator
Do you have any important documents that you would like to preserve? If you are like most people, you do have some lying around the house. One great way to preserve those important documents is to laminate them. Lamination keeps the air from discoloring important documents, records, and photos. The laminated documents are also waterproof. The Amazon Thermal Laminator does that and more. You can laminate documents up to 9-inches wide and 3 mm or 5 mm thick. Now, you can preserve and project those important records and photos in your own home or anything else for that matter. There is no limit to the things that you can laminate.
To perform the lamination the machine uses pouches. You insert the document, photo, record or business card into the pouch and feed the pouch into the laminator. That's it. The machine does all of the rest.
This model has two heat settings one for 3 mm and another for 5 mm pouches. It's important to use the correct setting when laminating. Failure to select the correct setting may cause jamming.
Lamination machines are great for the office, home, and classroom. They also make for great gifts for graduations, retirement parties, birthdays, and Christmas.
AmazonBasics Laminator Video
A short video on how this laminator works. Take a look!
Types of Lamination
There are two types of lamination and they are thermal adhesive (hot) or pressure sensitive (cold). Each of these types are explained below.
Thermal Adhesive or Hot
This type of lamination relies on thermally activated adhesive that is set on the bottom of the polymer or vinyl coating. The laminate is passed over a hot surface that activates the adhesive and is pressed onto the image being laminated.
Pressure Sensitive or Cold
The pressure sensitive lamination is considered to be the easiest one to use. It uses a pressure sensitive adhesive that is applied to the bottom side of the vinyl or polymer coating. The adhesive coatings are applied through a pressure roller.
Both methods do require you to place the document to be laminated into a pouch.
Lamination Thickness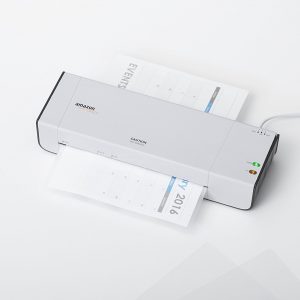 Most lamination machines for home use have two settings one for 3 mm and one for 5 mm thick pouches. There are other laminating thickness such as 1.5 mm, 7 mm and 10 mm. We will only discuss the 3 mm and 5 mm thicknesses since they are the standard sizes on most machines.
3 mm Pouches
The three millimeter size pouches are used for laminating items that are flexible and are infrequently handled, like classroom posters, maps, photos, and other documents. Great for documents that need to be folded like of bi-fold or tri-fold menu.
5 mm Pouches
The five millimeter size pouches are used for laminating items that are frequently handled and require sturdiness to printed materials. Great for flat documents like, instructional materials, charts, diagrams, bookmarks and passes.
Product Specifications
The specifications for the AmazonBasics Thermal Laminator are listed below.
Price: $21.99
Model Number: 89154U
ASIN: B00BUI5QWS
Weight: 2.64 lbs.
Dimensions: 13.4 x 4.8 x 2.4 inches
Color: White
Warm Up Time: 4 Minutes
Jam Release Lever: Yes
Laminate Size: Up to 9 Inches Wide
Laminate Pouches: From 3 mil 5 mi thick
Ready Light Indicator: Yes
Heat Settings: 2
Amperage: 2 Amps, 60Hz
Voltage: 120VAC
Pouch Size Sheets: 3mm & 5mm
Laminate Document Types: Letter-Size, Legal-Size, Business Card Size, & Photo Size Papers
In The Box: 2 3mm starter sheets, 1 laminator machine, & instructions
Note 1: The price for this laminator is subject to change without notice.
Note 2: It is recommended that the user read the instructions before using the laminator for the first time.
Product Rating: [usr 4.1]
Customer Reviews
This product was rated by over 3,562 customers. You can read all of the customer reviews by clicking on the following link: Customer Reviews!
Questions People Are Asking About This Product
Below are some of the basic questions consumers are asking about this product.
Question: Will this machine work with different pouch sizes?
Answer:Yes, the different sizes are marked on the laminator.
Question: Does this work on 220 volt?
Answer:No. It's the US standard plug 120v.
Question: How firm is it when laminating regular printer paper, and not something like card stock?
Answer: It is very firm and is more dependent on the laminating sheets you use.
You can read the rest of the 440+ frequently asked questions about this product by clicking on the following link:  Answered Questions!
Conclusion
I think you can agree, if you should have any important documents lying around the house that you would like to protect, having your own laminator will make this an easy task. Most home laminators come with two settings for both 3mm and 5mm sizes. So, if photos, cards, letter or legal size papers need protection, laminating them is just what you need to do to prevent them from getting damaged.
PROS
Separate heat settings for 3mm and 5mm pouches.
Laminates documents up to 9-inches wide.
Ready to go in 4 minutes.
Jam release lever.
A ready indicator light tells you when it's warmed up.
CONS
Must read the instructions before using machine for the first time.
Must purchase additional pouches separately as it comes with 2 3mm sheets to start.
Cannot laminate documents that are greater than 5mm in thickness.
Shop Laminator & Pouches
You can shop for the AmazonBasics Laminator and purchase additional pouches by clicking on any image below. You will be taken to Amazon to place the order.
As an Amazon associate I earn from qualified purchases.
AmazonBasics Thermal Laminating Pouches 100-Pack 3 Mil
Scotch Laminating Pouches 200-Pack 3 Mil
Best Laminating Thermal Pouches 5 Mil
Best Laminating thermal Pouches 3 Mil
Best Laminating Thermal Pouches 5 Mil
Scotch Laminating 100-Pack Pouches 5 Mil
File Laminating Pouches Sleeves 5 Mil
Thermal Laminating 100 Pouches 7″
Other Thermal Laminators
Just click on any image below to place your order on Amazon.
Marigold Thermal Laminator
Scotch Thermal Laminator
Swingline Thermal Laminator
Nuova Thermal Laminator