An Energy Boost Drink That's Better Than Coffee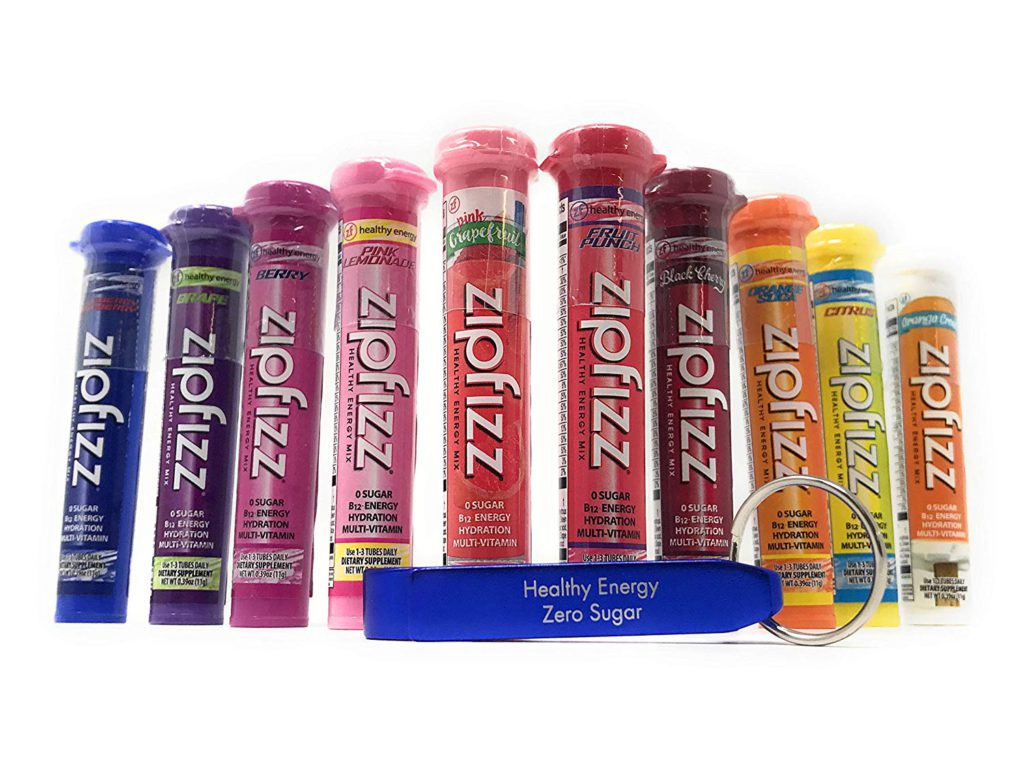 There are millions of people today that like to have caffeine sometime during the day. Many like to have caffeine in the morning hours. Today, there are many ways to secure your caffeine fix like tea, high caffeine drinks for high energy. Now, you can try another method of getting your caffeine and high energy by trying the Zipfizz Healthy Energy Drink. It contains as much caffeine as an 8 ounce cup of coffee. The exception with this drink is you get antioxidants, vitamins, minerals and electrolytes and no sugars and low sodium. The energy drink includes all of the B vitamins, C, E, and folate. The energy boost lasts anywhere from 4 to 6 hours.
If you are an athlete or doing heavy workouts, replacing the lost hydration and electrolytes is very important for your body. This energy drink is great tasting and contains no sugar and only two carbohydrates per serving to give you that quick energy boost.
Good news about this product that its gluten free so individuals with celiac disease or have gluten sensitivities can also use this product.
It comes in a tube that contains only 20 calories but all of the extra health benefits of vitamins and caffeine you want. It has low carbs (2), zero sugar and has 4-6 hours of energy that is helpful after a jog, run or workout. It also aides in rapid hydration after those long runs and workouts.
It also has 500 mg of vitamin C which is high in antioxidants which is good for the immune system.
Not only the health benefits are great, but it comes in ten flavors: Berry, Black Cherry, Blueberry, Citrus, Fruit Punch, Grape, Orange Cream, Orange Soda, Pink Grapefruit, Pink Lemonade, and Raspberry, a flavor that is just right for you.
This product contains 100 mg of caffeine and is not recommended for children, people with a heath condition, pregnant women and its gluten free.
Product Description
Zipfizz is a great tasting, healthy energy/sport drink-mix that delivers a powerful charge of micronutrients to the body's fuel system which is the energy burst. The variety pack contains one tube each of the 10 great flavors: Berry, Blueberry Raspberry, Citrus, Grape, Orange Soda, Pink Grapefruit, Pink Lemonade, Fruit Punch, Orange Cream, Black Cherry. Zipfizz which supplies a rush of vitamins, minerals, electrolytes, and key amino acids that help provide rapid hydration. If you are an athlete, student, executive, busy and on the go, this drink is for you.
Vitamins, Minerals & Other Benefits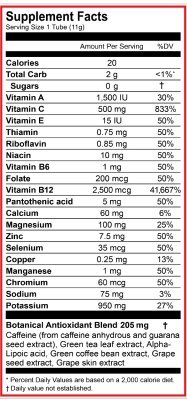 This drink contains all of the following vitamins and minerals and daily percentages.
Vitamins
Vitamin A: 1,500 IU 30%
Vitamin C: 500 mg 833%
Vitamin E: 15 IU 50%
Thiamin: 0.75 mg 50%
Riboflavin: 0.55 mg 50%
Niacin: 10 mg 50%
Vitamin B6: 1 mg 50%
Folate: 200 mcg 50%
Vitamin B12: 2,500 mcg 41,667%
Minerals
Pantothenic Acid: 5 mg 50%
Calcium: 60 mg 6%
*Magnesium: 100 mg 25%
Zinc: 7.5 mg 50%
Selenium: 35 mcg 50%
Cooper: 0.25 mg 13%
Manganese: 1 mg 50%
Chromium: 60 mcg 50%
*Potassium: 950 mg 27%
Sodium: 75 mg 3%
*Electrolytes
Other Benefits
Amino Acids – Taurine and arginine, aid in various anti oxidation processes in the body. It is also responsible for the controlling of blood sugar in the body, while reducing some forms of insulin resistance.
Green Tea Extracts – When added to a multi-vitamin supplement, this ingredient mainly helps in keeping away cardiovascular diseases and promote the overall health of blood vessels. It also lowers the adverse effects of diabetes, low blood pressure, chronic fatigue syndrome, dental caries and skin damage.
Caffeine – Caffeine increases physical strength and endurance in the body, through delaying exhaustion. It reduces feelings of exertion and improves performance during our day-to-day activities.
Sweeteners – Zipfizz contains xylitol and sucralose. Xylitol comes from naturally occurring sugar substitute commonly found in berries and birch bark. It reduces levels of decay-causing bacteria in saliva and acts against some bacteria that cause ear infections.
ZipFizz Side Effects
Each person's body will react differently to this energy drink and may experience some side effects. Below are some of the possible side affects you might experience when using this product.
Nausea
Headaches
Vomiting – Can be avoided through restraint from caffeinated drinks
Sleep issues
Increased blood pressure
Increased heart rate in children
Stomach Issues
If you should experience or notice any of the above symptoms, discontinue using this product.
Product Specifications
Manufacture: Zipfizz
ASIN: B07G3GT291
Flavors: 10
In Box: 10 tubes one of each flavor
Strengths and Weaknesses of This Product
This product has some strengths and weaknesses that you should be aware of before purchasing. They are mentioned below.
Strengths
Comes in different flavors.
Tastes great.
Helps in boosting immunity levels.
Easy to prepare.
Delivers a dose of antioxidants in the body.
Weaknesses
Does not burn fat in the body.
Contains high levels of caffeine.
Product Pricing
The price of this product (10 flavor variety pack) is provided to consumers so they can compare them with other similar products.
Price: $22.50 (10 flavor variety pack)
Note: The price for this product is subject to change without notice.
Product Ratings & Customer Reviews
This product (orange soda) is rated 4.2 out of 5 stars by 22 customers which is very good.   You can read all of the reviews about this product by clicking on the following link: Customer Reviews!
The pink lemonade and pink grapefruit flavors are rated 4.7 stars, and the grape flavor is rated 4.6 stars. The 10 flavor variety pack is rated a 5 out of 5 stars by 1 customer.
PROS
Comes in many flavors.

Easy to prepare.

Aids in rapid hydration.

Has a great taste.

Helps in boosting immunity levels.

Provides nine vitamins and six minerals and two electrolytes.

Gluten Free
CONS
Price.

Children and pregnant women should not use this product.

Contains high levels of caffeine.

Does not burn fat in the body.
Shop Zipfizz Energy Drink
Below you will find various options on purchasing the Zipfizz energy drink. Single flavor packs and variety packs will all be included. You should find a flavor or variety pack that best fits your needs. Just click on any image on the product of interest and you will be taken directly to Amazon to place the order.
As an Amazon associate I earn from qualified purchases.
| | | | |
| --- | --- | --- | --- |
| Zipfizz 10 Flavor Variety Pack | Zipfizz 3 Flavor Variety Pack | Zipfizz Blueberry Raspberry Flavor | Zipfizz Black Cherry Flavor |
| | | | |
| --- | --- | --- | --- |
| Zipfizz Fruit Punch Flavor | Zipfizz Pink Grapefruit Flavor | Zipfizz Orange Soda Flavor | Zipfizz Grape Flavor |
| | | |
| --- | --- | --- |
| Zipfizz Orange Cream Flavor | Zipfizz 5 Flavor Variety Pack | Zipfizz Pink Lemonade Flavor |
If you did not see your product on this page, enter a search term in the box below to search on Amazon for other products.
Go back to the Pros Cons Shopping home page.