Xenvo iPhone Camera Lens
Turn Your iPhone Into A Greater Camera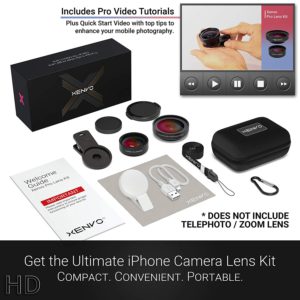 You are hiking or going walking through a nice area and happen to see something that you would like to capture with a picture. You use your iPhone and snap a picture of some unique thing that was close up and when you saw it later it was blurry. Those blurry days are over because now you can use the Xenvo iPhone camera lens to take close ups and wide-angle pictures with your iPhone device. You will not believe the clarity and the sharpness of the pictures you will get with these lenses.
The Clarus 15x lens magnifies close ups with precision-focus for razor crisp photos up to 1 inch from the subject. The wide angle lens that comes with the kit is excellent for shooting photos of pets, people, scenery, landscapes and architecture. You will experience no dark corners as with other wide angle lenses.
The camera lens is compatible not only with the iPhone but also iPad and iPad Pro, Android, Samsung Phones, Tablets, and HTC Phones. Turn your phone into a camera with outstanding picture quality.
The lenses are made from crafted aircraft-grade aluminum and premium optical glass for durability and clarity. They are coated to minimize ghosting, reflections and lens flare. These lenses are ideal for the hobbyists and photography pros alike.
It comes with a lanyard so you can take it with you anywhere you go. It has a quick release feature so it's ready to use at any time. It comes with a case to store the lens as well. The kit also includes a cleaning cloth to help keep the lenses clean by removing fingerprints if touched.
As you can see, you may not want to leave home without your Xenvo lens and accessories. When the next best picture is looming just on the horizon, you will now be ready to snap it.
These are by far the best lenses for the money.
Video of The Xenvo Lenses 
Below is an excellent video of this product by showing the unboxing, all the items that comes with the kit, and a review of the use of both lenses in action.
How Do The Camera Lenses Work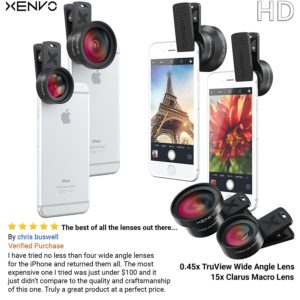 Very simply, it comes with a clip that attaches anywhere on your phone. You just place it over the camera lens on your phone or tablet and get ready to snap pictures. For those late night or getting dark shots, the kit comes with a rechargeable glow clip LED fill light.
It also comes with a USB charging cable to charge it. You might say it's your built-in flash that's always with you. It has three brightness settings to use: low, medium and high. So, you will not miss those fabulous shots at night.
If you are an iPhone, iPad and Android user and like to take photos using your device, this lens kit is just for you.
Product Description
The high quality lenses take care of barrel distortion which has fisheye appearance and straight lines appear to be curved and vignetting that results in unwanted darkened corners in photos. You will receive clearer sharp photos and video using these lenses.
The package includes two lenses the first is a TRUEVIEW 0.45x wide angle lens capturing 45% more picture width with each snap with no dark corners. The second is the clarus 15x macro lens that allows close ups of any subject up to 1 inch from it. It also magnifies nearby objects or subject for breathtaking photos.
Product Specifications
Below are the specifications for this product:
Manufacture: Xenvo
Model Number: WML-45
ASIN: B01A6D2JVI
Weight: 4.8 ounces
Dimensions: 3.4 x 2.7 x 2.6 inches
Compatible With: iPad Pro, Samsung Mobile Phones, Tablets, Android, iPhones, and HTC Phones
In The Box: One 0.45x Wide Angle Lens, One Clarus 15x Macro Lens, LED Light, USB Charging Cable, Quick-Release Lanyard, DuraCase, Easy Clip, Lens Cleaning Cloth, Lifetime Warranty, & Instruction Manual
Warranty: Lifetime Warranty
Product Pricing
The price of this product is provided for consumers so they can compare them with other similar products.
Price: $39.99
Note: The price for this product is subject to change without notice and may not be the actual price at the time of purchase.
Product Rating & Customer Reviews
This product is rated 4.5 stars out of 5, which is excellent. As you can see, there are a lot of reviews about this product. You can read all of the 1,500+ reviews for this product by clicking Customer Reviews!
Questions People Are Asking About This Product
Below are some of the questions people are asking about this product.
Question: Will I need to remove my Otterbox case on my iPhone 6 for this to work better?
Answer: The Xenvo Camera Lens Pro has been tested with the OtterBox series of iPhone cases. There are a variety of OtterBox cases that vary in thickness such as the OtterBox Commuter, one of the slimmer OtterBox cases, and the OtterBox Defender—one of the thickest phone cases on the market. The Xenvo lens kit works just fine with the OtterBox Commuter. However, if you own an OtterBox Defender, we recommend removing your phone from the case before attaching the Xenvo lens due to the thickness of the case.
Question: Is this compatible with the iPad Pro?
Answer: Yes it is.
Question: Is this compatible with s6 edge (not plus)?
Answer: Yes.
Question: Will it fit on the Nexus 5x?
Answer: Yes it will.
Question: Is it compatible with Samsung J5 Prime?
Answer: Yes it is.
You can read all of the 803 frequently asked questions about this product by clicking Frequently Asked Questions!
PROS
Breathtaking Clarus 15x Macro Lens to magnify photos and provide crisp sharp closeups.

Trueview 0.45x wide angle lens capturing 45% more picture with each snap with no dark corners.

Rechargeable LED fill light which is like having a built-in flash.

Quick release lanyard for easy transport.

Duracase which helps to protect the lenses and LED light.

Compatible with most iPhones and Tablets.

Unit comes with a lifetime warranty.
CONS
Price.

The case must be removed from the iPhone when using the clip as it may not fit with it on.

It will not fit the Motorola G4 and G5 models.

All of the kit items may not fit easily inside the traveling case.

This is not a telephoto lens as you need to purchase that separately.
Shop Xenyo Camera Lens
You can shop for the Xenyo camera lens by clicking on the "Buy Now" buttons below. You will be taken to Amazon where you can place the order. We have provided another link for the telephoto lens kit which can be purchased on Amazon.
As an Amazon associate I earn from qualified purchases.
Go back to the Pros Cons Shopping home page.