Wowstick Screwdriver Set Makes Small Jobs Easier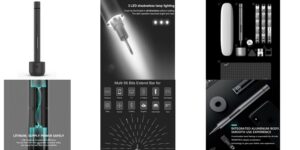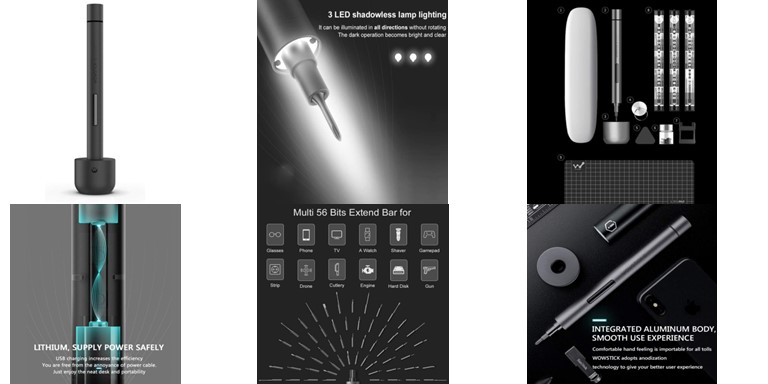 Introduction
The Wowstick Screwdriver set is an electric cordless tool that can be used for removing small screws from electronic devices. It has a built-in LED light and magnetize or demagnetize the tip. This tool not only removes screws but also tightens them into place. This tool set comes complete with 56 popular bits so you should find one that fits the job.
The electronic screwdriver tool comes in handy when you need to remove screws in extremely small tough areas. The LED light guides you and the magnetic tip ensures the screw will not get lost. With a choice of 56 bits, finding one for the job will be easy.
The entire screwdriver fits in the special case along with one of the most used bits tube container you choose. The set comes with three bit tube containers.
It has a built-in Lithium-ion battery that works up to 8 hours continuously, 2 hours continuous no-load, and has an endurance up to 180 days. It uses a micro USB cord to re-charge the battery that's included.
The Wowstick 1F+ has a two-way rotary switch. Press one side of the switch to loosen the screws, and the other side to tighten. The screwdriver has a speed of 200rmp and rated torque of 0.15/3N.M.
If you have lots of devices with small screws or have a part-time job in repairing computers, this electric cordless screwdriver is just the tool for you.
Video – Wowstick Unboxing & Use
This is a short video showing the unboxing of the 1F+ Wowstick and its use.
The Difference Between a Cordless Drill and Screwdriver
The main difference is that a cordless drill can both drill in screws and also create holes in walls in preparation for these screws being fitted. However, an electric screwdriver will not be able to drill holes as it has too slow of a rate of rotation, so its sole purpose will be driving screws into pre-created holes. A cordless drill is a power tool that is used to dig holes and drive screws into surfaces. A screwdriver, however, is only used to drive or loosen screws in place. A drill can be used as a screwdriver but then you might have to compromise on precision.
A drill requires more power to operate than an electric screwdriver as drills have larger motors and requires more battery power to operate. A cordless screwdriver does work faster than doing the job manually. It also saves you time and can work more efficiently.
Wowstick Screwdriver F1+ Details
Below are some of the details of the Wowstick Screwdriver F1+ Tool.
56 popular bits which includes: Phillips, Slotted, Hex, Torx, 5-Point, Square, Triangle, and U-Type. These bits should be compatible with most electronic devices.
The driving speed: 200RPM non-loaded
The maximum torque:15/3N.m, which provides enough power to repair electronic devices.
Devices include: smart phone, RC drones, joystick, computer, cameras and so forth.
Are Power Screwdrivers Worth It?
An electric screwdriver is a perfectly adequate, relatively cheap, reliable tool that is perfect for any homeowner wanting to complete low-level DIY. Examples of this would include removing battery covers or plug covers, hanging picture frames, tightening screws in glasses, putting furniture together or completing small repairs around the home.
The bottom line here is your decision whether you need to loosen or tighten small screws in devices and other repairs around the house. It is always nice to have a tool ready to use in case it's needed.
Wowstick Specifications
Manufacture: Wowstick
ASIN: B07DB7ZT5P
Model: Wowstick 1F+
Color: Gray
Material: Aluminum
Weight:81 Lbs.
Dimensions:8 x 0.59 x 0.59 inches
Batteries: 1 Lithium-ion (Included)
Battery Details: 1 x 3.7V 280mAh NSC1040 (Built-in) Rechargeable
Bits: 56
LED Light: Yes (3)
Bits Material: S2 Alloy Steel
Average Continued Use Time: 2 Hours
Screwdriver Material: Aluminum
Magnetic Mat Size:25 x 8.5 Inches
Can Tip Be Magnetized: Yes
Can Tip Be De-Magnetized: Yes
Rated Torque:15/3N.M
Rated Speed: 200rpm
Charging Port: Micro USB
Charging Time: 40 Minutes
Warranty: 2-Years
In The Box: 1 Electric Screwdriver, Stand, Storage Box, Magnetic Mat, Suction Cup, Fins, Magnetizer & Magnetizer Eraser, Common Screws, & 56 Bits
Screwdriver Bits List
PH0000, PH000, PH00, PH0, PH1, PH2
0, SL1.5, SL2.0, SL2.5, SL3.0, SL3.5, SL4.0
T2, T3, T4, T5, T6, T7, T8, T9, T10, T15, T20
P2(*0.8), P5(*1.2), P6(*1.5)
6, Y1.0, Y2.0, Y2.5, Y3.0
S0, S1, S2
7, H0.9, H1.3, H1.5, H2.0, H2.5, H3.0, H4.0U2.0, U2.6, U3.0
Triangle: 2.0, 2.3, 2.5, 3.0
Needle:0.8(SIM card tray pin)
5
Extend 45mm bits:PH0, PH2, SL2.0, H2.0
Tool Use Safety Precautions
As with any tool, there are some safety precautions that you should observe. Some of them are mentioned below.
1. Do not abuse the electric screwdriver by selecting an unsuitable size bit. Selecting the appropriate size bit will make your operation safer and more efficient.
2. Do not press two or more buttons at the same time, which may cause damage to the circuit.
3. Do not put unsuitable bits or other items into the output shaft bore.
4. Keep the tool out of the reach of children.
5. Do not use the electric screwdriver in rain or humid environment. Water or other conductive liquid will cause short circuit or damage to the electric parts.
6. Try preventing unexpected start-up by not placing it inside a pocket or bag.
The above is a small list of safety measures you should observe. By doing so, you will allow the tool to last longer. When you are finished with a bit, place it back into the bit container it was taken from. By doing this you won't misplace any bits that may be needed for other jobs..
PROS
Slim and Sleek Pen Shape Design
Easy Portability
56 Bits in 3 tubes
Easy To Grip and Hold
Automatic & Manual Operation Design
Magnetized Matt
Micro USB Charging Port
Magnetizer and De-magnetizer Tool
2 Hours Average Battery Usage Life
3 LED Lights Near Shaft Bore
Illuminates In All Directions
Accessory Case (Screwdriver Plus 1 Bits Tube)
Tighten and Untighten Switch
CONS
Does not come with a battery charger
Takes 40 Minutes to Re-Charge Battery
Made in China
Conclusion
In my opinion, this is just a great tool for those of you who need to tighten or loosen extremely small screws in very difficult places. You will be using this tool a lot more than you think.
With 56 different size bits finding one for a specific job will be easy. With a carrying case to place the screwdriver and one bit tube that has the bits needed for most jobs. It will fit nicely into your toolbox.
If you do lots of small repair jobs on delicate devices for yourself and others, then this tool is for you.
It will provide you with many years of service.
Shop Wowstick Electric Screwdriver
You can shop for this screwdriver by clicking on the image or selecting it where you will be taken to Amazon to place the order. While there, you can read the reviews and answered questions.
As an Amazon associate I earn from qualified purchases.
–
Go back to the Pros Cons Shopping home page.