Monitor Meat Up To 230 Feet Away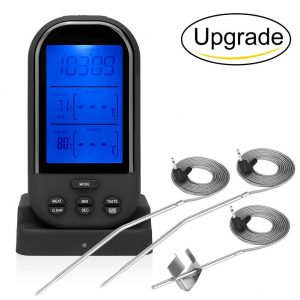 If you are a chef or like to cook you know how important it is to monitor meat temperatures when cooking on a barbecue or in the oven. So, when the meat reaches its proper temperature, you can serve it. The Wireless Meat Thermometer by Fengshui allows you to monitor up to two different meats or the same kind of meat with different tastes. The thermometer has two probes you can place in the meat and connect the other end to the transmitter. Using this feature will allow you to stay with your guests and monitor the cooking of the food up to 230 feet away which is the service area range.
You can preset the time or the temperature of the meat you are cooking on the grill or in the oven. So, if someone wants their steak rare and other wants there's medium, you can set each probe accordingly and the temperature alarm will go off to alert you when the preset time or temperature has been reached for each meat.
The wireless unit can switch easily from Fahrenheit or Celsius by holding the Min button for three seconds.
With the timer function in operation, you can spend more time with your guests instead of slaving over the grill or oven while the food is cooking.
The unit comes with programmed preset temperatures for beef, lamb, veal, hamburger, pork, turkey, chicken, and fish.
You can cook meats to the different tastes in your family or party. The unit has five optional tastes: rare, medium rare, medium, medium-well, and well done.
The unit requires 4 AAA batteries to operate and they are not included with the purchase.
With this unit you are now in control of your time be being more efficient when cooking either inside or outside.
With the LCD backlight display, you can easily see the timer and temperatures for each probe.
Notes:
Unit is not waterproof, only probes are waterproof. Do not expose plug of probe or plug-in hole into any liquid, which will lead to a bad connection and faulty readings.
Do not touch hot probe or wire with bare hands during or just after cooking. Always wear a heat-resistant gloves.
BRAND:
Fengshui
NAME:
Wireless Meat Thermometer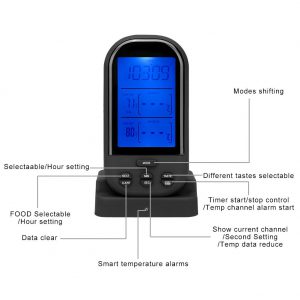 DESCRIPTION: The Wireless Meat Thermometer by Fengshui allows you to monitor up to two different meats or the same kind of meat with different tastes at the same time, and has the following features: Weighs 3.2 ounces, Dimensions 8 x 7 x 2 inches, 3 Probes, Uses 4 AAA Batteries, Remote Range 230 Feet, Display LCD Backlight, Material Stainless Steel, Temperature Range Minus 20 Celsius to 380 Celsius, Model Number None.
CATEGORY: "Kitchen & Dining", "Kitchen Utensils & Gadgets", "Thermometers & Timers", "Meat"
PRODUCT #: B0788NZZKH
REVIEW RATING: 4.9 stars, based on 39 reviews
Product Description
The unit comes with 3 high quality probes; one for the oven temperature, and two for the meat temperature and a transmitter. The probes are used to monitor the temperature of the oven or temperature of 2 kinds of foods simultaneously. They are made with high quality stainless steel that can withstand a temperature up to 716 degrees F or 380 degrees C. You can monitor 2 kinds of foods simultaneously. You can monitor the temperatures even if you are not in the kitchen or at the grill. You have a service area up to 230 feet from the transmitter.
The unit has three probes, one for the oven that has a clip and two for the types of meat cooking in oven or on the grill. Each probe can be programmed separately.
Product Specifications
Manufacture: Fengshui
ASIN: B0788NZZKH
Weight: 3.2 Ounces
Dimensions: 8 x 7 x 2 inches
Color: Black
Remote Range: 230 Feet
Material: Stainless Steel
Display: LCD Backlight
Probes: 3, 2 long probes 1 short probe
Max Probe Heat: Up to 716 degrees F (380 C)
Operating Power: 4 AAA Batteries (Not included)
Temperature Range: Minus 20 Celsius to 380 Celsius
Programmed With Preset Temperatures: Yes
Alarm: Will sound when target temperature or time is reached
Timer Function: Count up or count down
Maximum Timing Function: 1 second less than 10 hours.
In The Box: 1 Wireless Thermometer, 1 Transmitter, 2 Long Probes, 1 Short Probe with Clip, 1 Instruction Manual and 1 Notice Card
Product Pricing
The price for this product is provided for customers so they can compare them with other similar products.
Note: The price of this product is subject to change without notice.
Product Rating & Customer Reviews
This product is rated 4.9 stars out of 5, by 39 customers which is outstanding.
You can read all of the reviews for this product by clicking on the following link: Customer Reviews!
PROS
Wireless Remote Digital Cooking Thermometer In The Box

Performs Well – Programmed with preset temperatures for different types of meat (beef, lamb, veal, hamburger, pork, turkey, chicken and fish). When temperature of food reaches target value, thermometer will sound and alarm icon will flash.

Timer Function – No longer need to keep watching or monitoring. When the temperature gets to the target temperature, the alarm will let you know.
High Quality Probes – Well made of high quality stainless steel probes with 380 degrees heat resistance and Waterproof IPX7.
Hassle Free Setup – Timer with count up and count down function, maximum countdown is 9hr, 59min, 59sec. Set time for testing food in Timer Mode, the beeps and flash will alert you to avoid overcooking and undercooking your food.
230 FEET Remote Range – The wireless digital meat thermometer accurately monitors temperatures up to 230 feet away, allowing you to enjoy being with your company more.
CONS
Price.
The unit is not waterproof.
Uses 4 AAA batteries that are not included with the purchase.
Shop Wireless Meat Thermometer
Shop the Wireless Meat Thermometer. Click the Buy Now button below. Place your order now and be glad you did.
Did not find what you were looking for? No problem. Enter a search term in the Amazon Box below to search on Amazon for other products.