Waterproof Pet Furniture Covers
 Protect Furniture from Pet Accidents and Spills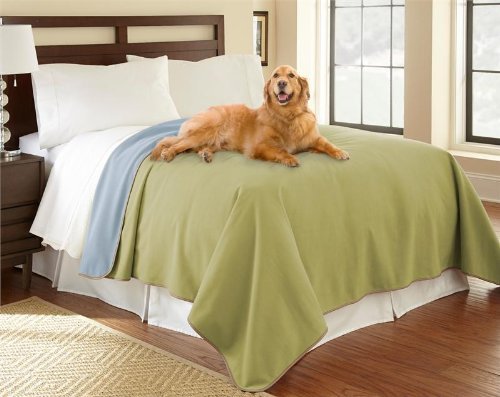 Most pet owners know that their dogs do have accidents from time to time by leaving a wet trail somewhere. It makes it very challenging for you when they do it on furniture, the bed and rugs as they must be cleaned. Now, you don't have to worry anymore about cleaning your good furniture, because the Waterproof Pet Furniture Covers has come to the rescue. These covers are made with soft microfleece that is made with 100% waterproof internal membrane that is designed to protect anything you cover with it. They come in two different colors that are reversible a different color on each side. The blanket cover protects pets and kids from these occasional accidents and spills.
The blanket cover is machine washable using warm water, and dry it using the medium temperature. Please note that if you want to remove any pet urine spots you will need to pre-treat the area with an enzyme-based cleaner to effectively remove the odor. When washing this cover, it should be the only item in the washer.
Washing Tip: When the washing cycle has completed make sure you use two spin cycles, which helps removing excess water, before placing it in the dryer on LOW heat.
The furniture blanket covers will fit any interior décor and is 100% waterproof which is a great way to protect any expensive furniture, bedding, sofas and cushions. Using these covers is a great way to help spill-prone kids and pets to protect the sofa, beds or furniture from these accidents.
The cover comes in various sizes to fit small furniture and up to king size beds. It comes in four color combinations, each reversible to give you up to eight different colors to fit your décor.
Besides using this cover in the home, you can also use it to protect seat covers in cars, trucks, and RV's.
What is nice about all of this is now you will have a peace of mind when you let your pets or kids on furniture without any worries about damage because the covers are waterproof. This cover also comes with a lifetime warranty.
Product Description
This blanket cover protects furniture that you want to keep your pets or young children from getting wet do to accidents or spills. These blankets come in four sizes and 4 color combinations that are reversible which make up to eight different color options. The covers can be used on a king/queen beds, recliner throw, sofa, twin beds and loveseats. They are 100% waterproof and comes with a lifetime warranty. They can be used not only on beds and furniture but also protect the seats and cushions of your car, SUV or truck. This cover can also be cleaned in the washer using warm water, two spin cycles (to remove excess water) and placed in the dryer on LOW heat. When washing this item, be sure it's the only thing in the washer. If you want to protect any furniture from accidents and spills from children and pets, this cover will do the job.
Product Specifications
Manufacture: Mambe
ASIN: B00DX5K144
Weight: King/Queen 5.4 lbs., Sofa 5.55 lbs., Recliner Throw 2.25 lbs., Twin/Loveseat 3.8 lbs.
Colors: 8
Sizes: 4
Warranty: Lifetime
Thickness: ¼ inch
Made: In the USA
Waterproof: Yes, 100%
Machine Washable: Yes (warm water, dry on medium)
Material: Microfleece both sides with waterproof membrane in between with 90% polyester and 10% nylon
In The Box: 1 Microfleece cover & warranty
Product Pricing
The prices for this cover is provided so consumers can compare them with other similar products.
King/Queen: $118.00
Recliner Throw: $69.00
Sofa: $135.00
Twin/Loveseat: $84.00
Note: The prices of these covers are subject to change without notice and may not be the actual price at the time of purchase.
Colors & Sizes
This product comes in four color combinations and each are reversible to provide you with eight different colors.
Colors
Please note that the color combinations below are reversible so there are two colors for each cover. The color combinations are listed below.
Bamboo-Skyblue
Buff-Camel
Chocolate-Cappuccino
Dove-Slate
Note: The colors are available in all sizes.
Sizes
King/Queen: 90 x 90 inches
Recliner Throw: 70 x 70 inches
Sofa: 70 x 120 inches
Twin/Loveseat: 70 x 90 inches
The above sizes are ideal for the following:
King/Queen: Sofa, loveseat, king & queen size beds
Recliner Throw: Seat cushions, recliners, & chairs
Sofa: Sofa, king & queen size beds
Twin/Loveseat: Loveseat, twin size bed
Product Rating & Customer Reviews
This product is rated 4.5 stars out of 5 by over 502 customers which is excellent. You can read all of the reviews of this product by clicking on the following link: Customer Reviews!
Questions People Are Asking About This Product
Below are some questions people are asking about this product.
Question: How thick is the cover? Will it prevent scratches from a dog?
Answer: It is quite thick. Two strong layers of microfiber with a heavy layer of rubber or plastic inside. I have two Dobermans that can pull up quilts and sheets into a ball for nesting. They can't do that with this. Washes really well. Very happy with this product.
Question: How well does this stay in place on a sofa?
Answer: The large one should stay in place quite well if it can be draped over the back of the sofa.
Question: Can you put it in the dryer?
Answer: Yes you can on low heat.
Question: I have a leather couch my cat has grown fond of peeing on. Will this work on my leather couch?
Answer: Yes, the Furniture Cover will protect the couch from pee. A couple bits of advice: if the leather is slippery, be sure to get a larger furniture cover size so that it can drape over the back of the sofa or tuck in around the cushions.
This product has 77 answered questions and you can read all of them about this product by clicking on the following link: Answered Questions!
PROS
Five color choice options and four sizes.

Lifetime warranty.

100% waterproof protection.

Soft micro-fleece on both sides with waterproof protection.

Blanket cover is machine washable.

It is ideal to protect furniture from kids and pets.

Made in the USA.
CONS
 Price.

Requires pre-treating pet urine spots with an enzyme-based cleaner prior to washing to effectively remove odors.
Shop Waterproof Furniture Covers
This waterproof cover is our #1 recommended choice and you can purchase this item by clicking on the image below. You will be taken to Amazon where you can select the size and color with the order.
Top Five Best Furniture Covers
Our recommended choice is above. We have provided four more covers that make up our Top Five Best Pet Covers. The other four choices below make-up the rest of our Top Five Furniture covers. Just click on the image of choice and you will be taken to Amazon where you can select size or color or both with the order.
As an Amazon associate I earn from qualified purchases.
#2 Furry Buddy


Furry Buddy Cover

#3 Rose Home Fashion


Rose Home Fashion Pet Cover

#4 Gorilla Grip


Gorilla Grip Pet Cover

#5 Turquoize


Turquoise Waterproof Cover
If you did not see your product on this page, enter a search term in the box below to search on Amazon for other products.
Go back to the Pros Cons Shopping home page.