Slicing Watermelon Made Easy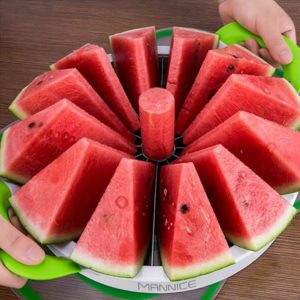 You probably remember those times on hot summer days, while growing up, enjoying and biting into a nice cold slice of watermelon. It really hit the spot. And of course, the bigger the slice the better. I can remember us siblings trying to finagle our way in trying to get the biggest piece. Well, the biggest challenge was trying to cut the watermelon into slices without hurting yourself. Now, that worry and concern is over. You can use an extra large watermelon slicer cutter that's made by Mannice. It cuts the watermelon into twelve equal pieces so everyone gets the same size.
Now, no more arguing and fighting for the biggest slice of watermelon. It will keep peace in the family when eating a cold slice of watermelon even for us adults.
The slicer can cut or slice fruits that are up to 11 inches in width. Some examples of fruits that can be cut using this slicer are:
Apples
Cantaloupe
Honeydew
Lemons
Limes
Pears
Pineapple
Mango's
Watermelon
The above is just a sample of some the fruits this slicer can cut as long as the fruit is less than 11 inches in width. It's also non-toxic and will not hurt the environment.
The blades are made of stainless steel which prevents them from rusting. The handles are made of silicone for easy pushing through the fruit. The unit is dishwasher safe for cleaning.
You can take the cutter slicer with you when going on picnics, camping, or visiting family and friends to evenly cut any fruit. It's also great for cutting fruit for banquets and large parties in your home. The use of this slicer cutter is endless. Another nice feature of this slicer is that it minimizes waste.
This slicer makes for a great gift for any occasion.
How To Use This Slicer
Below are four easy steps to operate this cutter:
Step 1. To begin, cut both ends off the fruit that you want to slice accept for apples.
Step 2. Put the cutter center hole in the middle of the fruit.
Step 3. Simply press down on the handles to push the slicer down through the fruit to the bottom so that cuts the fruit into 12 pieces.
Step 4. Remove any excess seeds that may be on the fruit if any and serve.
Slicer Cutter Video
This is a very short video on how this cutter slicer works in cutting fruit. Take a look!
Product Specifications
Manufacture: Mannice
ASIN: B07FXVG2NL
Weight: 1.77 lbs.
Dimensions: 13.9 x 12.3 x 2.7 inches
Number of Cutting Blades: 12
Cutting Blades Material: Stainless Steel
Dishwasher Safe: Yes
Handles Material: ABS Silicone
Product Description
This slicer cuts fruits into 12 evenly cut pieces which is great for stopping arguments in getting the largest piece. The twelve blades are made out of stainless steel which prevents them from rusting. The side handles are made of strong silicone. You can cut all types of fruit such as apples, lemons, limes, cantaloupe, pears, pineapple, watermelon and more. The whole unit is dishwasher safe.
There is a size limit of 11 inches in width for the cutting fruit using this device. Just cut off both ends of the fruit and place the steel hole in the middle of the fruit and push down to the bottom. That's all there is to it.
Product Rating, and Customer Reviews
This product is rated 4.0 stars out of 5 by 17 customers which is very good. You can read all of the reviews about this product by clicking on the following link: Customer Reviews!
Product Pricing
The price of this product is provided to consumers so they can compare them with other similar products.
Please Note: The price for this product is subject to change without notice and may not be the actual price you pay when placing the order.
Price: $35.99
PROS
Cuts twelve perfect slices with ease.
Cuts and slices many types of fruits.
Rubber handle made with ABS silicone.
12 Stainless steel cutting blades.
Dishwasher safe.
CONS
Must cut off both ends of fruit before slicing.
May have difficulty in cutting oranges.
Shop Watermelon Slicer Cutter
You can shop for the watermelon slicer cutter by clicking on the "Buy Now" button below. You will be taken to Amazon where you can place the order.
As an Amazon associate I earn from qualified purchases.
Go back to the Pros Cons Shopping home page.