Turn Your Kitchen Into A Mini Donut Shop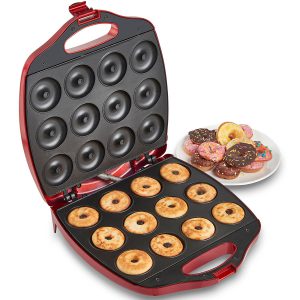 If you like the smell of a bakery shop as you walk in selecting your favorite doughnuts or pastry, now you can get the same results using the VonShef Mini Doughnut Maker. This appliance makes up to twelve 2-inch mini donuts per batch. Of course, you can make less than twelve. You can use your favorite doughnuts recipe to create great tasting doughnuts for family members, friends and party guests.
You can get other family members to join in the fun when they come out of the donuts maker by letting them decorate their doughnut to their hearts content. They can add sugar, sprinkles or other toppings and their favorite flavor icing to coat them with. Any combination will be a winner because they all decorated their own doughnut individually.
These doughnuts are also healthier than regular ones that are purchased at the bakery. The doughnuts are "baked" instead of "fried" which means less fat and calories per doughnut. You can make as many batches as you need to supply the family with caked doughnuts that are homemade and tasty.
What helps the cooking process is the machine has an automatic temperature control feature which means you will get perfect doughnuts every time. The indicator lights will tell you when the unit is ready start baking and also when they are done. You will get quick and fast doughnuts within 5 minutes.
For those in the family that have gluten sensitivities, you can make gluten-free doughnuts by using gluten-free ingredients in the batter.
The sky is the limit as you make your own doughnuts in the comfort of your home. Turn your kitchen into a doughnut factory that has great smells to get family members excited and can't wait for dessert to be served or just having a great snack before dinner. Or, coming home from a hard day's work or school to curb those hunger pains.
Get ready for the family members to be excited with the smell and odor of cooking doughnuts!
Video VonShef Mini Doughnut Maker
You can look at the short video below on how this donut maker works.
BRAND:
VonShef
NAME:
VonShef Mini Doughnut Maker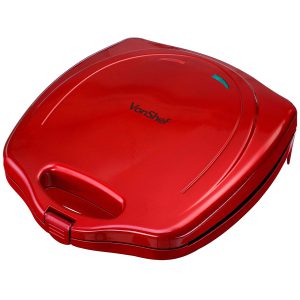 DESCRIPTION: Make your kitchen into a bakery shop using the VonShef mini Doughnut Maker, and has the following features: Weighs 6.75 lbs., Dimensions 15.3 x 12.9 x 5.9 inches, Makes 12 Mini Doughnuts Per Batch, Doughnut Size 2 inches, Automatic Temperature Control, Color Red, Voltage 110 Volts, Model Number 13/138US.
CATEGORY: "Kitchen & Dining", "Small Appliances"
PRODUCT #: B012B9P09S
REVIEW RATING: 4.2 stars, based on 75 reviews
Product Description
The donut maker is perfect for doughnut lovers everywhere. The appliance brings the bakery right into your own kitchen. You can make truly great tasting doughnuts in a matter of minutes.
When a batch of doughnuts is done, you can smother them in your favorite icing and toppings like sprinkles or just a dusting of sugar. Whatever you choose, you will like them. You can also get creative in decorating the doughnuts during the holidays.
These doughnuts are baked and not fried, which means that they are healthier for you because they have less fat. The donut maker makes a batch of 12 2-inch mini doughnuts at a time. They only contain about 50 calories per doughnut. You can impress your family, friends and dinner party guests with the different decorations on the doughnuts.The doughnut making machine has a non-stick coating that makes removing the cooked doughnuts and cleaning the machine very simple and easy.
Now, you can have your favorite doughnuts ready at any time or occasion.
 Product Specifications
Manufacture: VonShef
Model: 13/138US
ASIN: B012B9P09S
Weight: 6.75 lbs.
Dimensions: 15.3 x 12.9 x 5.9 inches
Doughnut Capacity: 12 Mini Doughnuts
Doughnut Size: 2 Inches
Voltage: 110 Volts
Color: Red
Automatic Temperature Control: Yes
In The Box: 1 Doughnut Machine & Instructions
Product Pricing
The price for this product is provided to customers so they can compare them with other similar products.
Price: $39.98
Note: The price of this product is subject to change without notice and may not be the actual price at the time of purchase.
Product Rating & Customer Reviews
This mini doughnut maker is rated 4.1 stars out of 5 by 87 customers which is very good.
You can read all of the reviews for this doughnut maker by clicking on the following link: Customer Reviews!
Questions People Are Asking About This Product
Below are some of the questions people are asking about this product.
Question: Does this have heat on top and bottom or do you have to flip the donuts half-way through cooking time?
Answer: Both sides cook a the same time….it only takes a couple minutes.
Question: Does this machine make just donuts or can it make donut holes as well?
Answer: It makes mini donuts but no donut holes.
Question: Exactly how big are the donuts made with this?
Answer: About 2 inches.
Question: Can I use different molds? How about my own recipes?
Answer: You cannot use molds but you can use your own recipes.
Question: Is it easy to wash? For example: do the molds come out and are dishwasher safe?
Answer: Yes, it's easy to clean: the nonstick surface can be wiped clean with a paper towel quickly and easily. However, the molds DO NOT come out, so you can't throw them in the dishwasher.
You can also review the 20 answered questions concerning this product by clicking Here!
PROS
Temperature Control – The Automatic temperature control to ensure perfect doughnuts every time.
Fast Heat-Up – The machine heats up very quickly so there's less waiting and lets you know when the batch is done.
Powerful – The machine has power and ready light indicators to let you know it's time to get baking mini doughnuts and when they are done.
12 Donuts – The machine makes up to twelve mini 2" size doughnuts within 5 minutes.
Healthier Donuts – These doughnuts are more healthier than regular doughnuts as they are baked instead of being fried which means less fat and calories.
CONS
Price.
Doughnuts are only 2-inches in size.
There is no place to store the cord when storing the appliance.
Shop Mini Doughnut Maker
Shop the VonShef Mini Doughnut Maker. Click the Buy Now button below. Place your order now and be glad you did.
As an Amazon associate I earn from qualified purchases.
Go back to the Pros Cons Shopping home page.