Having A Pleasant Scent in Your Home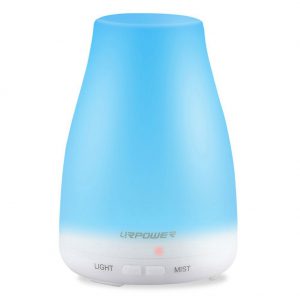 Do you find yourself at times feeling tired or having difficulty in getting a good night's sleep? You are not alone as many other people also have this problem. The URPOWER Essential Oil Diffuser is a product that shoots a mist or vapor into the air and acts as a mini humidifier. By adding essential oils into the mix you can experience some healthful benefits. Some of these benefits include a soothing fragrant mist being emitted in the room where you are sleeping or just relaxing. You will notice the difference as soon as you walk into the room.
Depending upon the mode selection this mist can last up to 6 hours or more. Adding essential oils provides some healthful benefits like a couple of drops of lavender which aids in sleeping and relaxation and making the room smell a lot better. Other essential oils have other health benefits depending upon the oil used in the diffuser. The essential oils is added to the water and the diffuser adds a vapor like moisture into the air. The unit diffuses essential oils without using heat or burning so the holistic properties of the oil will stay intact.
What is nice about this diffuser is when the water runs out, the automatic shut-off feature will engage to prevent it from being burned out or catching fire.
This unit has seven different colors to select from which include: three shades of blue, green, yellow, pink and red. The diffuser uses 100ml of distilled water for best results. It uses no batteries only electricity and comes with a 70-inch cord.
The lights can double as a night light if you desire. They can be turned off and only the power and mode lights will be lit.
The product comes with its own measuring cup, charger adapter, and user manual.
This diffuser uses BPA free materials so you can feel secure that you are not going to harm the environment. 
Diffuser Video
Below is a short video on how this diffuser works. Take a look!
Product Description
Looking for a simple way to smell better in your room? The URPOWER Ultrasonic Aroma Essential Oil Diffuser is elegant and easy to use. Just add 100ML of water and a few drops of your favorite essential oil. Advanced ultrasonic vaporizing diffusion technology quietly releases a soothing fragrant mist up to 6 hours. For best results, use distilled water.
Automatic shut off safety system when water less protects the product from being burned out. Keep essential oil 100% natural without burning or heating and automatic shut off safely.
The URPOWER ultrasonic aroma humidifier does double duty to make your home smell better for up to 6 hours. First, the humidifier function adds moisture to the air to help you sleep better, cough less and alleviate dry sinuses. This handy unit also diffuses your favorite scented oils without heat, so their holistic properties stay intact. The result will be moist air.
Product Specifications
Manufacture: URPOWER
Model: URPOWER
ASIN: B00Y2CQRZY
Product Dimensions: 3.1 x 3.1 x 5.5 inches
Capacity: 100ml
Weight: 10.9 Ounces
Working Time: 6 Hours
Material: Upper parts PP
Adjustable two mist settings: Continuously and Intermittently
Power Supply Cable Length: 69.6 inches
Input Power: AC100-240V 50/60HZ
Advanced Ultrasonic Technology: 2.4MHZ
Color Changing Lamps: Seven ( 3 Shades of Blue, Green, Yellow, Pink & Red)
In The Box: Oil Diffuser, Charger Adaptor, Measuring Cup, Manual
Auto Shut-Off: Yes
Programmable On/Off Cycles: Yes
Product Pricing
The price for this product is provided to consumers so they can compare them with other similar products.
Note: The price of this product is subject to change without notice and may not be the actual price you pay at the time of purchase.
Product Rating & Customer Reviews
The oil diffuser is rated 4.4 stars out of 5, by over 33,374 customers which is excellent.
You can read all of the customer reviews by clicking on the following link: Customer Reviews!
Questions People Are Asking About This Product
Below are some questions people are asking about this product.
Question: Does it shut off?
Answer: Pushing the power once to green it stays on 3 hours and turns off. Pushing it a 2nd time to red will use it all until empty, then turn off.
Question: Is it possible to also turn off the indicator light while it is on? I plan to use this at night.
Answer: When it is running the indicator light (showing on) does stay on but it is not significantly strong. When on you can turn it away from your view.
Question: How bright is the light? I'm looking for light that will moderately reach to most of the room, not just brighten the corner it's in.
Answer: There's several different colors, but each have 2 settings, a dim and then brighter setting, so the brighter setting might work for you.
Question: How do you clean it?
Answer: The manual says just detergent used in kitchen into warm water for dilution, and clean the product with a rag. Either after every 5 – 6 times you've used it or every 3-5 days.
Question: How many drops of pure essential are ideal?
Answer: Most of bottles of essential oil will have a suggestion of x-number of drops per a certain volume of water. However, it reall all depends on how strong of a scent you like in the room and the size of the room. When I fill the one I have in my living room up to the max level indicated, I'll add 3 to 4 drops. And when I fill the one I have in my bedroom up to the max level I'll only add 2 drops.
You can also review the 1000+ answered questions concerning this product by clicking Here!
Shop Essential Oil Diffuser
Shop the URPOWER Essential Oil Diffuser. Click the Buy Now button below. Place your order now and be glad you did.
As an Amazon associate I earn from qualified purchases.
Go back to the Pros Cons Shopping home page.