Universal Magnetic Phone Holder
Magnetic Car Phone Holder That Holds Any Device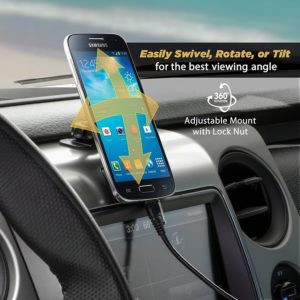 Many individuals own a tablet, smartphone or iPhone. Sometimes it can get very tricky when traveling in the car trying to answer a call or text a message or even using the GPS system in getting to a destination. Now you don't have to worry, the Universal Magnetic Phone Holder by SCOSCHE will come to the rescue and provide a safe place to mount the phone when traveling in the car, truck, boat or RV. The magnets provide a secure grip to any device and is completely mobile and safe.
You can place the unit anywhere in the cars dashboard and in the home to secure your phone or tablet. It has very powerful magnets which will hold it in place. It has a 360-degree adjustable head that provides optimal viewing even when traveling. With the integrated cable clip it allows you to use one hand and keep the other on the wheel. The holder allows for a hands-free, convenient and quick look while traveling.
For best results, place the mount holder on a smooth flat surface in the car.
Please note in many states they may have a law requiring the driver's phones be
mounted in the vehicle while in use. This phone mount securely holds your phone for easy one handed or hands-free operation. Be sure to check with your local laws before purchasing.
If you have an Android smartphone, iPhone or any other device, you can now have it available to you where you can view it in safety. Your phone will stay connected to the device which can be removed using one hand. Besides placing the stand you your vehicle it can be placed anywhere in your home.
Another tip, before purchasing, determine where the mount will be placed in your vehicle. Be sure that there is sufficient space where to place the mount that will hold the adhesive. This will save you time and money.
There are other options available besides this model which is strictly for the car dashboard. Others mounts are: Cup Holder, DashMat, CD Slot, GPS Suction, Flush Mount, Vent, Suction, and Mirror. They all come with a three year warranty.
One final feature the unit is wireless compatible as the magnets will not interfere with the Qi wireless charging phones.
Video
Below is a short video on how to mount this system in your car and a brief review of the product. Take a look!
Product Description
This universal hands-free mount is a mounting system for mounting your smart phone and devices to the dashboard in your car, truck, boat, or RV. It has a 4-axis adjustable angle ball joint neck with lock which allows optimal viewing from any seat. The powerful magnets holds the phone or device safely even over the bumpiest roads. You can easily rotate the device between portrait and landscape orientation quickly because of the magnetic connection.
Pricing
The price of this product is provided so consumers can compare them with other similar products.
Price: $12.99
Note: The price for this product is subject to change without notice and may not be the actual price at the time of purchase.
Product Specifications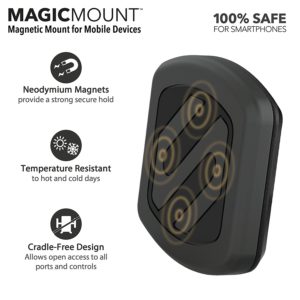 Manufacture: SCOSCHE
Model Number: MAGDM
ASIN: B00I3E17RA
Dimensions: 1.8 x 2 x 2 inches
Weight: 2.4 ounces
Magnet Strength: Strong
Adjustable 360-Degree Mount: Yes
Protective Film Included: Yes
Application: Car, Home, Boat, or Office
Qi Wireless Compatible: Yes
Mounting Base Type: Adhesive
Powerful Rare-Earth Magnets: Yes
Safe for All Devices: Yes
Magic Plates Included: 2, 1 Large Rectangle & 1 Medium Rectangle
Arm Length: 5 inches
Customer Service: 1-(800)363-4490 Ext 1.
Product Rating & Customer Reviews
This product is rated 4.1 stars out of 5 by 2,335 customers which is very good. You can read all of the reviews about this product by clicking on the following link: Customer Reviews!
Questions People Are Asking About This Product
Below are some questions people are asking about this product.
Question: Where is this product made?
Answer: It is made in China.
Question: How permanent is the adhesive?
Answer: Depends on where you live. In a hot day in Southern California, your mount is guaranteed to drop. The sticker will remain on the windshield. The bond with the windshield isn't the problem. The problem lies in the mount itself. The sticker does not stay bonded to the mounting plate in excessive heat. It uses 3M double sided sticker and even 3M's fine print will tell you that adhesion could be lost if temperature is above 105 degrees.
Question: What is the length of the goose neck?
Answer: About 6 inches.
Question: Does the magic mount CD slot mount come with the metal plates for the phone?
Answer: Yes. One large and one small, and even the small one is strong enough to hold your phone.
Question: Will this devise drain your car battery leaving it in the plug at all times?
Answer: I keep it in all the time and it doesn't do anything to the battery. I think it's only on and charging if your phone is plugged into it.
There are 224 frequently asked questions about this product and you can read them by clicking on the following link: Frequently Asked Questions!
PROS
It's versatile to safely and quickly secure any mobile device to a wide variety of car or home surfaces.

It secures a mobile device to any flat surface using a strong automotive grade adhesive.

Optimal viewing angel for 360 degree adjustable head with soft touch rubber for easy viewing from any angle.

It's wireless compatible and won't interfere with Qi wireless charging phones.

Easy to change the view from portrait to landscape.

Safe for all types of devices including smartphones, cellphones, tablets, GPS systems, multi-media devices, and keys.

3-Year Warranty.
CONS
May have some difficulty adhesive sticking in hot weather.
Best mounting on smooth flat surfaces.
Shop Universal Phone Holder
You can shop for the universal phone holder by clicking on the "Buy Now" button below. You will be taken to Amazon where you can place the order.
When you get to the page, there are other options to choose from and they are: Cup Holder, DashMat, CD Slot, GPS Suction, Flush Mount, Vent, Suction, and Mirror. Order the best holder for your needs.
As an Amazon associate I earn from qualified purchases.
Go back to the Pros Cons Shopping home page.