Travel Suitcase Organizer
A Great Way To Keep Clothes Organized When Traveling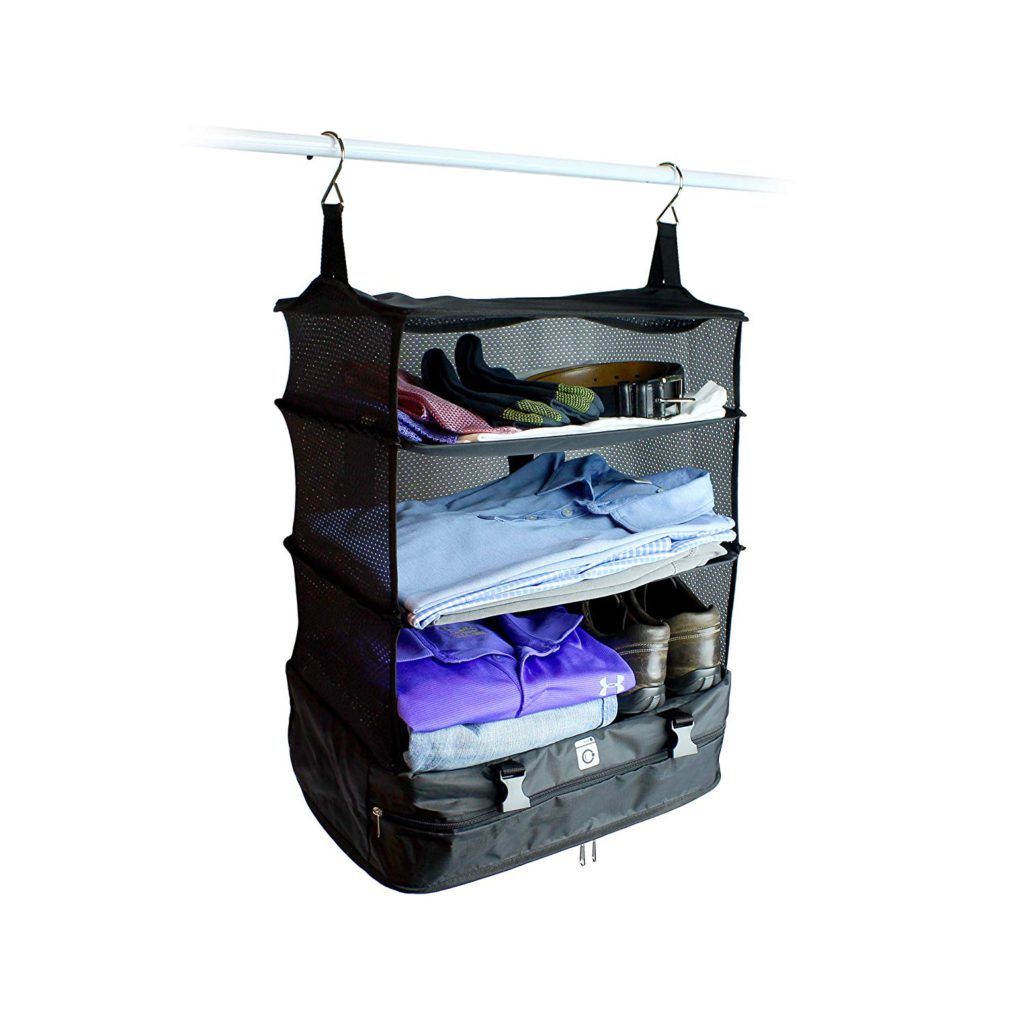 Whenever you go on a trip or have to travel for business you must get out the suitcase or bag and pack it. Depending upon how long your stay is you will pack all your stuff as best you can so most of the clothes will not get wrinkled. How about trying the Travel Suitcase Organizer known as the Stow-N-Go by Budley to keep your belongings neatly organized. This organizer fits nicely into an airplane carry-on bag or suitcase and saves up to 30% of available space.
It has four tier compartments that are 17.7 inches in width, three are open and 1 has a zipper to close. You can place shoes or anything else in the zippered compartment. In the open tier compartments you can place clothes, underwear, toiletries, and shoes. When you are in the hotel, you can use the zippered compartment as a place to put your dirty underwear or clothes in. The organizer has steel hooks to keep your packed stuff tidy, neat, and pressed while traveling.
It has a hook to hang it up in a closet, over the door on a shower curtain.
It's easy to pack this bag, first hang the expandable system, load the clothes, collapse and latch the system and pack it into the suitcase, it's just that simple.
This organizer bag system will help you stay organized every time you travel on vacation, or a business trip.
This product comes in four colors; black, blue, gray and pink. It also comes with a complete money back guarantee if you are not completely satisfied within six months of purchase.
All individuals who must travel or have to take frequent trips will like this organizer.
Travel Luggage Organizer Video
This is a short video of the Stow-N-Go Organizer in action. It demonstrates some great ways on how to pack it for trips. Take a look!
Product Specifications
Seller: Grand Fusion Housewares
Model Number: 647166278241
ASIN: B01MZ2SGCR
Weight: 1.43 lbs.
Dimensions: 17.7 (L) x 11.8 (W) x 25.2 (H) inches
Shelve Width: 17.7 inches
Size: Large
Colors: Black, Blue, Gray, Pink
Material: Polyester
Shelves: 4 (3 open, 1 zips closed)
Guarantee: Return within six months of purchase for a full refund
Product Description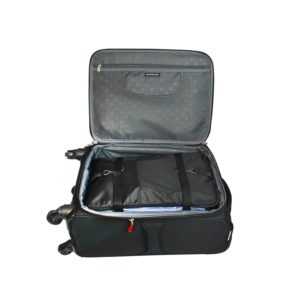 Individuals or families that like to take trips or travel now will be able to organize their belongings that will fit into four tiered compartments. Three of which are open and one has a closed in zipper compartment for storing shoes or dirty laundry. The tiers are 17.7 inches wide and are made of polyester. The luggage organizers come in four colors, black, blue, gray, and pink. They easily fit into a carry-on bag,  suitcases, and luggage that are 20″ and above. It's a great way to keep clothes and stuff neat and tidy. It has a hook which can be hung in a closet or door. You will be surprised on how well this luggage organizer keeps your clothes. It will also save up to 30% of available space in the suitcase.
Product Pricing
The price of this organizer is provided to consumers so they can compare them with other similar products. The prices listed below are for each color.
Black: $29.99
Blue: $29.99
Gray: $34.99
Pink: $29.99
Note: The prices for these products are subject to change without notice and may not be the actual price at the time of purchase.
Product Rating & Customer Reviews
This product is rated 4.3 stars out of 5 by over 197 customers which is excellent. You can read all of the reviews about this product by clicking on the following link: Customer Reviews!
Questions People Are Asking About This Product
Below are some questions people are asking about this product.
Question: Does the bottom zippered part flatten out if there is nothing in it? If not can you pack stuff in there or is that where the shelving compresses into?
Answer: You can store things in there or if you don't use it it flattens down. I see it to be very useful.
Question: Does the luggage comes with wheels?
Answer: No, it does not. It is made to be used as an insert in your luggage. I do not Travel without it! I love it. Very sturdy and made of quality materials. I travel a lot for work and it is a life saver.
Question: Does this zip all the way closed? The images for the pink one show it closing all the way. Do the other colors do this?
Answer: The bottom shelf zips closed. The other shelves remain open when hanging but it all straps shut when compressed. Wouldn't want each shelf to be zipped closed. Perfect design as is.
Question: Will this fit the international 20″ carry-ons?
Answer: Yes it will.
You can read all of the 23 answered questions about this product by clicking on the following link: Answered Questions!
PROS
It's portable and easy to organize clothes and other stuff when going on trips.
Easy to use just pack the three open tier compartments with things needed for the trip.
One zippered compartment that can be used to store shoes or dirty laundry.
Fits 20 inch and larger size suitcases including standard sized carry-ons.
Saves space in luggage bag for other things.
Enclosed hook makes it easy to hang up in a closet.
6-month money back guarantee if not completely satisfied.
CONS
Price.
Shop Travel Suitcase Organizer
 You can shop for this portable travel suitcase organizer by clicking on the "Buy Now" button below. You will be taken to Amazon where you can select the color and place the order.
If you did not see your product on this page, enter a search term in the box below to search on Amazon for other products.
Go back to the Pros Cons Shopping home page.