Top Rated Popcorn Kernels Makes For Great Tasting Popcorn!
Introduction
Top rated popcorn kernels make a big statement for those who love gourmet popcorn. If you are a color freak the red, blue, purple or black might surprise your taste buds. If you are a traditionalist the yellow kernels that pop into the butterfly shape will excite you. If you like being unique try serving your guests the rainbow kernels. If you are nutritionist focus on the colored kernels as they offer a higher fiber content and more antioxidants.
There is no one that doesn't like popcorn unless they are allergic to corn. It is an excellent and healthful snack for all. The trick is finding the type of popcorn that your family will enjoy when you have movie night, game night, or any other type of family gathering.
You can buy already popped popcorn in your local store. However, nothing tastes better than making your own popcorn at home using the kernels you like. Most pre-popped popcorn use the butterfly shape and may have some ingredients you may not like. For example, the sodium content may be higher than you like.
Popcorn pops by pressure. The pressure from the heat on popcorn kernels causes failure in the kernel's skin, which results in the skin popping. Which is the sound you hear as the popcorn is popping by air, oil or microwave.
This article will provide information about each of the types of kernels and the shapes of popcorn you will get from specific kernels.
Video – Making Chocolate and Caramel Popcorn
Below are videos showing you how to make homemade chocolate and caramel popcorn if you don't have a recipe. Just click on the video of interest. Just jot down the ingredients as they are displayed in the video.
Chocolate Popcorn Video
Caramel Popcorn Video
Health Benefits of Popcorn
Popcorn when prepared in the right way can be a healthful snack and provide some benefits too. Popcorn is high-fiber and has low calories which makes it a good candidate for a healthy snack. Popcorn has between 31-55 calories in unbuttered popped popcorn.
Americans consume 17 billion quarts of popped popcorn every year. The average American consumes about 58 quarts of popcorn a year. (Source: National Popcorn Institute)
However, one must be careful, just because you eat popcorn, it might not be healthy for you because of the extra toppings you add on top of the popcorn.
Case in point, theater popcorn has lots of sodium and use oil when making their popcorn. For example, a tub of movie theater popcorn contains 1,090 calories and 2,650 milligrams of sodium on average. Even the small size contains significant calories and sodium. Most movie chains cook popcorn in canola or coconut oil. Few cook their popcorn in olive oil.
The best way for a healthy popcorn snack is to make it yourself. The reason is you can control what goes on top of the popcorn after its popped. It's the added toppings that make for the extra calories.
In addition to fiber, popcorn also is a good source of polyphenols, which are antioxidants that have been linked to better blood circulation and digestive health, as well as a potentially lower risk of certain cancers.
Another health benefit of popcorn is its high satiety. Because of popcorn's high fiber content, its low calorie count and its low energy density, popcorn is considered to be a food that can aid in weight loss. For example, popcorn has been shown to make people feel fuller than a similar calorie amount of potato chips.
The Proper Way To Store Kernels
Now that you purchased some popcorn kernels you have to store them. The best way to store your un-popped kernels is putting them in an airtight container in a cool place like a cupboard or basement after you open the bag for your first batch of popcorn. It will help keep the kernels fresh. Do not store them in the fridge as they could dry out. If the kernels are not stored properly they can get stale and not pop well and produce a lot of old maids.
Another question, can you store popcorn kernels in the freezer? The answer is yes. Placing the popcorn in the freezer does not freeze the kernels but it makes it last fresher longer.
Recooking Unpopped Kernels
Another major question people ask is it OK to reheat un-popped kernels? The answer is yes. Here is what you need to do. If you have many kernels that are un-popped, then your kernels may not be fresh. You can try soaking these kernels for at least 10 minutes in water than pat them dry and place them in a sealed plastic bag. This will prevent any excess air from drying out the kernels. When you have saved at least ¼ cup of un-popped kernels stored, re-pop them.
Shapes of Popcorn
Regardless of the type of popcorn you use, it is a great tasting snack for all. Below we describe the basic shapes of popcorn after its popped.
Mushroom Popcorn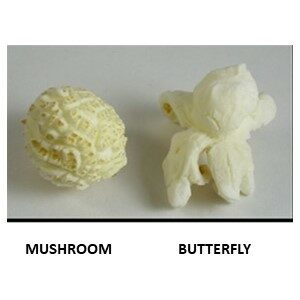 The gourmet popcorn industry uses this type of popcorn. If you are into coating your popcorn with all types of gooey toppings, this is the type of popcorn to use. Use this type of popcorn for cheese popcorn as it holds all types of toppings and will not break apart like the other popcorn types.
This popcorn get its name as it looks like a mushroom ball when it's popped. This type of popcorn is best when cooked on the stove or an air popper. It's not recommended for the microwave because it will not pop in the mushroom shape, but it will pop.
Mushroom popcorn is less prone to crushing, and once coated, will stay fresh and crispier much longer than uncoated butterfly popcorn. One more tip, mushroom popcorn requires a higher temperature to achieve the best results. It's best when using a hot air popper or machine.
The best mushroom popcorn brand we can recommend is Concession Essentials Premium Gourmet Mushroom extra-large kernels.
Butterfly Popcorn
This is the type of popcorn that movie theaters and sports stadiums use. It produces a large butterfly flake. It is hardy for holding butter and other toppings. This popcorn type can be cooked on the stove, air popper and the microwave. Butterfly popcorn is the most common type being used in homes today.
This type of popcorn is the shape being used by all microwave popcorn sellers.
The best butterfly brand for home use is Orville Redenbacher's Original yellow popcorn.
Hulless Popcorn
This popcorn pops virtually hulless. It is good for individuals that have braces. The hulls on these kernels are tender smaller, thinner, less visible, and softer than regular popcorn.
The problem with regular popcorn is the hulls can get stuck in the braces and are difficult to remove. They also can get wedged between teeth and below the gums which causes them to be inflamed and swollen.
Seasonings go very well with this type of popcorn. This is also a good choice for making popcorn balls. It can be cooked on the stove and air popper. Not recommended for the microwave. However, there are some brands that are specifically made for the microwave. Look for the Amish Country Popcorn brand as they make this type of popcorn for the microwave.
The best non-microwavable brand for this variety of popcorn is Dutchman's.
Tiny Kernel Popcorn
This type is tender and pops into small flakes. It is used in snack food manufacturing, gourmet popcorn shops and retail popcorn offerings. It has a huge flavor and has thin and fragile hulls. This type can be cooked on the stove, air popper and microwave.
This type of popcorn is easy to digest and will not get stuck in your teeth. The best brand that makes this variety of popcorn is Tiny But Mighty Heirloom. They make both the kernels and microwaveable options.
Be aware that this type of popcorn is more costly than the other types.
Popping Sorghum
The sorghum is a small tiny grain that is naturally gluten-free and very nutritious. It has a nutty, slightly sweet taste, and it puffs up beautifully when popped over high heat. After it's popped, it can be eaten plain, sprinkled with chili powder, salt, finely grated Parmesan cheese or any other toppings you like.
Sorghum is a nutrient-packed grain that you can use in many ways. It's rich in vitamins and minerals like B vitamins, magnesium, potassium, phosphorus, iron, and zinc. It's likewise an excellent source of fiber, antioxidants, and protein. It contains up to 48% of your daily intake of fiber. It is healthier than eating regular popcorn.
This type is completely hulless after popping and does not stick to the teeth when being consumed. It also has a huge flavor. It's low in calories and fat. This type can be cooked on the stove, air popper and the microwave.
Sorghum is sold by many companies and you can find it in your local store. It is made in the United States.
The best sorghum grain we can recommend is Anthony's Premium Sorghum Grain that is Non-GMO, Gluten-Free and Whole Grain. It's made in the USA.
Types of Popcorn Kernels
In this section we will review all of the types of popcorn kernels you can buy. There are: white, yellow, blue, purple, red, rainbow and black kernels. A review of each of these types of kernels is covered below.
White Kernels
Basically there is no difference between yellow and white kernels. However, yellow kernels are used in movie theaters and microwaveable popcorn. White kernels pop up smaller, thinner hulls, milder flavor, lighter, and snow white when popped. White kernels can be cooked on the stove, hot air, or microwave. Our recommendation for white kernels is Snappy White Popcorn and is Non-GMO Project Verified.
Yellow Kernels
This type of kernel is the most popular because when they pop they are fluffier and have a durable texture. They pop into a butterfly shape which can hold butter and other toppings very well. Yellow kernels are larger, fluffy, thick hulls, stronger flavor, and have an off white color when popped. Yellow kernels can be cooked on the stove, hot air or microwave. Our recommendation for yellow kernels is Ovrille Redenbacher's Original as it's Non-GMO Project Verified.
Blue Kernels
The kernels outside color looks blue, but when popped, the popcorn becomes white. This color kernel when popped is crunchier, lighter, tasty, high in fiber, gluten-free, and GMO free. The kernel is smaller so you will need to use more of them when popping popcorn. These kernels can be cooked on the stove, hot air or microwave. Our recommendation for this kernel is Amish Country Popcorn Blue and is Non GMO, Tree Nut, Peanut and Gluten Free.
Purple Kernels
Purple kernels are native to South American Andes Mountains and Peruvian valley. This color kernel has more antioxidants than the traditional yellow kernels. Rich in anthocyanin and phenolics it has more antioxidants than other kernel types. When popped it will be white but with fewer hulls and is fluffier then regular popcorn. The flavor of this popped kernel has a distinct nutty and sweet taste. This color kernel is larger than the blue or red types. If you are health conscious, then use purple kernels when making your family popcorn. These kernels can be cooked on the stove, hot air, or microwave. Our recommendation for this kernel is Amish Country Popcorn Purple is Non GMO, Tree Nut, Peanut and Gluten Free.
Red Kernels
The red kernel is smaller than the yellow and has a neutral taste and more crunch. The kernel is red but when popped it becomes a small bright white flake that is crunchy and has a nutty flavor. It holds more anthocyanin & cyanidin than yellow popcorn. Red kernels can be cooked on the stove, hot air, or microwave. Our recommendation for this kernel is Amish Country Popcorn Red and is Non-GMO, Tree Nut, Peanut, and Gluten Free.
Black Kernels
This color kernel pops virtually hulless, sweet taste, crispy, small, tender flakes, and have antioxidants which is good for you. Black kernels are higher in polyphenols and anthocyanins which is more than any other popcorn on the market. These kernels can be cooked on the stove, hot air or microwave. Our recommendation for this kernel is Black Jewel Original Black Popcorn it's Non-GMO, Whole Grain, and Gluten Free.
Rainbow Kernels
Rainbow kernels is a blend of red, blue, white and yellow popcorn kernels. Each color of kernel has its own unique flavor. By mixing them together, it will result in another unique flavor that you have to try. Plus, you get all of the healthy benefits as well. These kernels can be cooked on the stove, hot air or microwave. Our recommendation for this kernel is Amish Country Popcorn Rainbow and it's Non-GMO, Tree Nut, Peanut, and Gluten Free.
PROS
Buy the Kernels Types You Want
Healthy Nutritional Snack
Makes For A Great Snack On Family Night
Mix Kernel Types For A Surprise Flavor
Popcorn Tastes Best When It's Air Popped
CONS
Not All Stores Carry Colored Kernels
Some Kernel Types Cost More Than Yellow or White
Adding Lots of Toppings Nagates The Nutritional Value
Conclusion
It seems like we bombarded you with lots of information about kernel types and shapes. Each type has it's own specific flavor which not all individuals will like. Some have more nutrition than other kernel types. However, whichever type you do use, it is a healthier snack for the family. Now, you can surprise your family on movie night or game night by serving various types of popped kernels.
Some stores may not carry the red, blue, black, purple, or rainbow kernels. They can be purchased online at Amazon. See the links below.
We let you in on a big secret that movie theaters and sports arenas sell popcorn using yellow butterfly type kernels. They also add salt and other toppings to increase the calories and reduce any of the benefits that popcorn returns. Making popcorn at home is the best way to control the toppings you serve your family.
For a treat, we provided videos on how to make chocolate and carmal popcorn at home.
After you make the decision on which type of kernel to use, you may experiment on which color has the best flavor you like.
Enjoy eating your popcorn!
Shop Popcorn Kernels
As an Amazon Associate I earn from qualifying purchases.
You can shop for the different color kernels and shapes. You will be taken to Amazon where you can place the order.
Go back to the Pros Cons Shopping home page.
–
–
–
–
–
–
–
Go back to the Pros Cons Shopping home page.