Taking TV Viewing To The Next Level!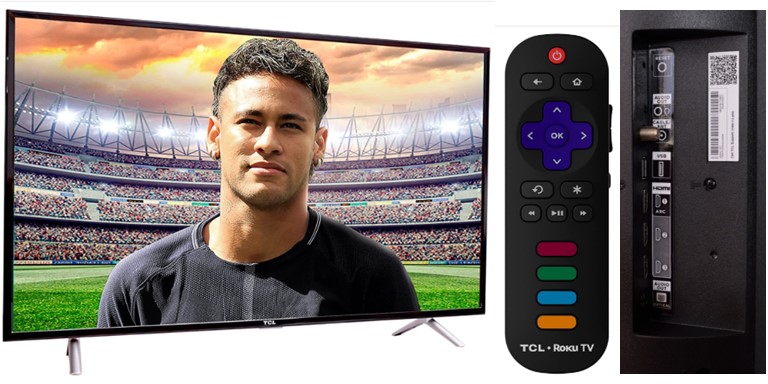 Just Think! 
✓ Stunning Picture
✓ Lifelike Viewing Experience
✓ 4K UHD Picture
✓ HDR Technology
✓ Digital Tuner
✓ Fast Wi-Fi
–
This Is The Most Dynamic TV Viewing Experience!
✓ Cable, Antenna & Streaming Friendly
✓ Powerful Mobile App
✓ This TV Experience Is Always Getting Better
✓ View Programs In A Way You Never Saw Before
✓ Easy To Use Remote
✓ Sit Closer For A More Robust Viewing Experience
✓ The Closer You Sit Does Not Affect Picture Clarity
–
It's The Resolution
It seems like every year there is some new technology coming out that everyone is excited to have. I can remember when HDTV came out a few years back bringing a sharper picture. Now, there is something newer and it's TCL 4K TV. 4K TV came out in 2017 and now it's being perfected and taken to a higher level. The models are now more affordable and won't break your budget.
You may be asking yourself just what is 4K TV? A quick answer is 4K technology delivers ultra HD picture quality that has four times the resolution of full HD. The standard HD is 1080p and has 1920 x 1080 pixels. The 4K technology resolution is 3840 x 2160 pixels and has about 8.3 million pixels which is four times as many as the HD TV. The result is a much sharper picture verses HD at 1080p. So, your gaming and movie images will appear much sharper and in greater detail that is noticeable the first time you see it. For best picture experience, it is recommended that you sit closer to the screen.
Another nice feature in 4K TV's is the HDR or High Dynamic Range. This is all about the contrast ratio of a picture. It is mainly the range between the darkest and lightest shades in an image. 4K content is limited currently.
How Clear Is The Picture?
The 4K TV is an emerging technology that has a resolution of 3,840 x 2,160 pixels, 8 million pixels in total, and that is four times the number of Full HD (1,920 x 1,080). This allows you to enjoy the crystal-clear clarity of 4K TV by sitting as close as possible to the screen.
4K Content Services
Below are some of the services that is currently offering 4K content:
Netflix
YouTube
Sky
Sky Q
Amazon Prime Video
4K Blu-Ray Players
PS4 Pro
Xbox One S
Xbox One X
BBC Blue Planet 2
As this technology becomes more popular, you will see more 4K streaming in broadcasts of news, and TV programming.
Instructions For Getting HDR Working with Xbox One X (Using This TV)
If you are a gamer, when using this TV to operate your device you may experience some issues. You will need to follow the instructions below. These settings are not covered in the owner's manual.
On the Roku TV Home go to settings (not picture settings from the remote) but the settings option on the home page.
Go to TV inputs, select the HDMI port your Xbox is on.
In the HDMI mode, change it from auto to HDMI 2.
Go to your Xbox one X and in the display settings , and Advanced Video, select Allow HDR.
That's it. Your gaming unit should now work with the TV.
Product Description
The TCL 4K Roku TV delivers a stunning ultra HD picture quality that you will notice the first time you see it. It offers 3480 x 2160 pixel resolution that has about four times the pixels verses 1080p TV's which have 1920 x 1080 pixels. The TV has HDR which is High Dynamic Range compatibility. You will notice sharper and more detailed images when watching sports, news, movies, gaming and TV programs. This unit allows you to choose from more than 4,000 streaming channels that have 450,000 movies and TV episodes etc. The TCL brand offers competitive pricing compared with other manufactures that is affordable and won't break your budget.
Product Specifications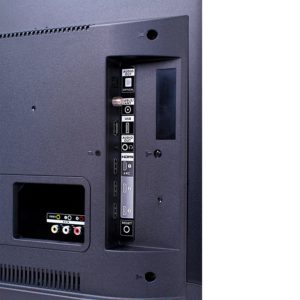 Below the specs are for both the 49" and 55" TCL 4K TV's:
Manufacture: TCL
Model: 49S405 (49″), 55S405 (55″)
ASIN: B01MYGISTO (49″), B01MTGM5I9 (55″)
Color: Black
Batteries: 2 AAA (Included)
Weight: 25.4 lbs. (49" TV)
Weight: 30 lbs. (55" TV)
Processor Type: CPU: Dual-core / GPU: Dual-core
49" TV Dimensions With Stand: 43.7 x 27.7 x 8.5 inches
49" TV Dimensions Without Stand: 43.7 x 25.3 x 3 inches
55" TV Dimensions With Stand: 49.1 x 30.8 x 8.7 inches
55" TV Dimensions Without Stand: 49.1 x 28.5 x 3 inches
Stand Distance: 34.7 inches 49" & 38.2 inches 55"
49" Connectivity Technology: Built-In Wi-Fi, HDMI
55" Connectivity Technology: Wireless
Screen Sizes: 49 Inches & 55 Inches
Smart Platform: Roku
Operating Temperature: 41 to 95 degrees F
Operating Humidity: 20% to 80% non-condensing
Tuner Type: ATSC / NTSC / Clear QAM
Audio Passthrough: Dolby Digital Plus
Audio Power Watts: 2 Channel x 8W
Dolby Processing: Dolby Digital
Display Type: LED Direct-Lit
Refresh Rate: 120 hertz
Resolution: UHD
Panel Resolution: 3840 x 2160
Display Colors: 1.07 Billion
HDMI Ports: 3
Inputs: 3 HDMI 2.0 with HDCP 2.2 (one with HDMI ARC), 1 USB (media player), RF, Composite, Headphone Jack, Optical Audio Out, Ethernet
Wi-Fi: 802.11 AC 2×2 Dual Band (Supports 2.4 GHz & 5 GHz)
Smart TV: Yes
High Dynamic Range Format: HDR10
Warranty: 1-Year
In The Box: TV, Remote, Power Cable, AV Input Cable Adaptor, 2 AAA Batteries, TV Stands, Instructions, & Quick Start Guide
Product Pricing
The prices for this product are provided so consumers can compare them with other similar products.
49-Inch TV Price: $279.99
55-Inch TV Price: $349.99
Note: The prices of these TV's are subject to change without notice and may not be the actual price at the time of purchase.
Product Rating & Customer Reviews
This product has a rating of 4.2 stars out of 5, which is very good. You can read all of the 4,222+ reviews about this product by clicking on the following link:  Customer Reviews!
Questions People Are Asking About This Product
Below are some of the questions being asked about this product.
Question: Is it great for gaming? I heard it's terrible for gaming as it lags a lot.
Answer: The S4 series has gotten EXCELLENT reviews for gaming. The suite of features that include 4k Ultra HD, HDR support, an extremely low input lag, and a dedicated game mode make it one of the most desirable TVs for gaming on the market.
Question: Can this connect wirelessly to a computer running windows through the miracast? or any way?
Answer: Yes, the screen mirroring function on TCL Roku TVs allows you to wirelessly connect to compatible windows and android devices.
Question: Can a digital antennae be hooked up to it?
Answer: Absolutely! Not only can you connect and antenna, but also, with the latest updates, using a 16 gb thumb drive, you can pause/rewind up to 90 minutes of live TV!
Question: Do I need to buy a wall mount for it?
Answer: No, unless you want to wall mount it, yes. The mounting pattern is a standard VESA mount of 200 mm x 200 mm. If you simply wish to put it on a table, it comes with feet that simply attach with 2 screws each. (note the feet spacing on the 55″ is 38.2″.
Question: What is the distance between the "feet" on the 55″ model?
Answer: For the 55 inch model, the feet spacing to fit on the stand 38.2 inches.
You can read all of the 1,000+ answered questions about this product by clicking on the following link:  Answered Questions!
PROS
Resolution 3840 x 2160 pixels provides for a sharper and greater detailed images.
It has the HDR or High Dynamic Range.

Smart functionality provides over 4,000 streaming channels featuring over 450,000 movies and TV episodes.

Direct-lit LED produces great picture quality.

Has a 120 GHz rate that allows for fast moving action scenes with no motion blur.
CONS
Price.

Requires Smart Phone, laptop or a computer to get a Roku account during set-up process.

4K streaming is limited to just a few services.  
SHOP TCL 4K TV's
You can shop for the TCL TV by clicking on the image below. You will be taken to Amazon where you can select either the 49" or 55" TV and place the order.
As an Amazon associate I earn from qualified purchases.
Other 4K TV's You Just Might Consider
Did not find what you were looking for? No problem. Enter a search term in the Amazon Box below to search on Amazon for other products.
Go back to the Pros Cons Shopping home page.