A Tabletop Fireplace Makes for A Great Conversation Starter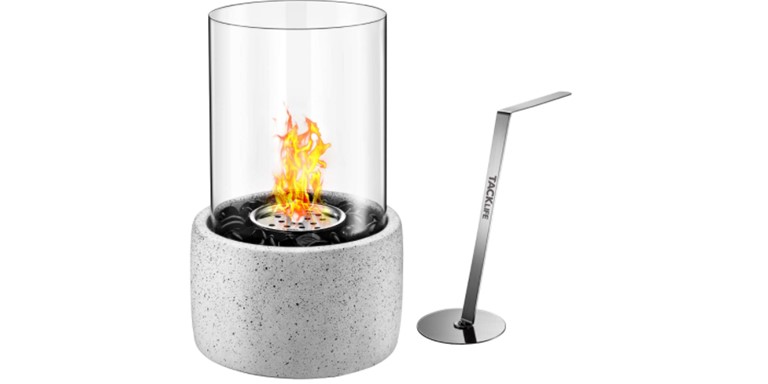 You just may be asking yourself what is a table top gas fireplace. What's nice about it is you can enjoy the warmth a fireplace anywhere in your home. This allows you to enjoy the ambiance of real fire without the inconvenience of melting wax, smoke, soot, and ash. These fireplaces also make for a great conversation starters with your guests  .
The tabletop fireplaces do not require any wood so you won't get any soot and ashes. They use ethanol which is odorless, vent less and does not emit any smoke. Another plus is it can be placed anywhere like an end table or nightstand. Larger fireplaces can be placed on the kitchen counter, coffee or dining tables. They don't need any electricity to operate.
However, one must bear in mind is to keep them out of the reach of small children and pets. The fireplace does have a flame and can burn if one isn't careful. Also, they can start a fire when tipped or fall off the table.
These models can operate anywhere from 45 minutes to 2 hours depending upon the product purchased. It is also highly recommended that when you operate a fireplace that you monitor it at all times when children and pets are present.
Click HERE to shop now!
Video
Below is a short video of the tabletop fireplaces in action.
Some Benefits of Tabletop Fireplaces
Below are some benefits of the table top fireplaces.
Great for small areas. If your house or apartment does not have the space for a regular fireplace, you can still enjoy it by these tabletop ones. They can be placed anywhere.
Good source of supplemental heat. Since tabletop fireplaces to not emit any odor or smoke, as they release heat in the air they will not pollute or degrade the air quality. It is a cost-effective way of additional source of heat.
They are clean and environmentally friendly. The fireplaces use a gas called ethanol. By using ethanol you are doing well for the environment. This gas is made from fermented plants, like corn, switchgrass, and sugarcane and emits very little carbon dioxide. The amount of CO2 that is emitted is the same as humans breathing.
Modern designs. The fireplaces are a great way of adding a touch of class to your home and not breaking the budget. They have many designs so you should find one that will suit your home or apartment. They also make your place look homey.
Easy to use and maintain. The ethanol fireplaces are very easy to maintain as they don't emit any harmful gases into the air. They don't leave behind any charcoal, discolor and residue that is hard to clean. The flames are virtually free of emissions and there is no residue left behind as they are clean burning.
Very affordable. These tabletop fireplaces are very affordable. So, the pocketbook will not be ruined with buying one of these fireplaces. At the same time, getting a good bang for the buck by getting additional heat without the mess of a regular fireplace.
Many shapes and sizes to choose from. It does not matter if you are looking for a small, large cylinder shape, large cube, or anything that's in-between, these fireplaces have a variety of different shapes and sizes to select from.
Difference Between Bio-Ethanol and Standard Fireplaces?
Traditional log-burning fireplaces require a flue to help ventilate and release the smoke that is produced as the logs are burning. If this smoke is not released it makes for all types of dangers, including a risk of fire due to the lack of ventilation, and respiratory system problems from breathing in the smoke. The flue also allows the heat that is produced to escape and not providing warmth as its function. You also need a chimney as its fuel source.
Whereas the ethanol tabletop fireplaces use a fuel that is smokeless, odorless, clean burning that Bio-Ethanol fuel provides. Plus, it's decorative functional piece in the room providing some additional heat. There is no need for electricity or a chimney for this fireplace to operate.
Safety Tips
Below are a few safety tips when operating these fireplaces.
Allow the fuel to burn out completely before refilling it
Never pour new fuel into a burning flame
Never refill the burner when the unit is still operating or hot
When refilling it, allow the burner to cool down for 15 minutes
Provide adult supervision, if used, when children and pets are present
Turn off the flame before going to bed
Conclusion
If you have a small apartment or area in the home and are looking for a way to have some additional heat, a tabletop fireplace is just right for you. Besides being a great conversation piece, they also make for a romantic evening with that special someone.
These fireplaces don't emit any smoke into the air and is odorless. It is also safe to use because it does not emit any particles into the air other than carbon dioxide in small amounts that's not harmful to humans. If you should have young children or pets around, this fireplace should be monitored with adult supervision to prevent any accidents. Also, when you go to bed be sure to put out the flame.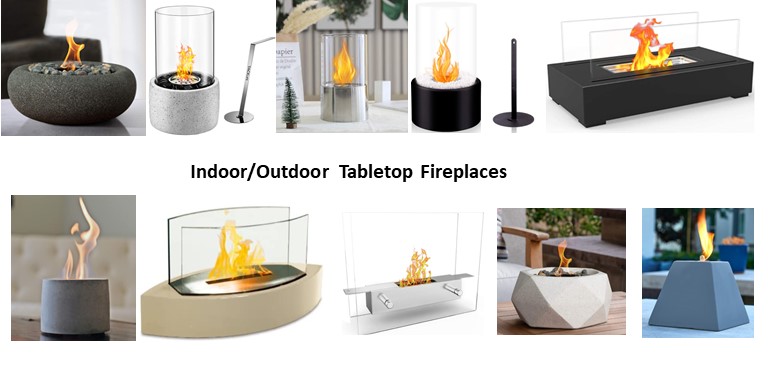 Shop the Top 10 Fireplaces
You can shop for the top 10 fireplaces by clicking or selecting one of your choice. You will be taken to Amazon where you can place the order, read customer reviews and answered questions before purchasing.
As an Amazon associate I earn from qualified purchases.
#1. JHY Design Tabletop Fireplace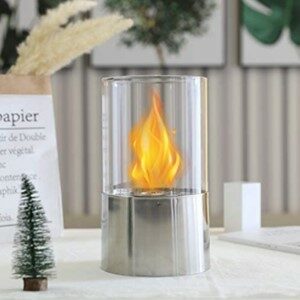 Ratings: 1,097 Score: 4.2 Amazon Award: #1 Best Seller
Material: Metal, Glass & Stainless Steel
Weight: 2.6 Lbs.
Dimensions: 6.5 x 6.5 x 11.5 Inches
Size: Circular
Color: Black
Fuel Type: Bio-Ethanol
This product uses Bio-Ethanol fuel which is not included and must be purchased separately.
The fireplace is made of modern design with a 360 degree view of the burning flame. It can be used for both indoor or outdoor operation. It's free and easy to install right out of the box.
PROS
Uses Bio-Ethanol Fuel
360 Degree Flame View
Indoor/Outdoor Operation
CONS
Fuel must be purchased separately
#2. Colsen Indoor/Outdoor Fireplace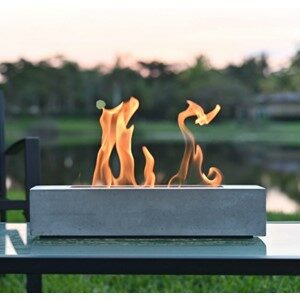 Ratings: 584 Score: 4.5
Weight: 5 Lbs.
Dimensions: 18 x 4 x 4 Inches
Sizes: Rectangular, Round (#1 Best Seller), Skull
Color: Gray
Fuel Type: Rubbing Alcohol
PROS
Uses Rubbing Alcohol For Fuel
Indoor/Outdoor Operation
Does Not Use Bio-Ethanol Fuel
Flame Lasts Between 40 to 50 Minutes
CONS
Does not have a protective glass
Not recommended for outside use on windy days
#3. Regal Flame Utopia Tabletop Fireplace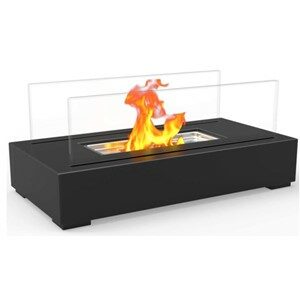 Ratings: 463 Score: 4.3 Model: ET7005BLK
Weight: 1 Lb.
Dimensions: 7 x 13.8 x 5.7 Inches
Size: Rectangular
Color: Black
Finish: Stainless Steel
Use: Indoor/Outdoor
Fuel Type: Bio-Ethanol
PROS
Indoor/Outdoor Operation
45-60 Minutes of Burning Time
Uses Bio-Ethanol Fuel
Protective Glass
Made in the USA
CONS
Fuel Must Be Purchased Separately
Not Recommended Outside On Windy Days
#4. Terra Flame Tabletop Fire Bowl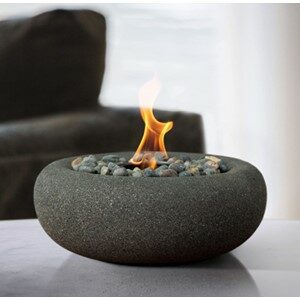 Ratings: 176 Score: 4.7 Model: OD-TT-ZEN-GPH-03
Weight: 14 Lbs.
Dimensions: 11.13 x 11.13 x 4.31 Inches
Size: Round
Material: Graphite
Fuel: Terra Flame Gel
Use: Indoors
PROS
3 13 oz. cans included
Clean Burning
Can be used outside not on windy days
CONS
Uses Terra Flame Gel Fuel
Heavy
Poor Customer Service
#5. BRIAN & DANY Tabletop Fireplace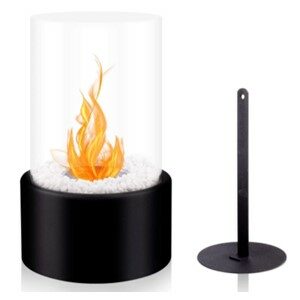 Ratings: 141 Score: 4.3
Weight: 2.2 Lbs.
Dimensions: 6.3 x 6.3 x 10.4 Inches
Fuel Type: Bio-Ethanol
Color: Gray
Size: Circular
Use: Indoor/Outdoor
Burn Time: 45-60 Minutes
PROS
360 Degree Flame Viewing
Indoor/Outdoor Operation
Protective Glass Panes
Can Warm A Room Up To 250 Sq. Ft.
Great Customer Service
CONS
Fuel Must Be Purchased Separately
#6. Danya B Tabletop Indoor/Outdoor Fireplace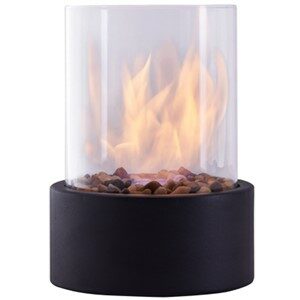 Ratings: 154 Score: 4.2
Weight: 3.5 Lbs.
Dimensions: 8 x 8 x 11 3/8 Inches
Size: Circular
Fuel Type: Bio-Ethanol
Finish: Powdered Coated
Material: Metal & Glass
PROS
360 Degrees Flame View
Clean Burning
Indoor/Outdoor Operation
Lightweight for Moving
Protective Glass
CONS
Fuel Must Be Purchased Separately
Made in China
 #7. One Stop Outdoor Pyramid Fireplace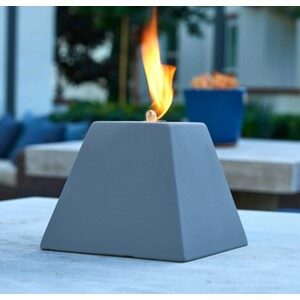 Ratings: 143 Score: 4.3
Weight: 13.17 lbs.
Dimensions: 9.5 x 9.5 x 8.5 Inches
Fuel Type: Bio-Ethanol
Color: Grey
Shapes: Pyramid (Pictured), Bowl
PROS
Uses Clean Burning Bio-Ethanol Fuel
Sturdy
360 Degree Viewable Flame
Indoor/Outdoor Operation
CONS
Made in China
Fuel Must Be Purchased Separately
Not Recommended To Be Used Outside on Windy Days
#8. Anywhere Tabletop Fireplace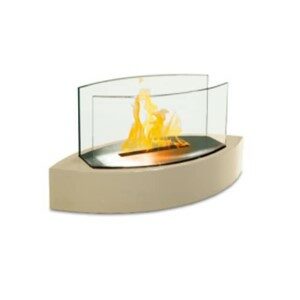 Ratings: 94 Score: 4.4 Model: 90207
Weight: 9 lbs.
Dimensions: 20 x 8 x 9.5 Inches
Style: Rectangular
Color: Beige
Material: Steel
Fuel Type: Bio-Ethanol
Use: Indoors
PROS
Glass Flame Protection
Fuel Clean Burning
1-2 Hours Burn Time
Sturdy
CONS
Fuel Must Be Purchased Separately
#9. Terra Flame White Bowl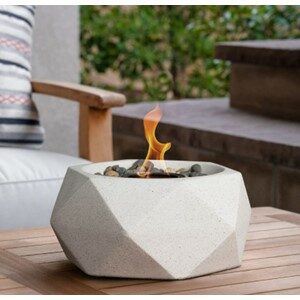 Ratings: 73 Score: 4.7 Model: OD-TT-GEO-WHT-03
Weight: 14 lbs.
Dimensions: 11 x 11 x 5.13 Inches
Fuel Type: Terra Flame Gel
Type: Bowl
Colors: White (Pictured), Beige, Pewter, Graphite, Seafoam
Use: Indoor/Outdoor
PROS
Includes 3 13 oz. Cans of Fuel
5 Colors
Indoor/Outdoor Operation
Flame Clean Burning
Sturdy
CONS
Uses Terra Flame Fuel Cans
Not Recommended To Be Used Outdoors on Windy Days
No Glass Panes
#10. TACKLIFE Tabletop Fireplace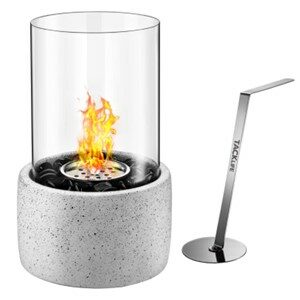 Ratings: 53 Score: 4.4
Weight: 6.54 lbs.
Dimensions: 14.29 x 8.62 x 8.46 Inches
Shape: Circular
Fuel Type: Bio-Ethanol
Material: Cement/Concrete & Glass
Glass Cover: Yes
PROS
Windproof Glass Cover
Sturdy
Metal Cup Bracket
Cement Concrete Base
Indoor/Outdoor Operation
360 Degree Flame Viewing
Flame Burning Time 1.5 Hours
Flame Clean Burning
CONS
Fuel Must Be Purchased Separately
Some Customers Complained of Poor Customer Service
Go back to the Pros Cons Shopping home page.