T-Fal Hard Anodized Cookware Set
A Cookware Set That Lasts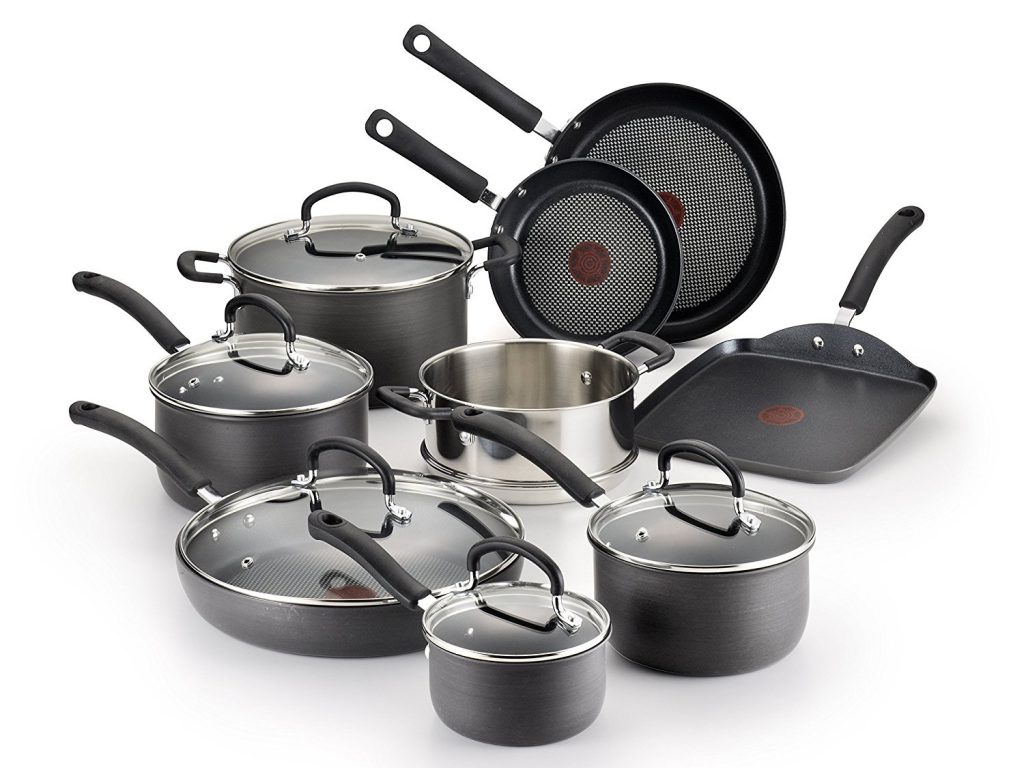 You now can own a cookware set that should last you a long time. The T-fal Hard Anodized Cookware Set will be the last one you will be using for years with proper care. You may be thinking what is so unique about this cookware set. Well, it's made of anodized aluminum which is scratch resistant and nonstick. It also has a thermo-spot heat indicator that tells you when the preheated pan is ready to go. Adding food to a properly preheated pan seals in the natural juices of meat, poultry and fish for moist, delicious results.
The base of the pans are anti-warp which should provide long lasting results provided you wait for the pan to cool off first before cleaning. Otherwise, it will warp over time. It also has riveted silicone handles which is easy to hold and keeps them from becoming hot and not burning your hand.
The cookware is dishwasher safe and is PFOA free. It comes with twelve pieces six pots and pans with four lids and nylon spoon and spatula. Because of the hard non-stick anodized surface it is durable and scratch resistant and safe to use with metal utensils.
You can use this cookware in the oven up to 350 degrees with the lids on. Without the lids, up to 400 degrees.
Another nice feature of the frying pans is the thermos-spot technology that indicates when the pan is ready. This is very helpful when frying meats. When adding food to a properly preheated pan it seals in the natural juices of the meat, poultry, and fish for moist delicious results.
This cookware set also makes for a great gift.
This cookware set is not compatible with induction cooktop stoves.
You may void the warranty when cooking with high heat as the non-stick surface may wear. Always use low to moderate heat when cooking with these pans.
Benefits of Non-Stick Cookware
The T-fal non-stick cookware is designed to distribute the heat quickly and evenly, which helps to prevent hot spots and sticking. When cooking with this cookware use low to medium heat. Below are some helpful tips:
No fat is necessary on the non-stick cookware, but it is recommended for flavor development.
Aerosol cooking spray is not recommended to be used on this cookware set.
Low to moderate heat is recommended when cooking with these pans. Overheating the pan will lessen the life of its non-stick coating.
Safe to use with nylon, coated, or wooden utensils.
Cookware Cleaning Tips
Hand-washing: Always wait for your cookware to cool before cleaning. Hand washing your T-fal cookware is the recommended method. T-fal cookware is easy to clean in warm, soapy water using a cloth or sponge. Never use abrasive cleaners or scouring pads such as steel wool, scouring powder or oven cleaner. Stubborn spots can be removed with cleaners that specify "safe for non-stick surfaces." When cleaning glass lids, do not use metal scouring pads or harsh abrasives, as they may scratch and weaken the glass. 
Dishwashing: Most T-fal non-stick cookware can be cleaned in a dishwasher, but be advised that hard enamel, brushed aluminum and stainless steel EXTERIOR finishes may discolor and become dull due to the abrasive nature of dishwasher detergents. These effects are not covered under the warranty. Some T-fal hard anodized non-stick cookware is NOT dishwasher safe. Refer to cookware outer packaging to determine if the cookware is dishwasher safe.
When placing non-stick cookware in the dishwasher, position the items vertically between the spikes of the dishwasher rack to minimize friction between the non-stick surface and the spikes during the washing cycle. It is recommended to re-season non-stick pans with cooking oil after every 10 dish washing cycles.
BRAND:
T-fal
NAME:
T-fal Hard Anodized Cookware Set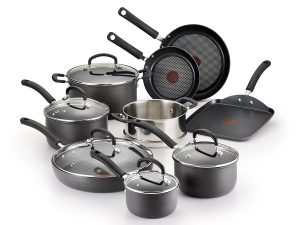 DESCRIPTION: The T-fal anodized aluminum which is scratch resistant and nonstick. It also has a thermo-spot heat indicator that tells you when the preheated pan is ready to go, and has the following features: 14 Pieces, Oven safe to 400 degrees, Non-Stick Aluminum, Dishwasher Safe, Weighs 24.6 lbs., Lifetime Limited Warranty, Model Number 2100093983.
CATEGORY: "Kitchen & Dining", "Cookware", "Cookware Sets"
PRODUCT #: B00TQJWERI
REVIEW RATING: 4.5 stars, based on 3,052 reviews
Product Specifications
The specifications mentioned below are for the 14 piece cookware set.
Manufacture: T-fal
Item Number: 2100093983
ASIN: B00TQJWERI
Weight: 24.6 lbs.
Color: Black
Finish Type: Non-Stick
Material Type: Aluminum
Size: 14 Pieces
Oven Safe: 400 degrees F & Lids to 350 degrees F
Dishwasher Safe: Yes
Utensils Included: No
Riveted Handles: Yes
Even-Heat Anti-Warp Base: Yes
Metal Utensil Safe: Yes
PFOA Free: Yes
In The Box: 8-inch & 10.25-inch frying pans; 11.5-inch fry pay with lid; 10.25-inch square griddle; 1 quart, 2 quart, & 3 quart sauce pans with lids; 5 quart Dutch oven with lid; 3 quart steamer with 2 side handles and instructions.
Warranty: Lifetime Limited Warranty from the Manufacture
Product Pricing
The price for this product is provided to consumers so they can compare them with other similar products.
12 Piece Price: $91.02
13 Piece Price: $149.76 (Stainless Steel Copper)
14 Piece Price: $126.59 (Pictured)
17 Piece Price: $199.99
Note: The prices of these products are subject to change without notice and may not be the actual price you pay at the time of purchase.
Product Rating & Customer Reviews
This product is rated 4.3 stars out of 5, by over 3,832 customers, which is excellent.
You can read all of the customer reviews for this product by clicking on the following link: Customer Reviews!
Questions People Are Asking About This Product
Below are some sample questions people are asking about this product.
Question: Do the pan lids fit the frying pans?
Answer: Yes.
Question: Are these made for induction stovetops?
Answer: No.
Question: Do you have to season before using?
Answer:  Yes. From our just opened and washed yesterday T-fal manual "For cookware with a non stick interior, heat each pan on low for 30 seconds, remove from heat and spread one teaspoon of cooking oil over the entire interior surface with a clean cloth or paper towel. Wipe off any excess. You should then condition the pan regularly, (after 10 or so washings,) to maintain the performance of the non-stick coating." Excited for my chefukuriki to try this great cookware set. The packaging of this product alone was exceptional ~ cardboard & plastic protecting each layer of pots, pans, lids was a wonderful experience. Why do we raise our eyebrows, or make slight comments, if these products are made in certain countries. Turns out the product, if reasonably priced, packaged, presented as this great T-fal set is, is truly an example of great craftsman ship ~ according to most reviews, people love this cookware.
Question: Where is this set made?
Answer: In China.
You can also review the 664 answered questions concerning this product by clicking Here!
PROS
1). Hard Anodized Aluminum – This cookware is made with hard anodized aluminum for durability.
2). Unique Thermo-Spot Indicator – The frying pans come with the thermo-spot heat indicator that tells you when the pan is preheated to the proper temperature.
3). Nonstick Interior – The hard titanium nonstick interior provides the ultimate and gives long lasting performance.
4). Riveted Silicone Handles – The riveted silicone handles provides safety and comfort and won't get hot.
5). Oven Safe To 400 Degrees – The cookware is oven safe up to 400 degrees except for the lids which is safe up to 350 degrees.
6). Lifetime Warranty – The manufacture provides a limited lifetime warranty on this cookware set.
CONS
1). The cookware cannot be used in a microwave oven.
2). You cannot use the cookware to make a double boiler as it's not designed for this purpose.
3). Hand washing is the recommended cleaning method to use when cleaning this cookware and not a dishwasher.
4). The cookware must cool first before cleaning to prevent warping.
5). This cookware cannot be used on an induction stove.
Shop Cookware Set
Shop the T-Fal Hard Anodized Cookware Set. Click the Buy Now button below. Place your order now and be glad you did.
As an Amazon associate I earn from qualified purchases.
You have the option in selecting the 13-piece, 14-piece or 17-piece cookware set with the order.
If you did not see your product on this page, enter a search term in the box below to search Amazon for other products.
Go back to the Pros Cons Shopping home page.