Get A Glowing Face Using Lactic Acid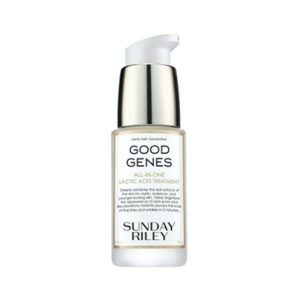 Are you currently suffering from dry, oily or sensitive skin? Do you have bumps lines, wrinkles and spots? You may consider trying Sunday Riley's Good Genes All One Lactic Acid Treatment. Not everyone is blessed with smooth, clear and glowing skin. It takes some help by using products that will produce this result.
The Sunday Riley's treatment was developed by the owner herself. Good Genes is a lactic acid serum that's formulated to transform your complexion while providing a long-term payoff. Women with all types of skin, oily, dry, and sensitive can use this serum with great results.
Why does this work? Because of the ingredients that are used to make it.
Good Genes is also certified cruelty-free by PETA and Leaping Bunny, and is vegan.
Video By Sunday Riley
A short video explaining the use of Lactic Acid and it's use by Sunday Riley.
Good Genes Lactic Acid Ingredients
Below are the ingredients of this skin treatment:
Botanical Blend [ Aqua, Opuntia Tuna Fruit Extract, Cypripedium Pubescens Extract, Opuntia Vulgaris Leaf Extract, Agave Tequilana Leaf Extract, Arnica Montana Flower Extract, Aloe Barbadensis Leaf Extract, Saccharomyces Cerevisiae (Yeast) Extract, Leuconostoc/Radish Root Ferment Filtrate], Caprylic/Capric Triglyceride, Squalane, Lactic Acid, PPG-12 / SMDI Copolymer, Propanediol, Butylene Glycol, Stearic Acid, Dimethicone, Cetearyl Alcohol, Phenyl Trimethicone, Disiloxane, Ceteareth-20, Glyceryl Stearate, PEG-100 Stearate, Stearyl Glycyrrhetinate, Glycyrrhiza Glabra Root Extract, Cymbopogon Schoenanthus (Lemongrass) Oil, Potassium Hydroxide, Phenoxyethanol, Xanthan gum, Caprylyl Glycol, Chlorphenesin, Sodium Phytate
Benefits of Lactic Acid
Let's look at some of the benefits of using Sunday Riley Lactic Acid facial treatment.
A Unique Acid Serum: This serum works because of the superior quality of ingredients—like purified, un-neutralized lactic acid and surgical-grade filtered water. When the active ingredients are blended with botanicals, the result is a potent formula that soothes the skin instead of irritating it.
Great For Every Skin Type: This serum can be used by those who have sensitive and dry skin conditions. That's because the molecules are lightly larger than the glycolic acid formula and are gentler on your skin. While the lactic acid is one part of the formula, the other is the inclusion of soothing botanicals like aloe, prickly pear extract and cactus extract. At the same time you're exfoliating, you're also hydrating and soothing your skin. It doesn't get any better than that.
Mix Ceramic Slip Clay Cleanser With Good Genes: You can make your face glow just before a big event. All you do is make a flash facial by mixing Good Genes with Sunday Riley's Ceramic Slip Clay Cleanser. Use one pump of Good Genes with a quarter-size of Ceramic Slip and apply to face. Leave on for 10 minutes and rinse with water. Follow with your favorite serum or moisturizer. That's it. You will have a great look.
Brightens Skin: Most first time users experience their skin appearance is smoother, clear and glowing. You will notice dark spots beginning to fade and soothe redness over time. Many women have experienced complements even after using it the first time.
Diminishes Fine Lines & Smooths The Skin: Women that have used this serum have all noticed their skin looked and felt significantly smoother and more radiant, with visibly reduced lines and wrinkles after application. It also unclogs pores improves the appearance of wrinkles and boosts facial radiance.
Product Can Be Used Both Day or Night: You can use this product day or night. This product does not make your skin more sensitive to the sun, but you must put on sunscreen when going outside on sunny days.
Tip: If you regularly use retinol at night, you may want to use Good Genes during the day. And if you regularly use a potent vitamin C serum during the day, you may be better off saving Good Genes for nighttime use.
Why It Works So Well
Purified lactic acid is a strong exfoliant that quickly promotes cell turnover and clarifies skin, ridding it of dull skin cells that clog pores. The result is fresh baby skin the likes of which you haven't seen in a very long time.
Licorice visibly reduces the look of dark spots and discoloration or melasma, resulting in even-toned, bright skin; lemongrass oil acts as a refreshing astringent and gives it a distinct smell; and prickly pear extract works to soothe and nourish skin.
Dr. Y. Claire Chang of Union Square Laser Dermatology says about this product: "lactic acid, like other AHAs, dissolves the bonds between the top layer of skin cells, helping to exfoliate the dead skin cells. It also has the added benefit of adding moisture into the skin to keep it hydrated and plump." She also explained that the reason why it causes less irritation and sensitivity than other AHAs like glycolic acid is that "it is a larger molecule and works primarily on the skin surface," so it's able to target aging skin — including dark spots and fine lines — without sinking too deep and causing as much irritation."
Considerations
Below are some considerations you need to know about before applying the product to your face.
More from Dr. Chang: Dr. Chang explained that anyone with sensitive skin should be very cautious while trying Good Genes, and stressed the importance of spot testing before applying it to your entire face. She mentions that, "if your skin is red, irritated or inflamed, you may want to avoid using lactic acid or other exfoliant-containing products until your skin is healed. Anyone with a known allergy to lactic acid should avoid this product."
People with oily or combination skin may not even need to moisturize at all after using Good Genes. Just layer on a light moisturizer and you are good to go.
If you're going to use it as a night treatment, you can use it on top of other serums or Sunday Riley's popular Luna Sleeping Night Oil, and before your moisturizer. While one usually layers oil on after a serum and moisturizer, in the case of Luna Oil specifically, you want to use that before Good Genes and moisturizer.
Sensitive & Dry Skin Users
If you have very sensitive or dry skin, you can use it as a mask as opposed to a leave-on treatment. Simply apply for 15 minutes like you would any mask and then wash it off before doing the rest of your skincare routine. If you're going to use it as a night treatment, you can use it on top of other serums or Sunday Riley's popular Luna Sleeping Night Oil, and before your moisturizer. While one usually layers oil on after a serum and moisturizer, in the case of Luna Oil specifically, you want to use that before Good Genes and moisturizer.  
Sunday Riley's Good Genes Lactic Acid
Ratings: 833 Score: 4.7 Awards: Amazon's Choice
PROS
Smooths the skin
Helps in removing wrinkles
Diminishes fine lines
Makes face look more radiant
Helps in removing dark spots
High quality ingredients
Vegan
CONS
Very expensive
A luxury skin care product
Some may experience an allergic reaction to this treatment
Conclusion
Most women who suffer from winkles, dark spots, and fine lines will find this skin care product will work magic for them with a radiant and glowing skin. Even those who have sensitive, oily and dry skin can use this treatment serum. We will state that it will not work for all women because everyone's skin type is different. It's recommended before using it for the first time, do a pre-test to see if you get an allergic reaction.
The bottom line here is many of women will like it and how it makes your skin radiant. However, on the downside, it is very expensive for 1 oz. bottle.
Shop Sunday Riley's Good Genes Lactic Acid
Below you will find the Lactic Acid treatment serum. Just click or select the image and you will be taken to Amazon to place the order. While there you can read the customer reviews and the answered questions about the product. We have included some other products that works well with the Good Genes Acid treatment.
As an Amazon associate I earn from qualified purchases.
Go back to the Pros Cons Shopping home page.