Sumbeam Steammaster Steam Iron Makes Ironing Easy!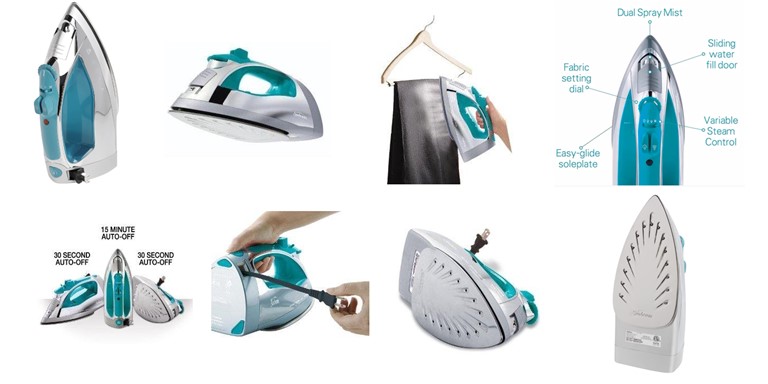 Introduction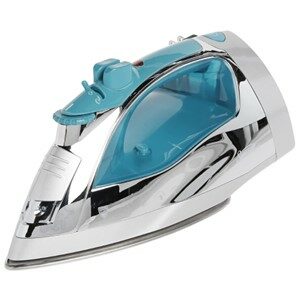 The Sunbeam Steammaster Steam Iron offers 1400 Watts Power, Self-Cleaning System and a retractable cord for easy storage. It has an auto shut-off safety feature.
You can experience the wrinkle-blasting power of the Sunbeam Steam Master Iron with Retractable Cord. Using 1400 watts of pressing power, plus Variable Steam Control, wrinkles disappear quickly.
This iron also releases additional steam power by using the Shot of Steam button on the unit. It also has a dual spray for those most difficult wrinkles to iron out.
If you should have drapes or hanging clothes, this steam iron can be used vertically to freshen up.
Before storing the iron away, be sure to empty the water reservoir first and allow the iron to cool.
Sunbeam Iron Features
Below are some of the features of this steam iron.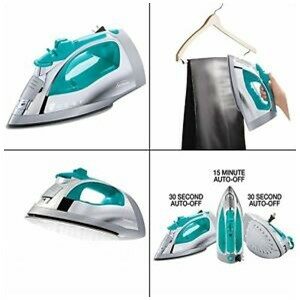 ASIN: B01AX6RCD8
Model: GCSBSP-201-FFP
Manufacture: Newell Brands
Weight: 2.95 Lbs.
Watts: 1400 – Less than its competitors
Voltage: 110-120V
Dimensions: 14 x 6.2 x 6.3 inches
Warranty: 1-Year Limited
3-Way Motion Shut-Off Feature – 15 Minutes Vertical Position, 30 Seconds Horizontal Position, 30 Seconds on Its Side, of Inactivity
Retractable Cord – 8' retractable cord for easy storage
Non-Stick Stainless Steel Soleplate – Provides smooth gliding when ironing any fabric
Vertical Steam Feature – Allows you to steam drapes and clothes on hangers or any upright position
Variable Steam Feature – Sets the desired amount of steam output to ensure the right amount of steam us used
Anti-Drip System – Prevents water from leaking at any temperature setting
Dry Ironing – Allows you do turn-off steam to use the dry ironing feature for sensitive materials like wool
Shot of Steam Feature – Allows you to remove hard wrinkles with a blast of steam by just pressing the button on any garment that needs it
Self-Cleaning System – Helps maintain optimal performance by removing mineral deposits
Self-Cleaning Instructions
This iron comes with a self-cleaning option. Below are the steps to follow to use this feature.
If iron was not in use, go to step 2. Otherwise, turn off the iron.
Move Steam Lever/Knob back and forth to remove debris and minerals from Steam Valve. This keeps water flowing into the steam chamber.
Fill water reservoir with tap water to MAX
Plug in iron, and set Fabric Dial to Linen and heat for 2 minutes.
Unplug iron. Hold iron over sink in a horizontal position, press Self-Clean Button (depending upon your model, rotate the steam control knob to the clean setting) and hold. Water will begin dripping from the steam vents. Slowly rock iron side to side and front and back for 30 seconds. Dip nose of the iron slightly below the rear to circulate water. Release the Self-Clean Button after one minute.
Open fill cap and empty remaining water. Carefully dry soleplate with a towel.
Plug in iron and set Fabric Select Dial to Linen and heat for 2 minutes to dry out completely. Set Fabric Select Dial to Off, unplug the iron, and allow to cool before storing it.
PROS
3-Way Motion Shut-Off
Anti-Drip
Self-Cleaning
Retractable Cord
Vertical Steaming
Shot of Steam Feature
Dual Spray Mist Button
Non-Stick Soleplate
CONS
Cannot be Used Overseas
Made in China
Conclusion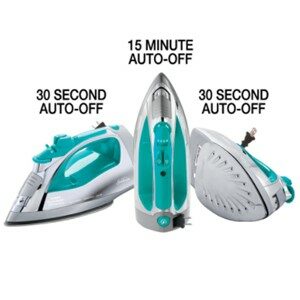 This is an iron that won't break the budget and easy to use. Has features you would need in an iron to get out wrinkles of clothes during ironing.
The best feature of this iron I like is the retractable 8' cord. Makes it easy to store.
The iron can do vertical ironing, self-cleaning, and anti-drip features to prevent water from leaking from any temperature setting.
This iron should give you lasting performance.
The iron is rated 4.6 stars by over 13,048+ buyers. This item is an Amazon's Choice and Prime Shipping product.
Shop Sunbeam Steammaster Iron
Just click on the image below to purchase the iron on Amazon. While there, you can read the customer reviews and answered questions.
As an Amazon associate I earn from qualified purchases.
–
Go back to the Pros Cons Shopping home page.