Sunbeam Classic Steam Iron – Makes Ironing Easier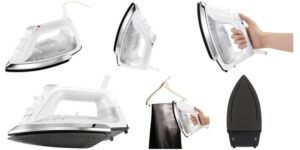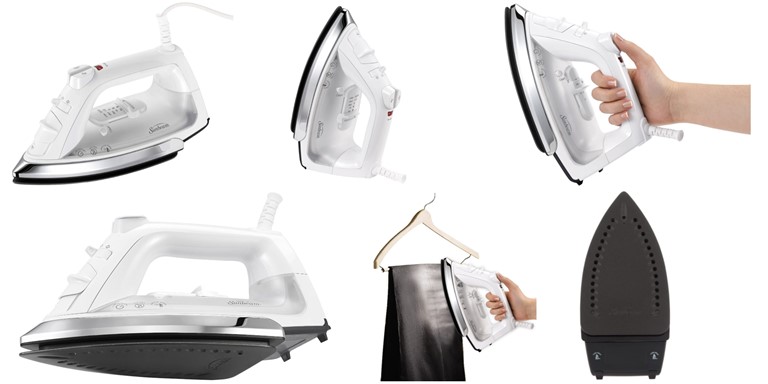 Introduction
The Sunbeam Classic Steam Iron offers an extra burst of steam on flat surfaces to remove wrinkles from fabrics during ironing. The iron is very efficient to use. You can iron all types of fabrics and even use the dry ironing feature.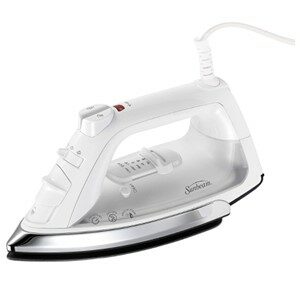 This iron that has an eight foot 360 degree swivel cord which it will not get tangled while ironing. This is one of the few steam iron models with this unique feature.
If you have the need to do some vertical ironing, you can with this iron. It also comes with some safety features such as auto shut-off after 30 minutes of inactivity. The reset button allows you to extend the ironing time beyone 30 minutes for those long ironing sessions.
The soleplate has a lifetime warranty which beats its competitors. The iron itself has a 3-year limited warranty. It uses tap water instead of distilled, just like its competitors.
With 1200 watts is provides sufficient power to do tuff ironing jobs. It has the spray steam and steam burst features to get out those tuff wrinkles when needed.
Features of This Iron
Below are some of the features of this steam iron model.
Sunbeam Classic Mid-Size Steam Iron Warranty

ASIN: B00JPCWDJU

Model: GCSBCL-317-000
Weight: 2.59 Lbs.
Dimensions:6 x 11.6 x 6.3 inches
Watts: 1200 Less than its competitors
Amps: 10
Voltage: 110-120V
Cord Length: 8 Feet
Steam Vents: 29
Warranty: Lifetime on Soleplate & 3-Years on Iron
360 Degree Swivel Cord – One of the few models with this feature that is above it's competitors
Anti-Drip – Prevents water from leaking at any temperature setting
Soleplate – Non-Stick for easy gliding over any fabric
Self-Cleaning System – Removes minerals and impurities from the iron for longer lasting performance. It's recommended to use this feature once a month
30 Minute Auto-Off Feature – Automatically turns off the iron with 30 minutes of inactivity to prevent overheating and burning
Spray Mist Button – Allows you to apply a spray mist to stubborn wrinkles
Burst of Steam Feature – You can apply a burst of steam with the press of a button
Vertical Ironing – You can vertically iron drapes, upholstery, or hanging clothes
Dry Ironing – The iron can be used for dry ironing and the burst of steam feature can be used
Uses Tap Water – You can fill the reservoir with tap water
Reset Button – Allows you to extend the 30 minute shut-off timer beyond 30 minutes by pressing it
Using The Self-Cleaning Feature
Follow the steps below on how to use the self-cleaning feature of this iron.
Turn off iron. If you are cleaning this iron prior to using it, go to step 2.
Move Steam Lever Knob back and forth to remove debris and minerals from the Steam Valve. This allows water to flow into the steam chamber.
Fill water reservoir to MAX line with tap water.
Plug in iron, set Fabric Select Dial to Linen and heat for 2 minutes.
Unplug iron. Holding iron over a sink in a horizontal position, press the Self-Clean Button and hold. Water will begin dripping from the steam vents. Slowly rock iron side to side and front and back for 30 seconds. Dip nose of the iron slightly below the rear to circulate water. Release the Self-Clean Button after 1 minute.
Open fill cap and empty remaining water from the tank. Carefully dry the soleplate with a towel.
Plug in iron and set the Fabric Select Dial to Linen and heat for 2 minutes to dry out completely.
Select Fabric Select Dial to Off and unplug the iron.
Let iron cool before storing it away.
PROS
360 Degree Swivel Cord
Lightweight
Lifetime Warranty on Soleplate & 3-Years on the Iron
Turns-Off After 30 Minutes of Inactivity
Non-Stick Soleplate Glides over Fabrics
Anti-Drip Feature
Self-Clean Feature
Vertical Ironing
CONS
Made in China
Cannot be used overseas without a convertor
Does not have the Anti-Calcium feature
Cord is not retractable
Conclusion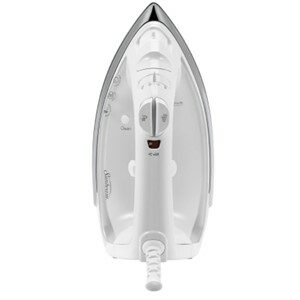 This iron does have some unique features over its competitors like 360 swivel cord and a lifetime warranty on the soleplate. It also comes with a 3-year warranty on the iron, which is better than most of their competitors.
The non-stick soleplate makes the iron glide over fabrics very easy and smooths out wrinkles.
The auto time-out feature of 30 minutes can save accidents and if you need to extend the ironing time beyond 30 minutes, just press the reset button.
It only uses 10 amps and should not blow a fuse.
This iron is rated 4.6 stars by 11,976+ reviews. It has the Amazon's Choice designation and is a Prime Shipping product.
You can read about our 7 best steam irons by clicking HERE!
Shop Sunbeam 1200 Watt Mid-Size Steam Iron
You can shop for this Sunbeam steam iron by clicking on the image or link button below. You will be taken to Amazon where you can place the order, read customer reviews and answered questions.
As an Amazon associate I earn from qualified purchases.
–
Go back to the Pros Cons Shopping home page.