SnapPower Night Light
Taking Night Lights To The Next Level!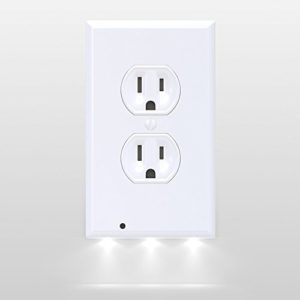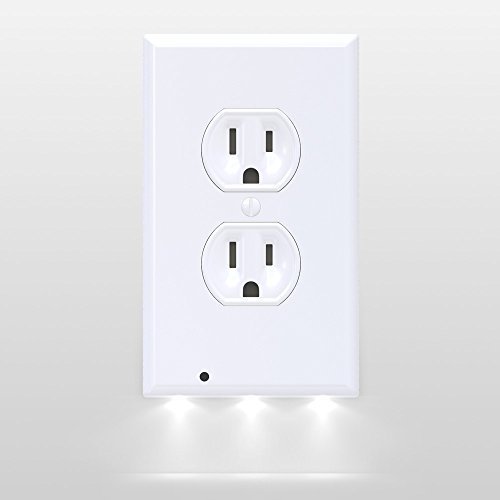 Night lights are used today to light up a hallway, bedroom, or bathroom so you won't stumble or bump into things when having to go to the bathroom when it's dark and everyone is asleep. The main idea is to not wake anyone up when you have to get out of bed in the middle of the night. Night lights are plugged into the wall socket which takes up space that can be used for other electrical units. The SnapPower Night Light does not use any wall sockets at all but is a cover plate that replaces the existing ones on any socket you want a light to shine at night.
Now, all of the wall sockets can be free of the bulky night lights because the cover itself acts as one. It has three LED lights that will keep glowing for up to 25 years. The cost of burning them is about $.10 of energy per year for every cover plate used which is very economical. You will not have to replace the bulky night lights anymore and trying to find bulbs that fit.
These cover plates are easy to install as you just replace these with the existing outlet plates that are on the wall where you want to have light. Save the old cover plates and screws in case you move. Before starting be sure to turn off the circuit breaker to the outlet the cover plate is being installed on. You do not need any batteries or wiring to install them. Each plate has three LED lights at the bottom of the plate. All you do is remove the old socket plate on the wall and replace it with these new ones. Anywhere you place the new plates, they will light up the way in the room acting as a night light.
The cover plates can be installed with the LED lights either facing up or down or horizontal if the socket is facing that way. You determine which way is best.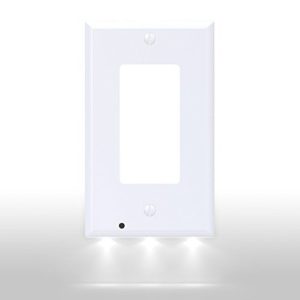 The cover plates come in four colors; black, ivory, light almond, and white. They also come in two sizes duplex or décor.
A nice feature of these lights is they turn on when the sensor detects any darkness and will stay on until daylight appears and automatically turn off.
Now, light up any hallway, bedroom, bathroom, kitchen, stairways or any other room or area where you need to light the way at night.
Please note that these cover plates are not compatible with GFCI outlets.
The product comes with a 30-day money back guarantee and a 1-year warranty.
These are great night lights and are a little pricy. But, they will last a long time.
Note: If you should move out of the house or apartment, replace each SnapPower plate with the original cover plates that were removed and take them with you to your new location.
SnapPower Guide Light Plate Cover Video
The video below shows the complete installation of the SnapPower guidelight plate cover and review. Take a look!
Refund and Return Policy
In case you need to return any cover for a refund, here is their policy:
Refunds are accepted within 30 days of receipt and must be returned in the same condition as you received it. It must be in its original packaging. The shipping and restocking fees may apply and will be deducted from the refund. You pay shipping costs to return the item to the company.
Product Description
This night light socket cover plate lights up automatically when the light sensor notices its getting dark and turns off when its senses daylight. Each plate contains three LED lights that will last about 25 years. No more bulky night lights that burn out and have to be replaced. The annual energy cost of each SnapPower plate is about 10 cents. They are easy to install and does not require an electrician to do the job. It frees up outlets for other electrical items that require an outlet. No more stubbing toes in the middle of the night. They are also safe for the children as the LED lights do not get hot to burn them. They come in four colors and the two basic sizes duplex or décor. This product comes with a 30 day money back guarantee and a 1-year warranty.
Product Specifications
Manufacture: SnapPower
Model: A-SR-11
ASIN: B01FWFYXL4
Sizes: Duplex or Décor
Colors: Black, Ivory, Light Almond, & White
Compatible Devices: Wall Outlet
Weight: 0.64 ounces
Dimensions: 3 x 0.2 x 5 inches (duplex), 5 x 0.2 x 4 inches (décor)
Power Source: Plug-in Electric
Wattage: 0.12 watts
Bulb Type: LED
Number of LED Bulbs: 3
Finish: Plastic
Material: Plastic
Lighting: 4000 Kelvins Neutral White
Type: Cover Plate
Warranty: 1-Year
Product Rating & Reviews
This product is rated 4.3 stars out of 5, which is very good by over 3,958 customers. You can read all of the reviews about this product by clicking on the following link: Customer Reviews!
Questions People Are Asking About This Product
Below are some questions people are asking about this product.
Question: Is it OK to plug a 4 way adapter into it?
Answer: You can plug anything you would normally plug into the outlet. The outlet doesn't change, just the cover. BTW these things are great, you will not be disappointed!
Question: Where are these products made?
Answer: They are made in China.
Question: How does this product work?
Answer: The Guidelight draws power from your outlet using the insulated prongs on the back of the Guidelight. The prongs contact the bottom side screws of your outlet and draw the power to turn on the LEDs when the room is dark. It runs off of a light sensor in the bottom left corner.
Question: Does this fit over light switch plate?
Answer: No. This replaces your plate. Make sure you have a few areas to try out.
Question: My plug sockets are oriented horizontally in my baseboards. Will these work well in that orientation or will they produce too much direct glare?
Answer: I believe they would be fine. They would shine more toward the wall than out into the room.
You can read all of the 298+ answered questions about this product by clicking on the following link: Answered Questions!
Product Pricing
The prices for this SnapPower cover plate is provided so consumers can compare them with other similar products.
Single Duplex Cover Plate: $13.98
Set of 4 Duplex Cover Plates: $55.98
Set of 4 Décor Cover Plates: $44.98
Note 1: Single Décor cover plates are not available.
Note 2: The prices of these products are subject to change without notice and may not be the actual price at the time of purchasing.
PROS
Great for lighting hallways, bedrooms, bathrooms, kitchen, or family spaces.

Frees up outlets by not having to plug-in a night light.

Easy to install.

Energy efficient as it costs about 10 cents a year to operate for each one used.

Automatically comes on when it's dark and turn off during the daylight hours.

1-Year warranty and 30-day money back guarantee.
CONS
Price.

Not compatible with GFCI outlets.
Shop Snap Power Guidelight Cover Plates
You can shop for the Snap Power cover plates by clicking on the image below. You will be taken to Amazon where you can select the color and number of plates with the order.
As an Amazon associate I earn from qualified purchases.
If you did not see your product here, enter a search term in the box below to search Amazon for other products.
Go back to the Pros Cons Shopping home page.