Snap Drain Strainer
A Great New Way To Drain Liquids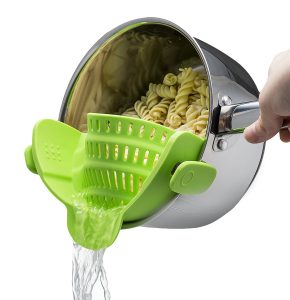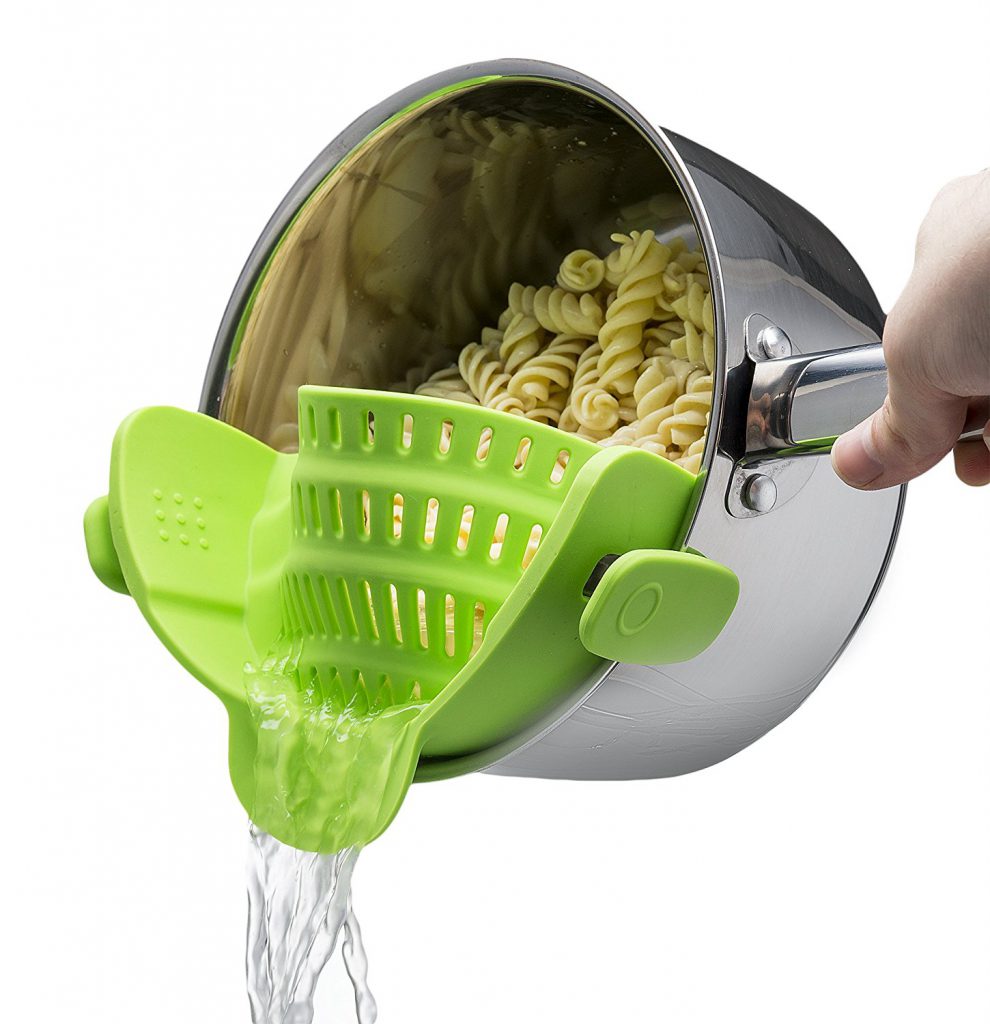 Most individuals that prepare meals for the family or for themselves sometimes need to empty hot liquids from pots and pans. Usually this is done using a colander to dump the liquids and food into. Sometimes this can be difficult if the food is large and you may have difficulty ensuring all the food get into the colander without spilling over. Now, you don't have to worry about this anymore as you can use the Snap Drain Strainer by Kitchen Gizmo. As the liquids are being poured out into the kitchen sink, the food stays in the pot. What a great idea!
Basically, this is a snap on colander that is attached or snapped with the two clips onto pots or pans, large or small, to remove hot liquids from them. The specially designed clips fits all round pots, pans, and bowls, and even those that have lips. This item is small enough so it can be stored easily in the kitchen drawer to be used whenever needed. It is about one quarter the size of a traditional colander. So, if you should have limited space in the kitchen, this product is just right for you.
Another advantage of this snap drain strainer is that it can stay attached to the pot or pan while the food is cooking. It will also attach nicely to glass bowls and pans.
The strainer will not scratch the non-stick pot or pan or its interior because the clips are covered with silicone.
It is made of BPA Free plastic, top-quality silicone, heat-resistant, and is dishwasher safe. It is durable so that it should last for many years.
The product comes with a 1-year warranty. However, the warranty covers defects in materials or craftsmanship only and not damages caused by misuse.
Product Video
Below is a short video on how the Snap'n Strain product works.
Product Specifications
The specifications about this product are mentioned below.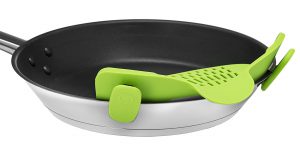 Manufacture: Kitchen Gizmo
ASIN: B018W9JII0
Weight: 5.4 ounces
Dimensions: 9.2 x 3.6 x 2.6 inches
Material: Silicone
BPA Free: Yes
Dishwasher Safe: Yes
Color: Green
Warranty: 1-Year
Product Pricing
The price for this product is provided to consumers so they can compare them with other similar products.
Price: $12.99
Note: The price of this product is subject to change without notice and may not be the actual price you pay when ordering.
Product Rating, Questions and Answers 
This product is rated 4.5 stars out of 5, by over 1,468 customers which is excellent.
You can read all of the 60 answered questions about this product by clicking the following link: Questions & Answers!
Questions People Are Asking About This Product
Below are some questions people are asking about this product.
Question: Can you strain hot oil with this, like after browning hamburger meat?
Answer: Yes. This is exactly was I used it for recently.
Question: Can this be cleaned in the dishwasher (top rack)?
Answer: Yes, it may be put in the dishwasher. Cleans up great.
Question: Where is this product made?
Answer: This product is made in China.
Question: Will this product work on the square Corningware pots?
Answer: It probably would. Its flexible but strong. You could probably clip it a squared angle although it may not work perfectly since its made for rounded edges.
Question: Can is work for straining cooked / boiled rice? It looks like the holes may be too big to hold the rice from falling out.
Answer: I've used this on rice, different sized pastas, and vegetables with no issues. Holes look bigger in the picture than they actually are. I love this strainer and use it frequently.
Question: Is it possible for this to become damaged (melt) from the heat of the cooking pot/pan?
Answer: I use it for draining hot grease from my frying pan into a jar, and I haven't noticed any damage from either the hot pan or the grease. And the grease doesn't spill.
You can read all of the reviews about this product by clicking on the following link:
Customer Reviews!
PROS
Innovative – Designed to remove excess liquids from pots, pans, and bowls. Easily snaps on big and small bowls, pots and pans.
Practical – The strong clips will keep the colander in place while you strain out liquids and keeping the foods from falling out.
Safe and Durable – The product is BPA Free and dishwasher safe. It's also made from top-quality silicone.
Space Saving – It's small and compact that will fit easily into a kitchen drawer and is ¼ quarter the size of a traditional corlander.
Universal Design – The specially designed clips fit nicely on round pots, pans, and bowls, metal or glass that are large or small even those that have lips.
Practical – Very easy to use and the clips strong grip keeps the colander in place even when straining heavy foods. Eliminates awkward spills because it allows you to grip the handle with both hands.
CONS
Wash colander before first use.
Warranty covers only materials and craftsmanship.
Shop Kitchen Gizmo Strainer
Shop the Kitchen Gizmo Snap N Drain Strainer. Click the Buy Now button below. Place your order now and be glad you did.
As an Amazon associate I earn from qualified purchases.
Go back to the Pros Cons Shopping home page.