Take Home Security To The Next Level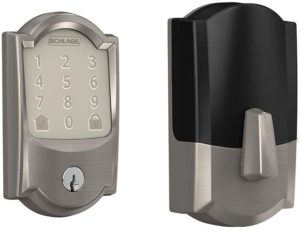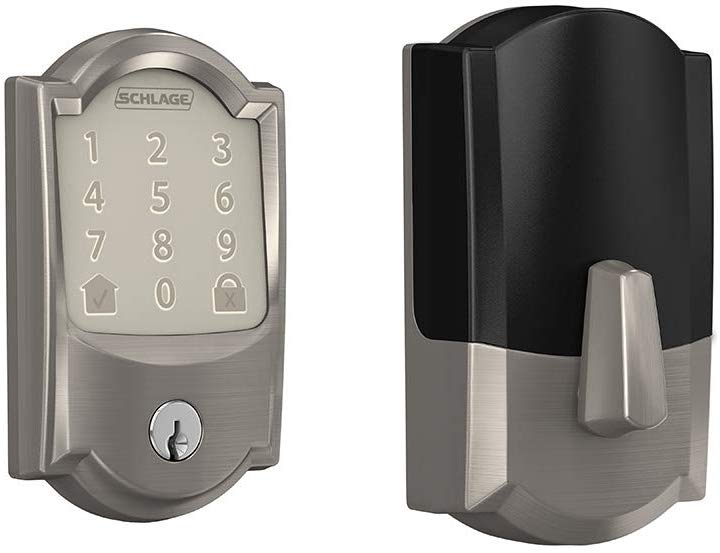 How would you like to lock or unlock your door from anywhere in or outside the home? Also, set up access codes for all members of the family and recurring friends and important delivery personnel. You can with the Schlage Encode WiFi Lock. This is a deadbolt lock that uses WiFi and an App to lock or unlock doors of your house. You can remotely access visitors to your home using your iPhone or Android.
It has a built-in alarm technology that senses potential door attacks. It does require 4 AA batteries to operate and they are included. Be sure to keep some on hand as they tend to drain down within 6-12 months depending how often the lock is being used.
Another nice feature of this lock is you can set it to automatically close when you shut the door. You can set this time from 15 seconds to 4 minutes. This is great especially if you forget to lock the door when you are being distracted. You can remove access codes of individuals that no longer require access into your home.
If for any reason the WiFi should be down, you can manually override the setup by using the manual key that comes with the lock. Note: Only one key is included. You will have to make additional keys to give to other family members in the event the app does not work or the WiFi is down.
The unit has room to hold up to 100 access codes for gaining access into the home by family members and friends. To gain access into the home, each person enters their access code either by phone or on the locks touch pad or using the manual key, if they have one. By the way, the touch pad lights up at night so you can see to touch the correct numbers.
Video – Schlage Encode Deadbolt Lock
This is an excellent video showing you how to install this lock on your door. Take a look!
Product Specifications
Manufacture: Schlage
Model: BE489WB
Weight: 2.8 lbs.
Dimensions: 2.2 x 3 x 5.5 inches
Power: 4 AA Batteries
Batteries Included: Yes
Battery Cell Type: Alkaline
Battery Life: 6 Months
Styles: Camelot, Century
Colors: Aged Bronze, Satin Nickel, Matte Black
Note: Camelot (Aged Bronze or Satin Nickel); Century (Satin Nickel or Matte Black)
Screen Type Mode: Touchscreen
Mode of Entry: Schlage Home App or Key App by Amazon
Low Battery Indicator: Yes
Voice Assistants: Alexa, Google Assistant
Advanced Security: Built-In Alarm Technology
Schlage Support: Phone 1-888-805-9837
Requires: 2.4GHz WiFi Network
Warranty: 3-Years Electronics, Lifetime Mechanical/Finish
In The Box: Lock Set, Batteries, 1 Backup Key, Quick Start Guide
Product Description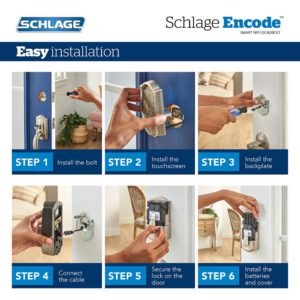 This Schlage door lock that is operated by WiFi will allow you to monitor when the door is opened or locked. The app will tell you which code was used to gain access. You can change and delete the access codes using the app remotely. In the event that the app or the WiFi is down, you can gain access using the key that comes with the kit. The kit comes with all you need to change the lock yourself. You can setup this deadbolt lock with Alexa.
It requires 4 AA batteries for operation. It does have a battery monitor to warn you when the batteries need to be changed. This information is also displayed on the app as well. You assign every person an access code for up to 100 people.
This product works with Google Assistant and Alexa using an iPhone or Android. It does not require a hub or WiFi bridge to operate. The WiFi is built-in to connect directly with your home network. However, if you have a hub, it will also work. No subscriptions are required to operate this deadbolt lock.
Product Rating & Customer Reviews
This product is rated 4.6 stars out of 5 by over 251 customers. You can read all of the customer reviews by clicking on the following link: Customer Reviews!
Questions People Are Asking About This Product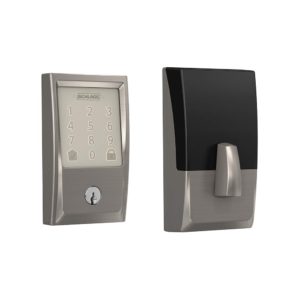 Below are just a few of the 280 questions people are asking about this deadbolt door lock. To read all of them, just click on the following link: Answered Questions!
Question: Does it have an auto lock function?
Answer: It's probably confusing when you get both yes and no answers! I just installed the lock. There are two apps used to control it. Amazon Key and Schlage Home. It's a bit confusing, but you'll want both. Both apps have an Auto Lock setting. You can select 15 seconds, 30 seconds, 1 minute, 2 minutes or 4 minutes. Navigating the apps is not obvious. For Amazon Key, go to "Settings" in the main menu, select the lock name (Encode if you didn't change it) and look for Auto Relock. In Schlage App, use the settings icon at the bottom of the page (using iOS; not sure about Android); choose "Auto Lock Delay".
Question: If I have a power outage will a pre-programmed code still work?
Answer: Yes. It operates on batteries. However, you will not be able to use the app to access the lock during a power outage as your WiFi will most likely be off too. Power being out does not affect the normal lock/unlock functionality using the manual key.
Question: Can I change the code remotely?
Answer: Yes, when the lock is hooked up to your WiFi with the Schlage Home app or the Amazon key app you can change the codes from anywhere.
Question: Does the lock kit come with a handle?
Answer: No.
 Question: Can I unlock the door just with the app?
Answer: Yes, You need to link the Encode Deadbolt to a WiFi that has internet access. After a quick setup with Schlage.com you can lock and unlock the deadbolt via internet with just your smart phone app.
Question: Does the Schlage encode have auto-unlock? Or do you have to launch the app to manually unlock the Schlage every time?
Answer: No. But, you punch in your code on the keypad and it unlocks. You don't need your keys or your phone. It does have an auto-lock feature.
Question: Will I be notified when the door is unlocked?
Answer: Yes, when using the Schlage app you will be notified when the door is locked and unlocked as well as the method used (which code was entered).
PROS
Allows you to set up to 100 access codes.
Notifies you when someone is unlocking or locking the door via the app and the access code used.
Low battery indicator to inform you when to change the batteries.
Comes with a built-in WiFi technology so no hub is required for the lock to work.
Works with Alexa or Google Assistant.
Remove access codes remotely for individuals that no longer require access.
CONS
Price.
Need to make additional backup keys as only one comes with the kit.
You need to have extra AA batteries (4) on hand when initial ones get drained.
Shop Schlage Encode Door Lock
 You can shop for the Schlage Smart Door Lock by clicking on any image below. You will be taken to Amazon to place the order. While there, you have the option to change the style or color before placing the order.
You have the option to have someone to install the lock for an additional charge. You also have an option to purchase the CAM with the lock if desired.
As an Amazon associate I earn from qualified purchases.
| | |
| --- | --- |
| Camelot Style – Satin Nickel Color | Camelot Style – Aged Bronze Color |
| | |
| --- | --- |
| Century Style – Satin Nickel Color | Century Style – Matte Black Color |
Did not find what you were looking for? No problem. Enter a search term in the Amazon Box below to search on Amazon for other products.

Go back to the Pros Cons Shopping home page.
Schlage Encode Smart Lock
$249.00
Holds Up To 100 Access Codes
9.5/10
Low Battery Indicator
9.5/10
Works with Alexa or Google Assistant
9.0/10
Change or Remove Access Codes Remotely
9.0/10
Pros
Holds up to 100 access codes.
Low battery indicator
Built-In WiFI.
Works with Alexa or Google Assistant
Allows you to remove or change access codes remotely.
Cons
Price.
Need to make additional access keys as 1 comes with the lock.
Need to keep extra AA batteries on hand.