The Steam Iron That Does It All – Rowenta Steam Iron DW5080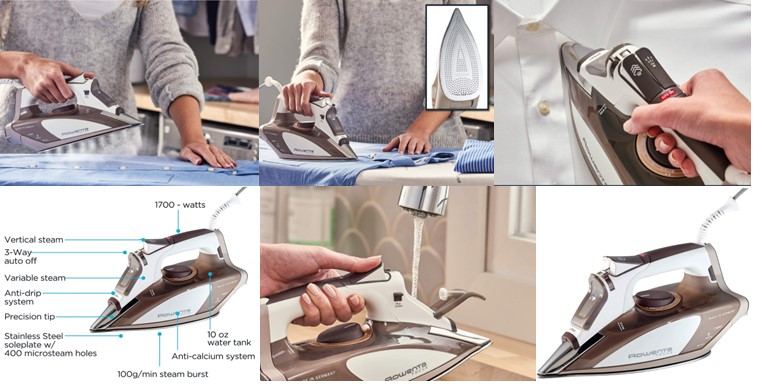 Introduction
The Rowenta DW5080 steam iron has 400 Steam holes that provides excellent steam distribution. It has features like auto-cleaning, anti-drip and uses tap water too. The handle has a comfortable grip and has a smooth glide soleplate for fast ironing.
At 3.4 pounds it will provide enough pressure for easy ironing out those nasty wrinkles. If you have drapes and hanging garments that have wrinkles to be removed, this iron works vertically to get the job done.
This iron is one of 7 that we recommended in a prior post. You can check them out by clicking on the following link: The 7 Best Home Steam Irons.
Video Self-Cleaning the DW5080 Iron
This is a short video on how to use the self-cleaning feature on the DW5080 iron. Take a look!
Product Features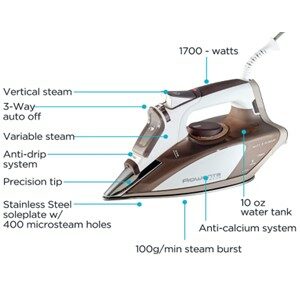 Let's look at some of the features of this iron at a glance.
400 steam holes on the soleplate for even steam distribution to remove wrinkles quickly
Anti-drip lid – Prevents water from leaking
7.5' cord
1700 watts of power – Uses less watts than it's competitors
Stainless steel soleplate – For smooth gliding over ironed clothes
Angled precision tip – Perfect for navigating hard-to-reach areas like collars and buttons
3-Way auto shut off system – Saves energy and prevents the risk of burning
Auto-cleaning system – Instructions included for performing this activity every 2 weeks
Anti-calcium system – Removes impurities and minerals from the tap water to prevent build-up and blockage and increases life of iron
10 Ounce water tank – Long lasting steam for ironing
Vertical steam – Allows you to steam iron drapes and hanging clothes
Variable steam – The dial lets you choose the amount of steam for fabric type
100g/min steam burst – Provides steam burst on demand to remove stubborn wrinkles or creases
Heat setting options for nylon, silk, wool, cotton, and linen
Uses tap water – Eliminates buying distilled water
Made in Germany – I own several German products and they are excellent
Translucent water tank window
Ideal steam output based on fabric being ironed
Easy control thermostat knob – Easy steam control for any garment type
Allows for dry ironing
The Auto Shut-Off Feature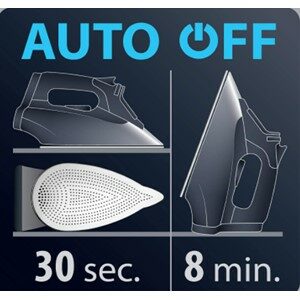 The auto shut-off feature works as follows:
8 minutes of no activity when sitting on its base
30 seconds when unit is face down or on its side
Please note: When the unit shuts off, you may have to wait until the iron warms up again before resuming to iron. This should only take a few moments. The heat indicator light should be on to tell you when it's ready.
Conclusion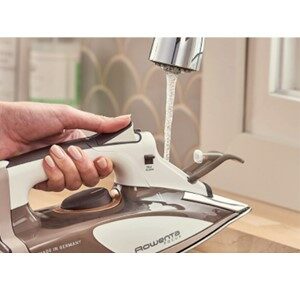 Even though this iron is pricy, it is worth it because of all the features. I like the 400 steam holes that provides even steam distribution on the soleplate. This makes ironing out wrinkles a lot easier and quicker. It also heats up very quickly as well.
Another plus is the vertical ironing to iron drapes and hanging clothes. Also, you can dry iron using this product by turning of the auto-steam feature. It uses tap water to operate and not distilled.
You don't have to take it from me, you can read over 14,000+ customer reviews and 91% of them rate this iron 4 stars and above.
This iron is an Amazon's Choice and is a Prime shipping product too.
PROS
400 Steam Holes for Even Steam Distribution
Auto-Cleaning System
Anti-Calcium System
Angled Precision Tip
3-Way Auto Shut-Off
10 Ounce Water Tank
Vertical Steam Feature
100g/min Steam Burst
Dry Ironing Feature
Uses Tap Water
Anti-Drip Lid
CONS
Shop Rowenta DW5080 Steam Iron
You can shop for this iron by clicking on the link below. You will be taken to Amazon where you can place the order.
As an Amazon associate I earn from qualified purchases.
–
Go back to the Pros Cons Shopping home page.