Turn Your Microwave Into An Outdoor Grill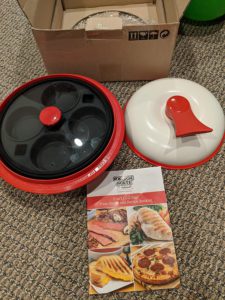 I don't know of anyone that doesn't like a good grilled steak. In the winter, it can be difficult because of the weather. Now, you can use the Range Mate Pro Grill that uses your microwave and turns it into an outdoor grill. You may be asking yourself a microwave? Don't let that fool you. This grill will live up to its name by delivering great tasting steaks, fish, and chops as well as other foods. You will be totally amazed how this grill works all from the microwave. This is healthy cooking as you use a minimum amount of oil and get the benefit of the nutrients retention. Now, you can turn your indoor microwave into an outdoor grill with great results. You can now grill 365 days a year without worrying about the weather, charcoal and cleaning the outdoor grill.
The unit works like this; it uses the microwaves from inside the microwave and turns them into infrared heat when cooking with the Range Mage Pro grill. Never once does the microwaves actually touch the food because of the protective lid.
As with all kitchen appliances this one also will require a learning curve with your microwave. The reason for this is each microwave is different and cooks foods at different times while cooking inside the Range Mate grill.
The box includes a recipe booklet with the times for cooking each type of food. Because all microwaves are different, you may have to experiment with the actual cooking times. There is a place on the page to enter the cooking time of that food if it should differ from the one already printed.
You can cook chicken, steak, fish, pork, frozen foods, make cupcakes, make muffins, and grilled cheese sandwiches, steam vegetables using the steaming tray and a lot more. You have the option of selecting three colors; blue, green and red. Some foods do require you to preheat the unit in the microwave before placing foods on the grill for cooking.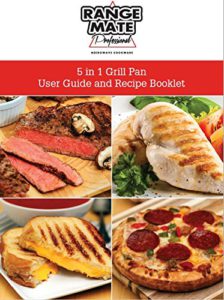 The recipe booklet provides information on how long to cook certain foods. In some instances, you may have to recook the food in 30 second increments to make it the way you like it. Again, this is all about the cooking timing learning curve using your microwave. Once you get the times down for cooking the foods the way you like them, everything will be a breeze.
It comes with a muffin rack to make muffins, or other desserts to your liking. This unit can grill, bake, steam, roast, poach and make one pot meals for up to two people. The uses of this unit is great for those going to college, RV, or living alone.
It uses an infrared baking and heating system that cooks food quicker and in their own juices.
The grilling pan is easy to clean as it is nonstick. However, the Range Mate PRO Microwave Cookware must be hand washed and not submerged in water or placed in the dishwasher. When cleaning, use a nonabrasive sponge or cloth and liquid soap with warm water.
This item also makes for a great gift for any occasion.
Please Note: If you have misplaced your cooking guide, you can secure another one at https://www.pinterest.com.au/dalerader/rangemate-microwave-cooker-recipes/. Just insert the web address in your browser and you will have access to Range Mate Cooking Recipes.
Video – Using The Range Mate Pro Grill
Below is an excellent video on how this Range Mate Pro Grill operates. It shows how to cook some great tasting foods like, steak, and steaming vegetables and more. Take a look!
Cooking Tips
Before cooking any meat or fish, it is best to pat dry as this will prevent excess water from steaming.
If meat, fish or chicken take a similar time to cook as the vegetables, they will cook in approximately the same time. For example, you can prepare both a piece of fish ¾ inch thick and small green beans or asparagus in 3 to 4 minutes (after the pan has been pre-heated).
All of the Range Mate PRO Microwave Cookware must be hand washed and not submerged in water. All of the cookware pieces have tiny air holes in the bottom of every pan, and must never get clogged. These holes allow the Range Mate PRO to exhaust air for the best cooking results.
Product Description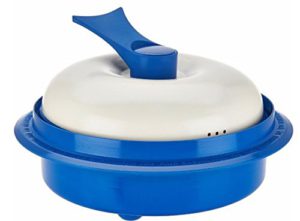 Takes your microwave to the next level, and turns it into a grill for grilling foods like steak, fish, chicken or pork. Steam vegetables, and bake muffins or cupcakes using the baking tray. The microwaves are converted into infrared heat for cooking all foods. Another bonus is the foods require little or no oil and cook in their own juices for healthier eating. It comes in four colors; blue, green and red. It has a 60-day money back guarantee. It also comes with a nice recipe book for cooking meals. Each microwave is different and may require a learning curve for the times that foods will take using your microwave. Room enough to fit at 10 oz. steak and two medium or three small size burgers. This appliance is to be used in the microwave and not in the oven. The wattage of the microwave will impact the cooking times. Higher watts will take less time and those that have lower watts will take longer.
Product Specifications
Manufacture: Range Mate Pro
Model Number: K40746
ASIN: B01N0SKWGJ
Weight: 5.95 lbs.
Dimensions: 11 x 6 x 11 inches
Colors: Blue, Green & Red
Material: Interior Grill: Non-Stick Metal, Dome Lid: Metallic, Flat Lid: Glass,
Material of Insert Trays: Temperature Resistant Silicone
Dishwasher Safe: No (Do not place unit in water)
In The Box: Round Grill Pan, Round Lid, Non-Stick Baking Tray, Non-Stick Steamer Tray, & Recipe Guide
Customer Service: Call 1-800-909-1805
Money Back Guarantee: Return unit within 60 days from the date on the packing slip for a full refund.
Product Rating, Customer Reviews, & Answered Questions
This grill is rated 4.3 stars out of 5, by 277 customers, which is very good. You can read all of the reviews about this product by clicking on the following link: Customer Reviews!
There are 83 answered questions about this product and you can them all by clicking on the following link: Answered Questions!
PROS
Grills, steams, roasts and bake using your microwave.

Healthier as meats and vegetables are cooked in their own juices.

Little or no oil required for cooking.

Fast as meals cook within minutes.

Converts the microwave into an infrared heating system.
CONS
Price.

Microwaves timing to cook foods requires a learning curve.

Cannot be placed in the dishwasher and parts hand washed.

Learning curve on food timings.
 Shop Range Mate Pro Grill
You can shop for this grill by clicking on the "Buy Now" button below. You will be taken to Amazon where you can select the color and place the order.
If you did not see your product here, enter a search term in the box below to search Amazon for other products.
Go back to the Pros Cons Shopping home page.
Range Mate Pro Grill
$79.95
Meats and Vegetables Cook In Their Own Juices
9.0/10
Grills, Steams, Bakes Using Microwave
9.5/10
Uses Little or No Oils
9.5/10
Cooks Meals Faster Than Outside Grill
9.0/10
Converts Microwaves Into Infrared Heat
9.0/10
Pros
Uses little or no oil.
Cooks meals faster than outside grill.
Meats and vegetables cook in their own juices.
Grills, steams, and bakes using microwave.
Converts microwaves into infrared heat.
Cons
Price.
Learning curve on food timings.
Must be hand washed.
Preheating is required on some meals.