Steam Wrinkles Away – PurSteam Steam Iron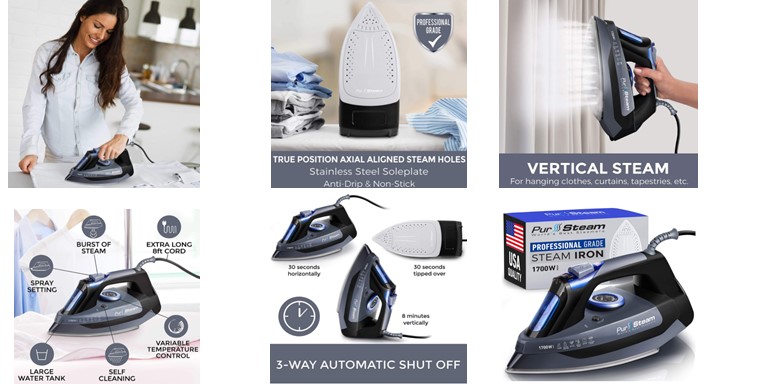 Introduction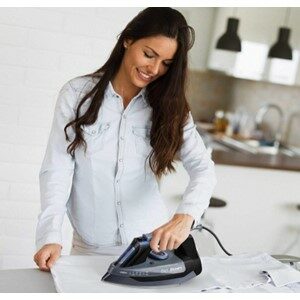 The Pursteam Steam Iron provides a fast effective way in removing wrinkles from clothes. The Easy Thermostat Control Cuts Ironing Time In Half. You save money by using tape water and not distilled. It comes with steam burst feature and is self-cleaning. The steam control is based on the fabric type being ironed.
It heats rapidly so you can iron your clothes very quickly without much waiting.
Some of the safety features that comes with this iron are the 3-way auto shut off feature, anti-calcium system, self-cleaning function, and anti-drip system. Each iron goes through a rigorous testing process to ensure it works before it comes to you. They fill every iron with water at the factory to ensure they work properly. So, when you open the box, you just might find some water drops in the water tank.
You will reduce your ironing time in half with the even heat technology that comes with the iron. It has a scratch resistant soleplate for easy gliding across any fabric. Which makes ironing a breeze.
You can check out our top 7 steam irons by clicking on the following link: Best Home Steam Irons.
Pur-Steam Iron Features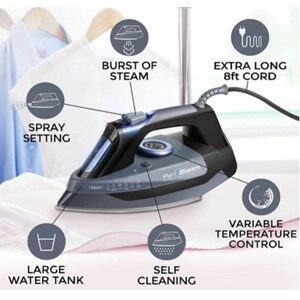 Below are some of the features of this steam iron.
Model: PSSI-01
ASIN: B07JVFZJT7
Weight:20 Lbs.
Dimensions: 11 x 7.17 x 5.47 inches
Steam Holes 63
Holds 14 Ounces of Water – Water tank is bigger than its competitors
Watts 1700 – Less than it's competitors
Stainless Steel Soleplate – Delivers the ultimate gliding performance over any fabric
Easy Thermostat Control & Axial Steam Holes – Provides maximum amount of steam while maintaining even heat distribution
Vertical Steaming – Allows you to iron drapes and hanged clothes
3-Way Automatic Shut-Off System – Avoids accidents and burnt clothes
Anti-Drip Feature – Don't have to worry about water dripping out at low temperatures
Anti-Calcium System – Prevents calcium and mineral build up to increase the life of the iron
Self-Cleaning System – Allows water and steam to wash minerals and dust out of the soleplate if you use tap water. It's recommended to use the self-cleaning system every 2-weeks.
100% Pretested – Each iron is filled with water at the factory to ensure it works properly. So, you might find yours with some water condensation in it when you open the box.
Temperature Options – So you don't have to worry about burning any clothes while ironing
True Position Axial Aligned Holes – Ensures a better, faster and more even results while ironing
Dry Iron Feature – You can use this as a dry iron on more sensitive fabrics
The Auto Shut-Off Feature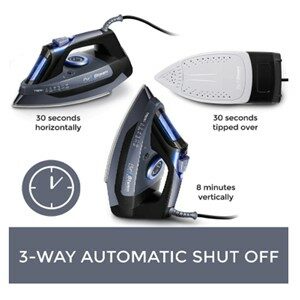 The auto shut-off feature works as follows:
8 minutes of no activity when sitting on its base
30 seconds when the unit is horizontal
30 seconds when the unit is tipped over on its side
Please note when the unit shuts off, you may have to wait until it warms up again before ironing.
Conclusion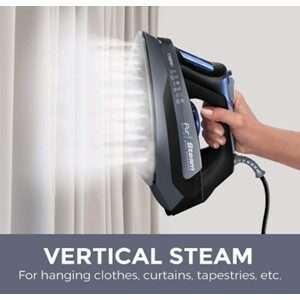 This iron does provide a smooth glide over all types of fabrics. With the auto shut-off feature will prevent accidents and burnt clothes during the ironing sessions.
Uses tape water instead of distilled. It has a self-cleaning function you can use to clean the inside of the water tank and soleplate to increase its ironing life.
Every iron is pretested at the factory before it is shipped to their customers. This includes filling the tank with water to ensure that the unit is working properly. That is why some of the customer reviewers say their iron was wet (water tank) when they opened the box.
The dial has settings to choose from for the type of fabric to iron. The unit automatically goes to the proper temperature.
This is a great iron for the money. Don't take it from me as there are over 21,370+ customer reviews giving this iron a 4.6 rating. 91% gave this iron a 4 stars or above rating.
This product has earned the Amazon's Choice and is a Prime Shipping Product.
PROS
2-Year Warranty
8' Cord
Measuring Cup Is Included
100% Pretested At the Factory
3-Way Auto Shut-Off Feature
Self-Cleaning
Anti-Calcium System
Scratch Resistant Soleplate
Variable Temperature Control
Spray Setting
Burst of Steam Button
Vertical Steaming
Dry Ironing Option
CONS
Made in China
The cord is not retractable
Has only 63 steam holes (Less than its competitors)
Shop PurSteam PSSI-01 Steam Iron
You can shop for this model steam iron by selecting or clicking on the image or button below. You will be taken to Amazon where you can place the order, read the customer reviews and answered questions.
–
Go back to the Pros Cons Shopping home page.