Baked Frozen & Homemade Foods Faster & Taste Better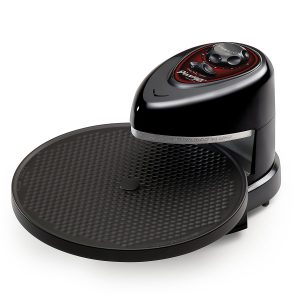 Table of Contents
Introduction
The Presto Pizzazz Plus Rotating Oven is a fantastic appliance that heats from the top and bottom at the same time. It makes frozen foods taste better and saves you money by cooking it faster than using a conventional oven.
Some of the foods that this product can cook are deli pizza, take-and-bake, frozen, homemade, chicken nuggets, fish fillets, egg rolls, cinnamon rolls, cookies and a lot more. The list of foods to cook is endless.
To ensure even baking it has a rotating tray that turns continuously to ensure everything is baked to perfection. The unit has top and bottom heating elements to bake foods from both sides at the same time. A nice feature of the heating elements is they are separately controlled allowing you to select top, bottom or both. The unit automatically turns off heating elements at the end of the cooking time with the built-in timer.
The rotating pan is made up of nonstick covering which makes for easy cleanup and storage. You can save as much as 60% in energy costs when compared to a conventional oven.
Cooks pizza anywhere from 7 to 12 inches in size.
Product Description
Using this product is an easy and fast way to bake frozen, homemade, take-and-bake and deli pizza foods. What is unique about this appliance is that it cooks foods from both the top and bottom at the same time with the separate heating elements. The heat is also controlled. You can heat the bottom and not the top or vice versa.
So, egg rolls, cinnamon rolls, cookies, chicken nuggets, and fish fillets will all taste great and will be crispy if that's the way you like eating some frozen foods. That's what is unique about this product. Heating foods using the microwave just makes everything mushy and hot and with this machine, makes everything crispy and hot.
You can even warm leftovers instead of the microwave with this appliance for a better taste.
Pizzazz Rotating Oven Video
A nice short video on how this appliance works. Take a look!
Product Specifications
BRAND: Presto
NAME: Presto Pizzazz Rotating Oven
DESCRIPTION: The Rotating Oven is a fantastic appliance that heats from the top and bottom at the same saving energy, and has the following features: Wattage 1235 Watts, Timer, 60% Energy Savings, Rotates Continuously, Weighs 8 lbs., 3′ Cord, Non-Stick Surface, Maximum Temperature 425 degrees, 2-Year Warranty, Model Number 03430.
CATEGORY: "Kitchen & Dining", "Small Appliances", "Ovens & Toasters", "Countertop Pizza Ovens"
PRODUCT Model #: 3430
REVIEW RATING: 4.7 stars, based on 5,206 reviews
AWARDS

: Amazon's Choice
Product Features
Below are the features of this product.
Manufacture: Presto
Model: 03430
ASIN: B00005IBXJ
Tray/Pan: Rotates Continuously
Heating Elements: 2, Top & Bottom & Separately Controlled
Timer: Yes
Tray/Pan Surface: Nonstick
Wattage: 1235 watts
Dimensions: 8 x 14.5 x 10.3 inches
Weight: 8 lbs.
Cord Length: 3 ft.
Energy Savings: Up to 60% from a conventional oven
Preheating Required: No (Works as soon as you turn it on)
Maximum Temperature: 425F
Warranty: 2-Years against any defects
Product Rating, Customer Reviews & Answered Questions
This oven has been rated with an average score of 4.7 stars out of 5, by over 5,206 customers which is excellent.
You can read all of the customer reviews for this product by clicking on the following link: Customer Reviews!
Questions People Are Asking About This Product
Below are some of the questions people are asking about this product.
Question: How does this compare to a toaster oven? I see a lot of people say you can put things like fries, wings, etc. on it.
Answer: I would not go back to using a toaster oven after using the pizzazz. I like the fact that it turns the food, so it cooks evenly -no hotspots and no need to rotate or flip anything. And it can cook a large pizza, most toaster ovens are not deep enough to cook a large pizza. Yes, I've used it for wings, fries, egg rolls, chicken tenders, hot pockets, etc.
Question: Can you cook food from the raw state, such as fish, chicken, shrimp or frozen semi-cooked foods as breaded fish, chicken and shrimp?
Answer: Yes you can cook fish or chicken and it work very well however, do not cook foods that are too high in fat, like bacon or ground beef, as the grease can easily catch fire.
Question: Can you use this for homemade pizza or does the crust have to be precooked?
Answer: Yes! You can use it for homemade dough.. It is the best pizza I have ever had! I use this pizza maker once a week.
Question: How long does it take to preheat?
Answer: No preheating is necessary.
Question: What size crust goes with it?
Answer: Presto recommends cooking a pizza between 7-12 inches.
You can also review the 357 answered questions concerning this product by clicking Here!
PROS
Energy Savings – You can save up to 60% of the energy costs verses a conventional oven.
Rotating Tray –

The rotating tray assures even baking of foods.

Top & Bottom Elements –

The top and bottom elements bake foods from both sides. The heating elements are separately controlled.

Easy Cleaning –

The tray is removable for easy cleaning.

Timer Signals Cooking Is Done –

The timer signals end of cooking time and automatically turns off the heating elements.

 
CONS
Price.

Does not have an on/off switch.

Dial numbers are easy to wipe off and disappear.

Nonstick coating is thin and may need to use cooking spray with usage.
Shop Pizzazz Rotating Oven
Shop the Presto Pizzazz Rotating Oven. Click the Buy Now button below. Place your order now and be glad you did.
As an Amazon associate I earn from qualified purchases.
Presto Rotating Oven
If you did not see your product here, enter a search term in the box below to search Amazon for other products.
Go back to the Pros Cons Shopping home page.