Presto Electric Foldaway Skillet
An Appliance That Makes Cooking Easy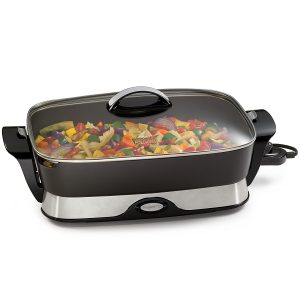 The Presto Electric Foldaway Skillet model 06857 is unique in that the handles can be folded down and the base of the skillet is easily removed for cleaning and storage. Many families like an appliance that can bake, fry, grill, roast and stews. This all-in-one appliance does all that and more. It has a built-in pouring spout so you can easily pout out any liquids and it doubles as a spoon rest. Cooking your favorite meals will be a breeze because is doubles as a server when needed.
The skillet has a 16-inch surface with a 2 ¾ inch depth so you will have lots of room to cook large casseroles and other foods using this appliance. Cooking scrambled eggs, pancakes, ribs and steaks can all be done using this skillet.
A great feature of this skillet it that the heating temperature setting is evenly distributed and maintained throughout the entire skillet surface which makes for great tasting meals. The temperature setting ranges are from warm, and 200 to 400 degrees F. It does not have an auto shut-off feature which means that you must turn off the unit manually after cooking.
By using the electric skillet you will save money by not using the stove or oven. It warms up to the desired temperature very quickly. The entire skillet doubles as a buffet server. Which is great for parties and celebrations where lots of people may be over. Just set it in a location where an electric outlet is and cover it. Keep the temperature on the "warm" setting so the food keeps warm down to the last piece.
It has a non-stick coating surface which helps prevents sticking of foods. It is recommended that you avoid using no-stick cooking sprays as they may cause the cooking surface to become tacky.
As when any electric appliance, be sure to let it cool before cleaning.
The unit comes with a 1-year warranty and manual that has suggested times and temperature settings for various types of foods.
Please Note: If you choose to wash the skillet pan in a dishwasher, the bottom of the pan will likely discolor due to the caustic nature of the dish washing detergent. A gray residue may also form on the skillet bottom which may transfer onto towels and/or skin.
Glass Lid Cover Care
The glass cover may break for no apparent reason if you fail to follow these instructions.
Broken glass can cause personal injury or property damage. Do not use cover if it is chipped or cracked. Handle cover carefully and avoid rough handling. Do not handle hot cover with wet towel or place hot cover on a cold or wet surface. Sudden, extreme changes in temperature may cause glass to break.
Allow cover to cool before washing. This cover is dishwasher safe. Keep the cover clean. Do not use steel wool cleaning pads or abrasive powders which can scratch or weaken the glass. Nonabrasive pads or powders may be used if necessary. Do not scrape or gouge glass with hard or sharp utensils. 
Hand Washing Care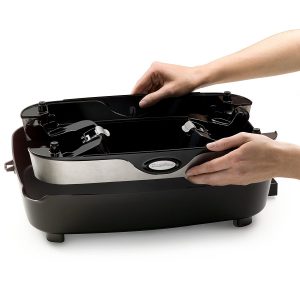 When washing the skillet by hand, remove heat control and wash in warm, soapy water. Make sure to also clean the underside of the pan, as necessary. Rinse and dry thoroughly. The nonstick surface may be cleaned with a non-metal cleaning pad, such as Scotch-Brite Multi-Purpose Scrub Sponge or Scotch-Brite Dobie Cleaning Pad. Firm pressure can be applied, if necessary.
Do not use steel wool or abrasive kitchen cleaners. Soaking the skillet to loosen food residue is not necessary. If, however, soaking the skillet is desired, do not soak for more than two hours. Soaking for more than two hours may damage the nonstick finish. In time, the nonstick finish may darken over the heating element. To remove this discoloration, use a commercial cleaner designed for cleaning surfaces, such as Dip-It Destainer.
Presto Electric Skillet Video
A short video on the Presto Electric Skillet uses. Take a look!
BRAND:
Presto
NAME:
OXO Good Grips Fat Separator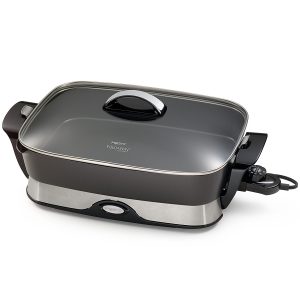 DESCRIPTION: The Presto Electric Foldaway Skillet model 06587 is unique in that the handles can be folded down and the base of the skillet is easily removed for cleaning and storage and can bake, fry, grill, roast and stews, and has the following features: Weighs 8.55 lbs., Dimensions 20 x 12.5 x 8 inches, Material Type Aluminum, Cooking Surface 16 inches, Color Black, 1-Year Warranty, Model Number 06857.
CATEGORY: "Kitchen & Dining", "Small Appliances", "Electric Skillets"
PRODUCT #: B00591GG58
REVIEW RATING: 4.6 stars, based on 2,001 reviews
Product Specifications
Manufacture: Presto
Model: 06857
ASIN: B00591GG58
Weight: 8.55 lbs.
Dimensions: 20 x 12.5 x 8 inches
Material Type: Aluminum
Inside Depth: 2 ¾ Inches
Cooking Surface: 16 Inches
Color: Black
Voltage: 120V & 60 Hz
Temperature Settings: 200 to 400 Degrees F
Uses: Bake, Fry, Grill, Roast, & Stew
Warranty: 1-Year
Presto Customer Service Department:  Monday-Friday 8:00-4:15 Central Time by phone (1-800-877-0441)
In The Box: 1 Skillet, 1 Lid, & Owner's Manual
Product Pricing
The price for this product is provided so customers can compare them with other similar products.
Price: $49.90
Note: The price of this product is subject to change without notice and may not be the actual price you pay at the time of purchase.
Product Rating & Customer Reviews
This electric skillet is rated 4.6 stars out of 5 by over 2,303 customers which is excellent.
You can read all of the reviews for this skillet by clicking on the following link: Customer Reviews!
Questions Customers Are Asking About This Product
Below are some of the questions being asked about this product.
Question: What is the maximum temperature the unit goes up to?
Answer: 400 degrees.
Question: How deep is the pan?
Answer: 2 3/4 inches deep.
Question: What type of material is the lid made of?
Answer: The lid is made of glass.
Question: Can you use metal spoons in it?
Answer: No. It is made of Teflon and metal could damage the pan surface.
You can also review the 309 answered questions concerning this product by clicking Here!
PROS
Pouring Spout – There's a built-In pouring spout that doubles as a spoon rest and for pouring liquids.
Heat Distributed Evenly –

The heat is distributed evenly across the entire skillet and the temperature is maintained throughout the cooking process.

Saves Energy –

It saves energy because it's more efficient than a range burner or oven.

Fold Down Handles –

Fold down handles allows you to detach skillet pan from its base for storage.

Dishwasher Safe –

The skillet pan and cover are dishwasher safe with the heat control removed.
CONS
Must avoid using no-stick cooking sprays as they may cause the cooking surface to become tacky.

Do not use metal utensils on the skillet as they might damage the non-stick surface.

The appliance does not have an auto shut-off feature you must manually turn it off.

This appliance is not intended to be used as a deep fryer.
Shop Presto Electric Skillet
Shop the Presto Electric Foldaway Skillet. Click the Buy Now button below. Place your order now and be glad you did.
As an Amazon associate I earn from qualified purchases.
Go back to Pros Cons Shopping home page.