Make Perfect Poached Eggs Every Time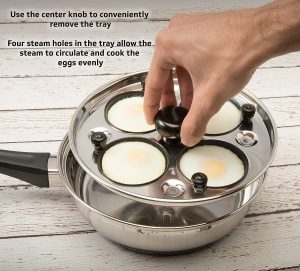 Serving a breakfast that has eggs can be nourishing and creative. Making eggs Benedict, Sardou, St. Charles or Hussarde or any other egg inspired meal sometimes requires poaching them. There are many ways to poach an egg but you might want to consider using the PremiumWares Poached Egg Maker. This unit can poach up to 4 eggs at one time.
The poaching pan can also double and be used to sauté or fry other foods in it. All you need to do is remove the cups and the insert. The egg maker poacher pan comes with 4 non-stick stainless steel cups, a glass lid, and an insert to place the cups in during the cooking process.
The poached eggs are cooked to perfection using water at the bottom of the pan that steams the eggs that cooks them evenly so you don't have to worry about overcooking or under-cooking them. With the see through glass lid you get to control how long you want the poached eggs to cook to your liking.
Bakelite knob offers a secure, safe fit and lets you monitor your eggs during the cooking process while the innovative steam vent locks in the proper amount of moisture, so your eggs are always cooked perfectly and taste even better.
This model poaching pan can be used on induction stove tops as well as all others.
Also available is the 2-egg and the 6-egg poaching pans. The small size 2-egg pan is great for singles and the 6-egg pan is handy for larger families.
Egg Poaching Video
This is a short video on how poach 4-eggs using the poacher pan.
Simple Operation Instructions
Below are some simple instructions on how to use your egg poaching pan.
Place half inch of water in the bottom of the poacher pan, and bring it to a boil over medium heat. Once the water is at a boil, let it simmer.
For even easier cleanup, use a touch of nonstick spray or butter (not required), and then crack an egg into each cup.
Insert the tray and cups into the pan, and place the lid on top.
You will notice that steam is gathering under the lid. The steam cooks the eggs until your desired liking. It only takes about 5 minutes from start until finish, so you can enjoy your poached eggs in no time.
Once cooked, remove the tray from the pan, and use the knobs on each cup to gently pour each perfectly-shaped poached egg out (no extra tools needed). Then, simply use a napkin to handle the knobs once they have been heated up by the steam.
BRAND:
PremiumWares
NAME:
PremiumWares Poached Egg Maker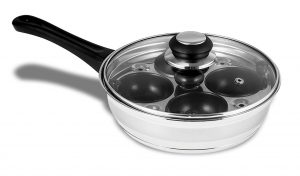 DESCRIPTION: The poached eggs are cooked to perfection using water at the bottom of the pan that steams the eggs that cooks them evenly so you don't have to worry about overcooking or under-cooking them, and has the following features: Weighs 3 lbs., Dimensions 8.5 x 8.5 x 2.5 inches, Material Stainless Steel, Capacity 4-Eggs, Easy To Clean, Suitable for Induction Stove Tops, Model Number EG101.
CATEGORY: "Kitchen & Dining", "Cookware", "Specialty Cookware", "Egg Poachers"
PRODUCT #: B074R27NWN
REVIEW RATING: 4.8 stars, based on 42 reviews
PFOA Side Effects
The concerns have centered on a chemical called perfluorooctanoic acid (PFOA), which was previously used to produce nonstick cookware, but isn't used today. In the past, PFOA did have some side effects.
Today, all Teflon pots and pans (modern non-stick cookware) are PFOA free since 2013. When cooking with Teflon treated pans, be sure that the heat used is medium to low which keeps the pan temperature below 570 degrees F. It makes using this cookware safe to use under this temperature.
However, Teflon components begins to break down above 570 degrees F and begin to emit polymer fumes which can be dangerous if the area is not ventilated. Also, do not preheat any Teflon treated pan as they can get hot very quickly. Never use these pans for broiling.
Product Specifications
Below are some of the specifications for this product.
Manufacture: PremiumWares
Model: EG101
ASIN: B074R27NWN
Weight: 3 lbs.
Dimensions: 8.5 x 8.5 x 2.5 inches
Tempered Glass Lid: Yes
Body Material: Stainless Steel
3-Ply Aluminum Bottom: Yes
Doubles As A Sauté Pan: Yes
Capacity: 1 To 4 Extra Large Eggs
Dishwasher Safe: Yes
Nonstick Coating Cooking Surface: Yes
Suitable For All Types of Stove Tops Including Induction: Yes
Easy To Use: Yes
In The Box: 1 Tempered Glass Lid, 4 Stainless Steel Non-Stick Poaching Cups, 1 Stainless Steel Tray Insert, 1 Stainless Steel Poaching Pan, and Instructions
Product Pricing
The prices for these products are provided so consumers can compare them with other similar products.
Price: $32.99
Note: The prices of these products are subject to change without notice and may not be the actual price at the time of purchase.
Product Rating & Customer Reviews
This product is rated 4.6 stars out of 5 by 872 customers which is outstanding.
You can read all of the reviews for this product by clicking on the following link: Customer Reviews!
Awards: Amazon's Choice
Questions People Are Asking About This Egg Maker
Below are some of the questions people are asking about this product.
Question: Can this stainless steel pan be used on an induction stove top?
Answer: Yes.
Question: Is the coating PFOA Free?
Answer: Yes.
Question: Where is this product made?
Answer: The product is made in China.
Question: Does a recipe booklet come with the egg poacher?
Answer: No, it does not.
You can read all of the 21 asked questions about this product by clicking on the following link: Answered Questions!
PROS
PremiumWares 4-Egg Poacher Set

High Quality Material – The pan has a sturdy heavy stainless steel body that is suitable for use with all stove types including induction. 

Great Performance –

It has premium 3-ply aluminum encapsulated bottom that eliminates hot spots and provides fast even heat distribution.

Style and Versatility –

Just remove the insert with the individual poached egg cups and use the poacher as a sauté pan to prepare other meals.

Easy To Use Poacher –

This easy-to-use poacher pan features a convenient nonstick coated cooking surface that makes food release super easy and clean-up quick.

Safe To Use:

The poacher pan features a Bakelite handle that stays cool to the touch that protects the hands from high heat. 

Can be used on induction stove tops.
Made in the USA.
CONS
It is recommended that it be hand washed and not placed in the dishwasher for cleaning.
Price.
Shop Poacher Pan
Shop the PremiumWares Poached Egg Maker. Click the Buy Now button below. Place your order now and be glad you did.
As an amazon associate I earn from qualified purchases.
Go back to the Pros Cons Shopping home page.