Portable Ice Maker Machine
Fresh Ice Made Quickly In Minutes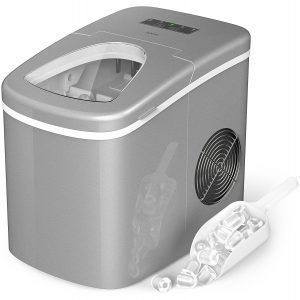 There may be times during the course of a special party or celebration, that the ice purchased for the event is running low. Now, you need a fresh supply. The Portable Ice Maker Machine from Homelabs is just appliance for you. If you should need additional ice in a hurry, this machine makes ice in 6 to 8 minutes. It stores up to 1.5 pounds of ice at a time. It makes smooth bullet-shaped ice cubes that will make every drink a pleasure to enjoy.
It has an auto shut-off feature that will engage when the ice basket is full. The reservoir capacity holds up to 0.58 gallons or 2.2 liters of water to make ice cubes. As the water level lowers you can always add additional water to keep the ice cubes coming.
Another feature of this ice machine is if you should delay in retrieving the ice from the basket, the ice cubes will melt and the water will go back into the reservoir and be reused in making more ice. The bottom line here is that you will always have ice available for those large parties whenever it's needed.
When you receive the ice machine there is no installation required. You can use it right out of the box. It has a very easy to use control panel. Just fill water up to the fill line and the machine does all the rest.
After months of use, you may need to clean the machine. You can do this using a mixture of 50/50 water to vinegar solution for a few batches. Then rinse it and drain it and run it with fresh water only. It should get rid of any bad tastes.
Machine takes about 45 minutes to fill-up the bin with ice cubes. Produces a batch of about 8 or 9 ice cubes within 6 to 8 minutes. To be used in the Home and not for commercial use.
The manufacture offers a 2-year warranty on the machine. In order to keep the warranty active, be sure to save the original receipt as it will be needed.
Product description
The Home Portable Ice Maker is a sleek, high performance counter top ice making machine that produces 26 lbs of ice per day and stores up to 1.5 lbs of ice. In just 6 to 8 minutes, you'll have beautiful, smooth, bullet-shaped ice cubes that make every drink a pleasure to enjoy! This modern ice maker automatically shuts off when ice is full; it's simple to fill and drain; and it's ready to use out of the box — no installation necessary. With a new, easy-to-use control panel, it's is perfect for kitchens, recreational vehicles, boats, bars, backyards and more!
BRAND:
Homelabs
NAME:
Portable Ice Maker Machine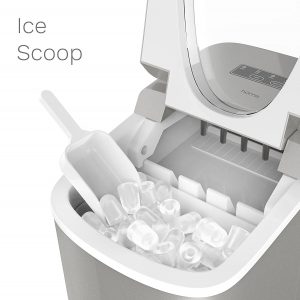 DESCRIPTION: The Portable Ice Maker Machine from Homelabs provides additional ice in a hurry, this machine makes ice in 6 to 8 minutes, and stores up to 1.5 pounds of ice at a time, and has the following features: Weighs 19.4 lbs., Dimensions 12.9 x 9.5 x 14 inches, Color Silver, Water Capacity 2.2 Liters, Wattage 120 Watts, Makes Batch of Ice In 6-8 Minutes, 26 Lbs. Max Per Day, Comes with Scoop & Basket, Model Number HME010019N.
CATEGORY: "Appliances", "Ice Makers"
PRODUCT #: B071J2LSQS
REVIEW RATING: 4.6 stars, based on 636 reviews
Product Details & Features
Manufacture: Homelabs
Model: HME010019N
ASIN: B071J2LSQS
Weight: 19.4 lbs.
Dimensions: 9.5 x 12.9 x 14 inches
Water Reservoir Capacity: 2.2 liters / 0.58 gallons
Water Reservoir: Easy to fill and drain water quickly
Ice Production: 26 lbs of ice per day
Batch Production: About 9 Cubes
Ice storage: 1.5 lbs of ice
Ice Time: Ready in 6 – 8 minutes
Maximum Ice Output: 26 lbs. Per 24 Hours
Full Bin Ice Time: 1 to 1.5 Hours
Power: 100W / 110V / 60Hz
Color: Silver
Material Type: ABS
Wattage: 120 Watts
Voltage: 115 Volts
Power Cord Length: 4 Feet
Output: Smooth bullet-shaped ice cubes
Auto Shut-Off: Yes, When ice is full
Control Panel: Simple-to-use control panel
Water Fill Indicator: Yes
Plastics BPA Free: Yes
Certifications: ETL, CE-EMC, CE-LVD, FDA, ROHS
In The Box: Ice Machine, Small Ice Scoop, Ice Basket & Owner's Manual
Warranty: 2-Years
Product Pricing
The price for this product is provided to customers so they can compare them with other similar products.
Price: $120.28
Note: The price of this product is subject to change without notice and may not be the actual price at the time of purchase.
Product Rating & Customer Reviews
This ice maker is rated 4.2 start out of 5 by 1,409 customers which is very good.
You can read all of the reviews for this product by clicking on the following link: Customer Reviews!
What Questions Are People Asking About This Product
Below are some questions people are asking about this product.
Question: I heard mold forms pretty quickly, is it easy to clean? How do you clean run vinegar through it?
Answer: Mine is at my office in the break room and I try to remember on Friday to drain it and leave it open all weekend to dry out.
Question: Can this machine be hooked to a water line for auto filling?
Answer: No.
Question: Does this machine have a water filter?
Answer: No, but you could use filtered water in it.
Question: Why is my ice not staying frozen?
Answer: The unit functions more as an ice maker rather than an ice storage. It doesn't have thermal insulation so the cool temperature will escape from the gap in between the lid and the main body. If you don't remove the ice from the tray, eventually it will melt. Place the ice made inside your freezer for storage.
You can also review the 274 answered questions concerning this product by clicking Here!
PROS
Melted Ice – Melted ice returns as water into the reservoir to make additional ice cubes.
Portable Ice Power –

The countertop ice maker produces 26 pounds of ice per day and stores up to 1.5 pounds of ice at a time.

Fast Ice Cubes – The machine makes a 9-piece batch of bullet-shaped ice cubes between 8 to 12 minutes.
Auto Shut Off – The portable ice machine automatically shuts off when ice basket is full.
Quiet Cooling – Ice making machine features modern refrigeration technology and quiet compressor cooling that is less noisy.
CONS
Price.
Unit works best using spring and purified water.

Ice cubes left in tray will melt and must be placed in freezer.

M

ust keep original receipt to keep the warranty valid.
Shop Ice Machine
Shop the Portable Ice Maker Machine. Click the Buy Now button below. Place your order now and be glad you did.
As an amazon associate I earn from qualified purchases.
Go back to Pros Cons Shopping home page.