Making Night Driving A Pleasure – Not A Burden Anymore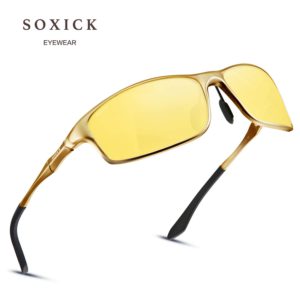 As we age, night driving can become more of an issue especially when approaching oncoming car headlights or street lights. Another area of concern is during the rain or snow storms that may affect our night driving vision. The Polarized Yellow Night Driving Glasses by Soxick will help you in these driving conditions. The glasses will make driving at night a pleasure and not a strain on your eyes.
The glasses are lightweight (weigh about half the weight of regular glasses) and have a comfortable nose pads for longer wearing time when going on driving trips. These glasses assist you so see better when driving on cloudy, at night or even rainy days which makes driving safer for everyone.
The biggest area when using these HD night driving glasses is the reduced glare from modern Xenon or LED headlights from approaching cars. The polarization of the lenses helps in reducing eye fatigue and the seeing of some images that may have been difficult to see in the past when driving at night.
Our night driving vision can become blurred or poor. Our pupils get bigger in the dark. These night driving glasses creates a razor-sharp and high contrast vision when driving in poor lighting conditions. These glasses also has an anti-reflective lens. They also reduce up to 99% of the UVA & UVB rays.
These glasses can also be warn during the daytime too.
These glasses are not for everybody because they cannot be placed over prescription glasses or if they can, you might experience them not fitting well or even falling off when moving your head up, down, or sideways.
If you happen to drive a lot at night, these glasses may just help in reducing the eyestrain and glare from oncoming cars, trucks and driving in storms.
The style of the glasses are such that they will fit both men and women and come in three colors; black, blue and gold frames. The frames themselves are made with aluminum and manganese which makes them lightweight for wearing.
What is nice about this product is it comes with a 30-money back guarantee if not completely satisfied. It also has a 180-day limited warranty.
Now, make night driving much easier with these glasses and you will be glad you did!
Video – Unboxing and Glasses Review Demo
Below is a short video on the unboxing and a great demo of the glasses being used in night driving.
Product Description
The glasses are made with aluminum and manganese and yellow HD polarized anti reflective lenses. This combination makes for less eye fatigue for night driving. They also reduce the glare of the LED and Xenon headlights when they are approaching you. They are lightweight and fit both men and women and look stylish. They also provide 100% protection from the UVA & UVB rays.
Making night driving much safer is a must and if you have difficulty in night driving, these glasses are a must for you. The glasses are not for everyone especially those with prescription lenses as these glasses do not fit over them easily and with comfort.
Product Specifications
Manufacture: Soxick
Model No.: 6128-1
Frame Colors: Black, Blue, & Gold
ASIN: B07GH559NW
Frame Length: 144mm
Lens Width: 64mm
Lens Height: 37mm
Bridge Width: 12mm
Arm Length: 123mm
Lenses Polarized: Yes
UV400 Protection: Yes
UVA & UVB Protection: Yes
Anti-Reflective Eyeglass Coating: Yes
Glasses Worn: Both Men & Women
Return Policy: 30-Days
Warranty Guarantee: 180 Days
In The Box: 1 Pair of Glasses, Service Card, Glass Cloth, Glass Bag, & Instructions.
Product Pricing
The price of these glasses is provided so consumers can compare them with other similar products.
Price: $29.99 (Price for all three color frames)
Note: The price of these glasses are subject to change without notice and may not be the actual price you pay at the time of purchase.
Product Rating & Customer Reviews
These glasses are rated 4.3 stars out of 5 by 277 customers, which is very good.
What Customers Are Saying
October 17, 2018. Excellent.
I had trouble seeing at night with seeing oncoming headlights. I am pleased with these lenses as they do what they promised.
December 16, 2018. Reduces Glare.
These glasses do soften the glare of oncoming headlights which makes night driving a lot better.
September 19, 2018. Like This Pair of Glasses.
These glasses have helped in reducing the glare from headlights. I can focus more and recommend these glasses.
You can read all of the 277 customer reviews about these glasses the good and bad by clicking on the following link: Customer Reviews!
What Questions People Are Asking About This Product
Below is a small sample of the 22 answered questions about this product. You can read all of them by clicking on the following link: Answered Questions!
Question: How are these glasses on rainy days?
Answer: It makes vision clear on rainy days. I'm wearing them every night when driving.
Question: I have a small head and wear children's glasses. What is the size of these?
Answer: I have a small head as well and wear children's hats and small glasses. These are kind of spring action and they fit me really well. So well, that I bought a pair for my Mom whose head is even smaller than mine and she loves them. They work very well. I have a very hard time driving at night, and these have taken the anxiety I get from driving at night away. My Mom is blind in one eye and has a real bad problem with oncoming car headlights. These have helped her a lot as well.
Question: Can I wear them over prescription glasses?
Answer: No. They are not suitable for prescription glasses for the time being!
Question: Do the night vision lenses really reduce glare of oncoming lights?
Answer: I am impressed with quality and performance of these glasses for night driving and driving in bright sunshine.
PROS
1). Helps reduce the glare of headlights from oncoming cars.
2). Helps reducing eye fatigue when driving at night.
3). Polarized lenses eliminates glare and eye fatigue.
4). Enhances night vision when driving at night.
5). Comfortable nose pad.
6). The glasses provides 100% protection of UVA & UVB rays.
7). 30 day money back guarantee if not completely satisfied.
8). Glasses fit both men and women.
CONS
1). Glasses are not suitable for fitting over prescription lenses.
2). Price.
3). Limited 180-day warranty.
4). Glasses are not suitable for all users.
Shop Night Vision Glasses
You can shop for the night vision glasses by clicking on the image below. You will be taken to Amazon where you can select the color with the order.
As an amazon associate I earn from qualified purchases.


Soxick Night HD Night Vision Glasses
Did not find what you were looking for? No problem. Enter a search term in the Amazon Box below to search on Amazon for other products.
Go back to the Pros Cons Shopping home page.