Makes Baking Your Favorite Bread A Lot Easier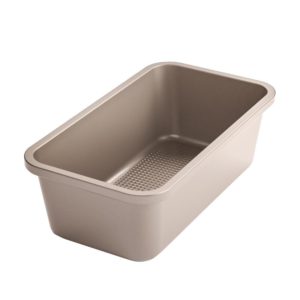 You like baking and one of your favorites is homemade banana nut bread. You have found your favorite banana nut bread recipe and would like to try it out using the OXO Good Grips Loaf Pan you just bought. It's made of commercial grade heavy gauge aluminized steel that provides even heat distribution while baking. The bottom has a micro-textured pattern that ensures even baking and promoting airflow during the baking process. This pan bakes up to a 1-pound loaf of bread or pound cake or anything else you want to bake using the pan.
This pan is Swiss-engineered PTEE, ceramic reinforced, with two layers of commercial grade coating that provides a non-stick surface and is scratch, stain, corrosion and abrasion resistant. With the single piece square rolled steel around the edges adds strength and durability and provides a secure grip for easy handling when moving it to and from the oven.
Using this 1 lb. loaf pan you can cook meatloaf, all kinds of breads, pound cake, lemon cake, banana bread and more. You will be completely satisfied with the results.
The non-stick two layer coating is PFOA-free and ceramic-reinforced for durability and easy food release. Besides all this, it is made only in the United States.
This bread pan should give you long lasting results for many years to come.
The OXO Good Grips baking pan also makes for a great gift for any occasion.
Bread Pan Use & Care Tips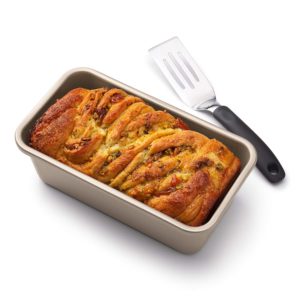 As with any new baking pan, there are some use and care tips you need to follow when using this product.
First Time Use – Hand wash the pan using warm water and a mild dishwasher soap. Never use abrasive cleaners as this can damage the non-stick surface of the pan.
It is recommended that you do not use sharp cutting tools in the pan. Use only nylon, wooden, silicone or other coated tools to protect the pans surface.
When preparing the pan, follow your recipe's greasing and flouring instructions.
Do not use any type of oil sprays, including aerosols, mist and pump sprays. These sprays can cause residue build-up that is difficult to remove from all types of non-stick bakeware.
Do not use this pan in temperatures above 450 degrees F. Do not use it under the broiler.
The efficient coating of the OXO Good Grips Pro Bakeware heats quickly and evenly, so you should monitor the baking times and temperature for the first few uses, making adjustments to the recipe as necessary.
Hand wash pan using warm, soapy water and promptly dry.
Product Specifications
Manufacture: OXO
Model No.: 11160300
Weight: 8 ounces
Dimensions: 9 x 5 x 3 Inches
Pan Type: 1 lb. Bread Loaf
PFOA-Free: Yes
Material: Heavy-Gauge Aluminized Steel
Guarantee: If there is anything wrong with the pan it will be repaired or replaced.
Cleaning: Hand Wash and Promptly Dry
Maximum Heat: 450 Degrees F
Made: In the USA
In The Box: 1 Pan, Use & Care Instructions
Product Description
This is a 1 lb. bread pan that is made of non-stick coating that is PFOA-free. The material is commercial grade heavy-gauge aluminized steel which provides even heat distribution for better baking. It has square rolled edges that makes it easy to grip and transferring to and from the oven. You can make your favorite breads, cakes, meatloaf and more. You will be amazed at the results you get from this baking pan.
Product Rating & Customer Reviews
This product is rated 4.5 stars out of 5 by over 568 customers which is excellent. You can read all of the reviews about this product by clicking on the following link: Customer Reviews!
Questions People Are Asking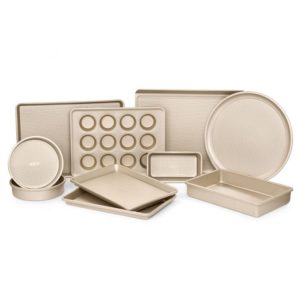 Below are just a few of the 88 questions that people are asking about this product. You can read all of them by clicking on the following link: Answered Questions!
Question: Where is this pan made?
Answer: It is made in the USA.
Question: How do you clean this baking pan?
Answer: Hot soapy water and a sponge cleans this nicely. I would avoid using any abrasive cleaners or cleaning pads.
Question: Am I doing something wrong? I've made two cakes in this pan and both have stuck horribly!
Answer: Gave two of these pans as Christmas gifts. One of the giftees made homemade cinnamon rolls, baked them at the usual temp & they were too dark on the bottom but popped right out of the pan. Suggested to my giftee that perhaps a little lower oven temp should be used. I noticed in the directions that a spray type shortening should not be used in these pans. You can use a little flour. Best results, let the cake cool down before trying to remove it from the pan.
Question: Can this pan be used in the microwave?
Answer: No, because it's made with heavy gauge aluminized steel.
Question: Will this pan work for lasagna?
Answer: Sure. It's a great pan, but you might want the larger rectangular version of it for Lasagna.
PROS
The product is made in the USA.
The surface is resistant to scratching, staining, corrosion and abrasion.
Heats evenly around the surface for faster baking.
The non-stick coating is PFOA-free.
CONS
 Price.
Shop OXO Bread Pan
You can shop for this OXO bread pan by clicking on the image below. You will be taken to Amazon where you can place the order. You have the option of ordering additional baking pans made of the same quality material such as pizza pan, deep dish pan, muffin pan, square pan, cooling rack, cookie sheet, round cake pan and more.
As an amazon associate I earn from qualified purchases.

OXO Good Grips 10-Piece Cookware Set
Did not find what you were looking for? No problem. Enter a search term in the Amazon Box below to search on Amazon for other products.
Go back to the Pros Cons Shopping home page.
OXO Good Grips Bread Pan
17.99
Heats Evenly Around The Surface For Faster Baking
9.5/10
The Surface Is Resistant To Scratching, Staining, Corrosion & Abrasion
9.5/10
The Non-Stick Coating Is PFOA-Free
9.5/10
Product Is Made In The USA
9.5/10
Pros
Heats evenly around the surface for faster baking.
The surface is resistant to scratches, staining, corrosion, & abrasion.
The non-stick coating is PFOA-Free.
The product is made in the USA.