OXO Good Grips 3-Blade Spiralizer
A Great Way To Make Veggies Look and Taste Better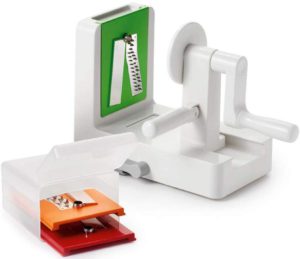 Do you have trouble in trying to get your kids to eat vegetables? If you are like most parents of young children you do and are not alone. No matter how hard you try, they just seem stubborn to eat them regardless on how well they are cooked. Now, you can turn those hard to eat vegetables into different shapes by using the OXO good Grips 3-Blade Spiralizer. It is great for creating uniform spirals from fruits and vegetables that make for curly fries, salads, garnishes and a lot more into shapes that children may like to eat. Not only for them, but other family members as well.
This spiralizer comes with three interchangeable blades that offer different blade spiral shapes like spaghetti, fettuccine or ribbon cuts. The blades are easy to remove and change. When they are not in use, they can be stored in the plastic case that comes with the set that fits into the unit. The base of the unit has a suction up to prevent wobbling and slipping when working with the machine.
The blades can be used in creating strips of sweet potatoes, shred cabbage, squash, and other fruits and vegetables. There is no limit to what this machine spiralizer can do.  For best results, use straight cuts of fruits and vegetables when using the spiralizer.
Tip: If you should have a granite counter-top and to prevent slippage when using the machine, clean the counter-top with a de-greaser then slightly moisten the suction cup before engaging them. The unit should stay in place and not wobble.
The rotating handle is used to turn fruits and vegetables to spiralizer. The maximum diameter of the vegetable or fruit you want to create spirals it's between 3 to 4 inches. The minimum diameter should not be less than 1.5 inches.
The cutting blades are color coded for making specific spirals. They are described below:
Green: Makes 1/8 inch Spaghetti Spirals
Orange: Makes ¼-inch Fettuccine Strip Spirals
Red: Makes Ribbon Strip Spirals
All of the parts are dishwasher save accept for the base which must be hand cleaned.
This spiralizer also makes for a great gift at any occasion.
Video of The OXO Spiralizer
Below is a short video to assist you in becoming familiar on using the OXO Spiralizer. Take a look!
How To Use The OXO Spiralizer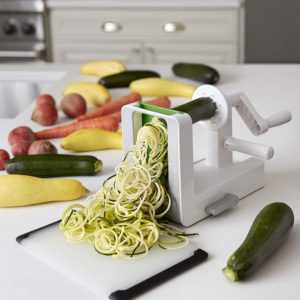 Just follow the three easy steps below:
Step 1: Pick your Vegetable. The product works best when selecting vegetables that are straight and at least 1 ½ inches in diameter. If the produce is too long, just cut it in half for better stability. If it's not straight then cut it into straight sections.
Step 2: Press one end of the vegetable into the food holder and push the other end against the center of the blade. Apply pressure against the blade by using the side handle while turning the rotating handle clockwise. It produces uniform spirals.
Step 3: Dress up your spiral noodles to create tasty, fun and healthy dishes that should please all the family members.
Product Description
The spiralizer is a great way for creating vegetable noodles which are tastier and healthy than eating pasta. You can create uniform spirals from fruits and vegetables and turn them into curly fries, salads, garnishes and a lot more. It is quicker and safer than using a knife and the result is fun for the whole family to eat. The plastic storage case makes for a great way to store the blades in when not in use.
Product Specifications
Below are all of the basic specifications about this product.
Manufacture: OXO
ASIN: B01C2TT2H8
Model Number: 11151400
Weight: 1.5 lbs.
Dimensions: 6.2 x 9.8 x 8.2 inches
Color: White
Material: Plastic
Blades: 3 (Red, Orange & Green)
Dishwasher Safe: Yes, Except for the Base
Warranty: 1-Year
In The Box: Quick Set up Manual, Instructions, Spiralizer Unit, 3 Blades, Turning Handle, Food Holder, & Plastic Case for Storing the Blades.
Product Pricing
The price of this product is provided so consumers can compare them with other similar products.
Please Note: The price for this product is subject to change without notice and may not be the actual price you pay at the time of purchase.
Price: $33.99
Product Rating & Customer Reviews
This product is rated 4.4 stars out of 5 by 628 customers which is excellent. You can read all of these product reviews by clicking on the following link: Customer Reviews!
Questions People Are Asking About This Product
Below are some questions people are asking about this product.
Question: Does the handle snap onto the holding disc or just sit on it loosely?
Answer: It snaps on. It does come off for cleaning but it's snaps on securely.
Question: How do you remove the suction cup from the worktop?
Answer: There is a little tab on the side of the suction cup that if you lift slightly it helps release the suction cup from whatever surface you stuck it to.
Question: Is the product BPA Free?
Answer: Yes.
Question: Where is this product made?
Answer: It is made in China.
You can read all of the 68 questions about this product by clicking on the following link: Answered Questions!
PROS
Easy to use.

Movable parts are dishwasher safe.

Three interchangeable color coded blades.

Plastic storage case for storing blades when not in use.

Heavy duty suction cup to prevent wobbling and slipping when cutting.
CONS
Price.

Plastic may not be BPA Free.

The base must be washed by hand.
Shop OXO Spiralizer
You can shop for the OXO spiralizer by clicking on the "Buy Now" button below. You will be taken to Amazon where you can place the order.
As an amazon associate I earn from qualified purchases.
Go back to the Pros Cons Shopping home page.