Outside Pop Up Canopy Keeps You In The Shade!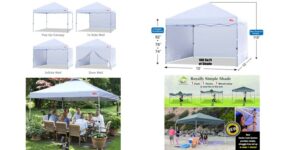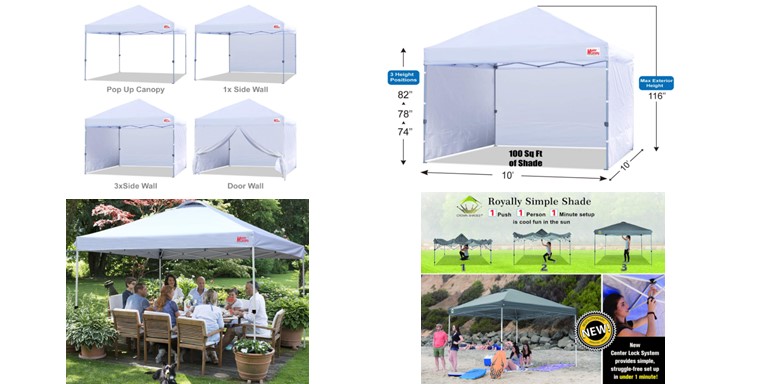 Introduction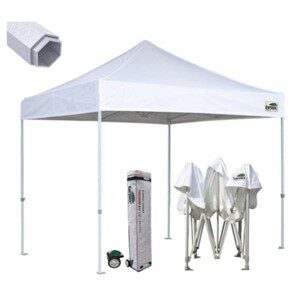 Outside Pop-Up Canopy provides shelter during hot summer months. Keeps the sun and rain off you while you can sit outside and enjoy the gentle breeze. If you are into yard sales, farmer's market, or a flea market, a canopy can be very helpful to protect patrons from the weather and the items you are selling.
Pop-up canopies are portable so they can provide relief from the sun and rain. They are erected quickly and you can take them with you wherever you go. When you are done, they fold up neatly into their travel case and fit in the trunk. They are easy to put up and take down at the end of the day. So, you will always have some shelter that's easy to move around from place to place.
Set-up is very quick usually under 3 minutes with two people. The same is true when taking it down. They come in various sizes but the most popular size is the 10 x 10 foot model. Some models come with a transport case on wheels for easy moving from place to place.
Some of the pop up canopy models do cost more than a tent.
Basic Canopy Questions
Below are some of the basic questions consumers have concerning pop up canopies.
How long does a canopy last? If your model is not treated for the weather, they can last for up to 1 to 3 years. If they are made with low grade fabrics, they will last about 6 months. On average of all tents, you can expect 1 to 10 years.
What color canopy is the coolest? Having a color canopy will only reflect that color's light and absorb all other wavelengths. White however reflects every wavelength of light and absorbs none. Therefore, a white canopy cover is the coolest.
Do canopies protect from rain? Models that state they are water-resistant only protect from small amounts of rain. During heavy downpours, they can leak. Look for canopies that are made with waterproof fabrics. They will protect from the rain. Some models can even protect from the wind provided the legs are stabilized with stakes or sandbags.
How do I choose a canopy tent? This can only be answered by what your specific needs are. The common size canopies include 10'x10' and 12'x12'. There are even larger and smaller sizes available. Determine the area where the canopy will be placed and buy one that best fits the area and your needs.
How do I stop my canopy from blowing away? If the canopy is set-up in a parking lot or on concrete, you need to attach tent weights to the legs. This will help prevent it from swaying, sliding, or blowing over. Weighted sandbags will do the job very nicely. If on the ground, you can attach stakes into the ground to provide stability.
How many chairs can fit under a 10'x10' canopy? On average, between 10-12 chairs using 8' rectangles. A 10×10 provides up to 100 sq. feet of space under the canopy. A 10×20 fits 25-27 chairs, 10×30 fits 37-40 chairs, and 10×40 fits 50-55 chairs.
Disadvantages of Pop Up Canopies
Below are some of the disadvantages of pop up canopies that you should be aware of.
Bulky When Packed – These tents can only be folded and not rolled up like regular tents.
How Much Weight Is Required To Hold Down A 10×10 Canopy? – You will need at least 40 lbs. at each corner. Always secure the canopy with stakes in the ground.
How Much Wind Can A Pop Up Canopy Withstand? – If properly anchored it can stand up to 60 MPH.
Instant Models Require Weather Protection – The instant set-up models are excellent for erecting them but not for weatherproofing. Unless you get a model that has sides.
The Pop Up Canopies Can Be Heavy –

 

Some canopy models are packed in a case with wheels for easy transporting.
Some Models Have No Weatherproofing –

Some models do not protect from heavy rain. Check this feature exists before buying.
What Is A Sidewall To A Canopy?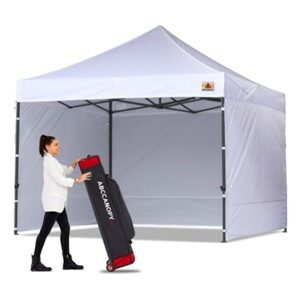 Most canopies are open on all sides with the top covering protecting you from the sun and some rain. There are some models that come with sidewalls also known as side panels. These panels are attached to the canopy frame. Some models have only one while others will have more than one and some have a door. Basically sidewalls do protect you from the elements such as rain and wind. By adding sidewalls to your canopy expect to pay a little more for this feature.
PROS
Quick set-up time
Quick take-down time
Portable and convenient
Provides shade from the sun
Can be used for all kinds of occasions
Less gear to bring
Great for backyard camping
Ideal for events or celebrations
CONS
May have leaks during heavy downpours
May not stand up to strong winds
May not be fully waterproof
More setup is required for weather protection
Expensive
Conclusion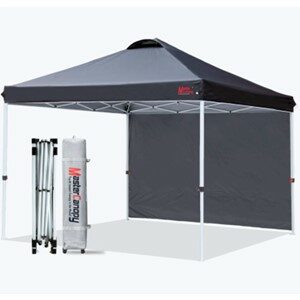 The pop up canopies are great for individuals that like to sell at flea markets, backyard garage sales or just wanting to sit in the shade and enjoy the cool breezes. They can also serve as an information booth. There is no limit to their usefulness.
These canopies protect you from the rain, wind and sunshine as well as your visitors when selling items.
We also shared that the best color to buy is White as it does not absorb other colors and will be the coolest of all color canopies. Other colors are available by most manufactures.
They come in small to large sizes. The most common size is the 10'x10' models.
Be sure to select the model that is best for your needs.
Shop Pop Up Canopies
Below are some of the best pop up canopies you can choose from. Just click or select the image below on the canopy that is of interest to you. You will be taken to Amazon to place the order.
As an amazon associate I earn from qualified purchases.
–