A Swinging Egg Chair That Has Comfort
A chair's primary function is to provide comfort when you are watching TV, reading a book, listening to music, or relaxing whether you are inside or outside. Now, take this comfort to the next level by with the Outdoor Hanging Egg Chair by Island Gale. This is a hanging swinging egg chair that comes with a cushion and pillow to make you even more comfortable for reading, listening to music or just relaxing whether you are outside or inside.  It makes for a great addition to any backyard or living room.
You can take this chair outside by the pool or on the patio, enjoy the outdoors, or in the shade, in comfort. The cushion and pillow are made with waterproof polyester fabric to protect them on those rainy days.
The all-weather grey synthetic PE open weave brown wicker is handwoven and handcrafted for a beautiful look. It has a sturdy steel frame in bronze and can hold up to a maximum of 264 pounds.
If you are concerned about the outside elements or the sun causing damage to the chair, a cover can be purchased separately to protect it when it's outside and not in use. You may want to consider this option.
When the chair is delivered to your home, you will need so set aside some time to assemble the chair. On average, expect to spend about 15 to 30 minutes assembly time.
Please note the following:
Note 1: You will find the Swing Chair Accessory Sets in the holes of the base. It was packed together for convenience. These are used to firmly fixing the base to the ground if desired.
Note 2: Due to the heavy loading, the joints between Base & Poles or Poles & Swing Bracket may show scratches, scuffs, and a little bit of paint loss from typical use.
Make your backyard or den the envy of all those family members, friends, and neighbors who visit you when they see this chair.
Benefits of Using An Egg Chair
One of the biggest causes of back pain is sitting in a traditional chair over long periods of time. These chairs are generally found at work and around the house. The natural curve of an egg chair helps reduce the strain by providing the proper posture in the back, neck and shoulders. Regular use of an egg chair can reduce backaches. This is a huge benefit for your health.
Another huge benefit of an egg chair is that it's comfortable to sit in. Many individuals find themselves sitting in these chairs for longer periods of time. Why? Because they are so comfortable for reading, relaxing or just taking a nap. Thus, providing less stress and being more relaxed will help improve your productivity when working on the job.
BRAND:
Island Gale
NAME:
Outdoor Hanging Egg Chair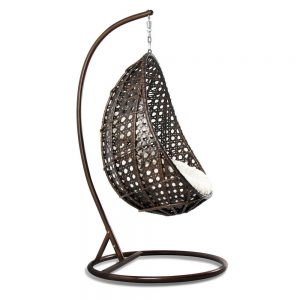 DESCRIPTION: Take comfort to the next level with the Outdoor Hanging Egg Chair by Island Gale, and has the following features: Weighs 80 lbs., Chair Capacity 264 lbs., Dimensions 41.34 x 41.34 x 76.77 inches, Cushion Material Polyester & Waterproof, Indoor/Outdoor Use, Frame Material Steel, Cushion Color White, Model Number TF-9721-MIXBN-WHITE.
CATEGORY: "Patio, Lawn & Garden", "Furniture" "Recreation Room Furniture"
PRODUCT #: B073XFP729
REVIEW RATING: This product has no ratings or reviews
Product Description
This is a trendy and stylish Island Gale hanging egg chair that's a perfect way to relax. Complement your dining settings with a quiet corner placement of this egg chair and appreciate the sturdy steel frame in bronze powdercoat finish supporting the elegant open weave brown mix wicker. Or, steal away with a good book, and lounge in its deluxe cushioning in lush durable white polyester fabric that also comes with a pillow for additional comfort.
Product Specifications
Manufacture: Island Gale
Model: TF-9721-MIXBN-WHITE
ASIN: B073XFP729
Weight: 80 lbs.
Dimensions: 41.34" x 41.34" x 76.77"
Swing Basket Dimensions: 34.64" x 29.13" x 49.21"
Base Dimension: 41.34" x 41.34" x 12.99"
Seat Height: 23.62"
Weight Capacity: 264 lbs.
Use: Indoors or Outdoors
Wicker Chair: All-weather Grey Synthetic PE Wicker Handwoven and Handcrafted Bronze
Cushion Material: Cushion made from Waterproof Polyester Fabric and fill
Pillow Material: Cushion made from Waterproof Polyester Fabric and fill
Frame Finish: Brown Powdercoat
Cushion & Pillow Color: White
Frame: Steel
Fabric: Polyester
Accessories: Included for fixing the base to the ground
In The Box: 1 Egg Chair Basket, 1 Base, 1 Pole, 1 Accessories Set, 1 Cushion, 1 Head Pillow, Tool Set, Manual & Instructions
Guarantee: 100% satisfaction is guaranteed if you are not completely satisfied.
Product Pricing
The price for this product is provided so consumers can compare them with other similar products.
Note: The price of this product is subject to change without notice and may not be the actual price at the time of purchase.
PROS
Use – This chair can be used either indoors or outdoors.
Frame – Sturdy steel frame with bronze powdercoat finish.
Comes with a cushion and a head pillow for comfort.
Stylish – Open Weave Brown Mix U.V. Treated Wicker.
Come complete with accessories for fixing base to the ground.
CONS
Price. Very expensive outdoor/indoor chair.
The maximum weight capacity for this chair is 264 lbs.
Requires between 15 to 30 minutes assembly time.
Shop Wicker Egg Chair & Cover 
Shop the Outdoor Hanging Egg Chair. Click on the Buy Now button below. Place your order now and be glad you did.
As an amazon associate I earn from qualified purchases.
Go back to the Pros Cons Shopping home page.