O-Cedar Easy Wring Spin Mop and Bucket System
Clean Floors Never Getting Your Hands Wet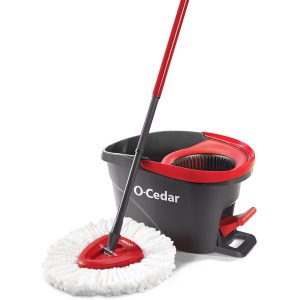 Cleaning the house or apartment can be a chore especially the floors. Keeping them clean from dirt and grime seems like a never ending activity. The O-Cedar easy wring spin mop and bucket system helps makes this chore a lot easier to do. It has a bucket system that spins the water out of the mop head using the foot pedal and you use the microfiber mop to clean the floors. This mop will clean any type of flooring even hardwood, laminate, tile, and linoleum. The handle that comes with the system is adjustable from 33 to 51 inches.
The bucket has a foot pedal that you press using your foot to spin the mop head that releases the excess water out of it without splashing water everywhere. So, the water stays in the bucket and not on the floor. What a novel idea this is. No more bending down to hand wring or squeeze the excess water out like you did when using the old fashioned mops. This mop cleans into corners and under furniture with ease. It can be used either wet or dry. The mop head comes off the handle for easy machine washing.
The complete system comes with a bucket, adjustable handle, mop head, and instructions.
O-Cedar Wring Spin Mop Video
The short video below provides you with a quick look on how this mop system really works.
Product Specifications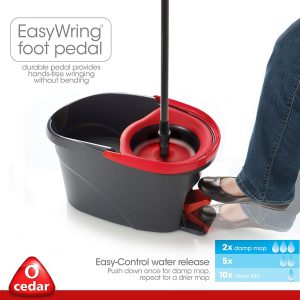 Below are the specifications for this O-Cedar Easy Wring Spin Mop & Bucket System.
Manufacture: O-Cedar
Model Number: 140743
Dimensions: 19.5 x 11.7 x 11.5 inches
Weight: 5.3 lbs.
In The Box: Bucket Pail, Adjustable Handle, 1 Mop Head, and Instructions
Adjustable Telescoping Handle: 33 to 51 inches
Mop Head Machine Washable: Yes
Mop Material: Microfiber
Mop Use: Wet or Dry
Bucket Diameter: 12-14 inches
Cleaning Floor Types: All Floors
Bucket Capacity: 3 Gallons
Handle Material: Hard Plastic
Mop Head Replacement: 4-6 mos. and Up To a Year on Average (Depends how often you use it and the need in cleaning the mop head)
Product Description
The splash guard keeps water from splashing on floor and keeps it in the bucket. Foot pedal that controls the amount of moisture that stays in the mop. It uses microfiber material for deep cleaning and absorbs dirt. The mop can be used wet or dry. Your hands never touch the water for wringing as the bucket does this function. This prevents the floor from getting messy. What is nice about this mop is you get to control the amount of water being applied to the floor. The more you spin the mop the more excess water gets out of the mop head.
Product Rating & Customer Reviews
This product is rated 4.3 stars out of 5, by over 5,539 customer which is very good. You can read all of the reviews for this product by clicking on the following link: Customer Reviews!
Questions People Are Asking About This Mop System
Below are a few questions people are asking about this product.
Question: Can this mop system be used on laminate floors?
Answer: Yes, just use a laminate cleaning product and wring the mop 4 or 5 times so it's not dripping wet.
Question: What's the diameter of the circle in the bucket? 
Answer: 12 – 14 inches.
Question: Does it require batteries for the spinner or is it manually operated?
Answer: No batteries just by your foot pushing down activates the spinner.
Question: Can this mop head be washed?
Answer: Yes, the yarn part snaps off and you can throw it in your washer. Comes out great. Instructions say to not use a softener.
Question: Is there an agitator in the bottom of the bucket that you have to click the mop into?
Answer: It's not an agitator, per se. More like a salad spinner. And there's no clicking involved. Just place the mop in the side "salad spinner" and step on the lever to spin the water out of the mop head. It's simple and effective.
You can read all of the 441 frequently asked questions about this product by clicking on the following link: Frequently Asked Questions!
Product Pricing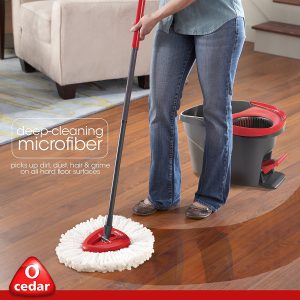 The price of this product is provided so consumers can compare them with other similar products.
Price: $29.97
Note: The price for this product is subject to change without notice.
PROS
Easy to clean and machine washable mop head.
Built-in wringer.
Triangular mop head makes cleaning corners easy.
Safe to use on all Floors.
Spins easy by using the foot pedal instead of bending down.
Mop can be used wet or dry.
Comes with an adjustable telescopic handle
Microfiber mop head.
CONS
Price.

Made of plastic.

Handle adjusts to a maximum of 51 inches.

The mop head must be replaced every 4 to 6 months.
Shop O-Cedar Wring Spin Mop Bucket System
You can shop for the O-Cedar mop bucket system by clicking on the "Buy Now" button below. You will be taken to Amazon to place the order.
We are providing additional product links for the bucket system with additional refill mop heads and just mop head refills.
Other O-Cedar Systems and Mop Head Refills
Just click on any image where you can purchase them on Amazon.
| | | | |
| --- | --- | --- | --- |
| Complete O-Cedar System with 2 Extra Refills | Compete O-Cedar System with 3 Extra Refills | Compete O-Cedar System with 1 Extra Refill | 4-Pack of O-Cedar Mop Head Refills |
If you did not see your product here, enter a search term in the box below to search Amazon for other products.
Go back to the Pros Cons Shopping home page.