Taking Bathroom Mats to the Next Level!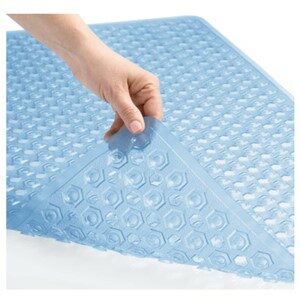 Introduction
If you have any elderly parents or family members, they can easily have an accident when showering. In fact, 80% of seniors experience falls in the bathroom. This is especially true when taking a shower. A non-slip bathroom mat can help prevent these accidents.
Every year there are about 235,000 accidents that occur in the bathroom for people above the age of 15. This is due to that the surface of the shower is wet, slippery, and not even. Therefore, individuals can easily slip and fall. Eighty percent of all slips are related to the bathroom getting in and out of the shower or bathtub.
It is vital that if you should have a bathtub that duals as a shower, that you place a non-slip mat on the tub's surface to prevent any slips and falls. The most serious of these accidents are shower related.
In this article we will provide information about the top selling non-slip bathroom mat that is the Gorilla Grip Mat.
What Is the Gorilla Grip Mat?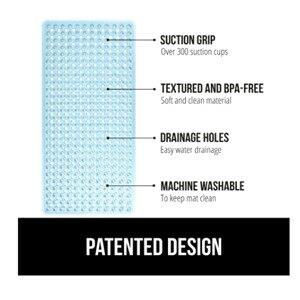 The Gorilla Grip mat is made of patented materials that are washable and fits in showers and bathtubs. It has powerful suction grip and has hundreds of suction cups (324) that will secure the mat to the tub or shower. It has drainage holes that allows water to easily flow under the mat towards the drain. This helps in preventing water to become stagnant and develop mold.
It is made of BPA-free material that is soft on the feet and flexible. It is latex free and has no toxic smell. It is also antibacterial, phthalate free, and non-toxic.
The mat is also washable and can be folded for storage and comes in eighteen different colors. After you get out of the shower hang-up the mat, so it dries.
Before using the Gorilla Grip Mat for the first time, you need to place it in the washer on gentle cycle using cold water and no bleach.
Video – The Gorilla Grip Bathroom Mat
This is a nice short video about the Gorilla Grip bathroom mat.
How Do You Clean the Bathmat?
Periodically the mat will get dirty over time. When this happens, simply place the mat in the wash machine on the gentle cycle using cold or warm water with a gentle detergent bleach and let it air dry. Do not use the dryer to dry the mat.
Or you can clean the rubber mat in the bathtub. Run the cold water so that it covers the mat completely about 1 to 2 gallons. Add 1 teaspoon of bleach to each gallon of water. Let the mat soak in the bleach water for 4 hours. Be sure to vent the bathroom.
You can use 1 cup of vinegar and 1 cup of water and scrub the mat using a brush. Or fill the tub with equal parts of vinegar and water and let the mat soak for 4 hours.
After soaking, use a brush to remove any dirt and scum that was collected during the cleaning. Rinse the mat and let it air dry.
It is recommended that you rinse, and air dry the mat after each use to remove the oily and potential slippery buildup that can occur from soaps and hair products. This also helps to prevent the buildup of any mold.
How Often Should I Replace the Bathmat?
Just like anything we use, they do not last forever. Over time it will wear and must be replaced. The rule of thumb for bathmats is every 2 years you should replace it. The reason is because of constant cleaning, washing, and wear, you will notice that it needs to be replaced.
So, replace the bathmat with a new one every two years.
Gorilla Grip Bathmat Features
Below are some of the basic features of the Gorilla Grip Mat.
Manufacture: Gorilla Grip
Colors: 18 (Clear, Beige, Black, Translucent Blue, Brown, Gray, Green, Light Pink, Navy; Charcoal, Gray, Mint, Navy, Purple, Royal Blue, Sky Blue, Turquoise, and White)
Size: 35 x 16 inches (Hexagon)
Shape: Rectangular
Machine Washable: Yes
BPA-Free: Yes
Suction Cups: Over 300
Where Made: Taiwan and China
Pros Cons of This Product
PROS
Machine Washable
Easy Water Drainage
Textured and BPA-Free
Powerful Suction Cups
Fits All Types of Showers and Tubs
Antibacterial and Mildew Resistant
Durable
Phthalate and Latex Free
CONS
Must machine wash mat before first use
Cannot be used on textured, tiled, or non-smooth surfaces
Do not use bath oils as they can cause slipping
Strong plastic smell when unboxed
Conclusion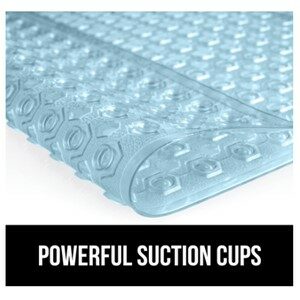 Having a bathmat will definitely help the elderly from falling or slipping in the shower or bathtub. We shared some statistics about falls in the USA that over 235,000 falls occur in the bathroom by those over the age of 15.
It is important to keep the slippery bathtubs and showers with a mat that can provide protection from falls and spill accidents.
By keeping the mat clean will uphold its fresh appearance and remove the oily and slippery build up that may occur from soaps.
The Gorilla Grip mat has 324 suction cups, so they won't slide or move during the shower. They also can be cleaned in the washer too.
Shop Gorilla Grip Bathmat & Rugs
Shop for the Gorilla Grip bathmat by clicking on the link below. You will be taken to Amazon to place the order. You can also read the customer reviews and answered questions.
We have also included links for the Gorilla Bath Rug.
As an Amazon associate, I earn from qualified purchases.
Gorilla Grip Bathmat
Gorilla Grip Bath Rugs
Go back to the Pros Cons Shopping home page.