Ninja Coffee Bar Single Serve System
Making Your Own Specialty Coffee In Your Home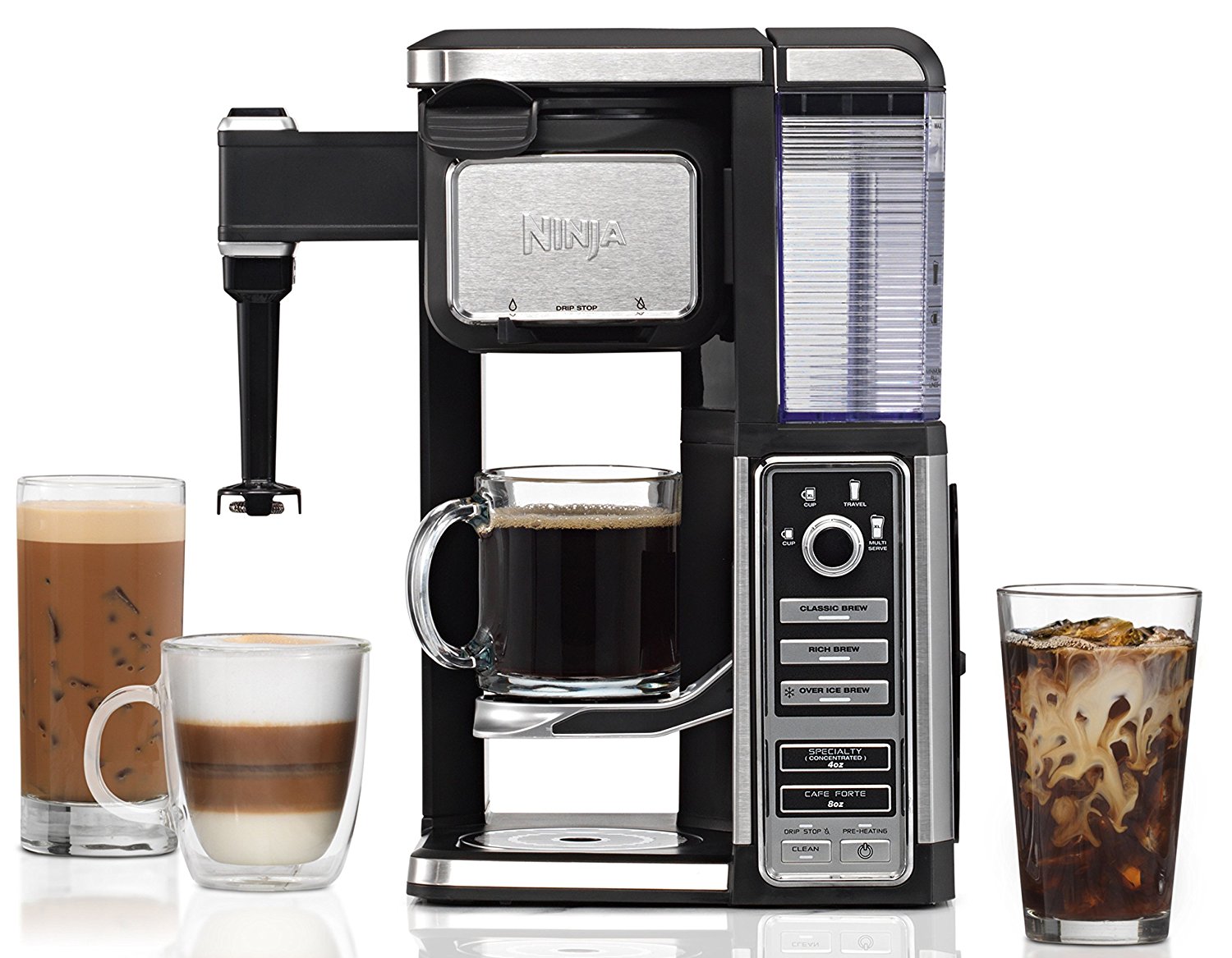 There are lots of coffee lovers that like a great tasting cup of java in the morning. Making a cup of coffee that provides some pizzazz is icing on the cake. Look no further. The Ninja Coffee Bar Single Serve System has just come to your aide to provide you with great tasting coffee at any time of the day. You can say goodbye to Starbucks because you have your own coffee system to give you great tasting specialty coffee at less cost.
This is the next-generation coffee bar that rests on your countertop to give you the type of coffee flavor to get you going off to work or school and not having to stop somewhere along the way. This model coffee bar gives you up to four different sizes to choose when making coffee: cup, xl cup, travel, and xl multi-serve options. You also can choose from five brewing types and they are: classic, rich, over-ice, specialty, and café forte.
What is nice about this coffee bar is on those very hot summer days you can brew yourself a delicious iced coffee that's not watered down. This single serve system allows you to use any brand of coffee and adjust the amount of grounds used-allowing you to achieve unlimited variety and customization of your coffee drinks.
This machine allows you to unlock the full flavor potential of your favorite ground coffee and enjoy a hot, great-tasting brew with variable levels of richness.
The unit comes with a recipe booklet with forty different coffee recipes for you to try.
You can even make hot cocoa and instant soap with this appliance by not using the coffee filter so only hot water comes out.
The coffee bar system features an integrated frother that lets you brew, froth and drink in your favorite mug. In just seconds, you can transform hot or cold milk into a silky foam topping for all your favorite indulgent coffee drinks.
BRAND:
SharkNinja
NAME:
SharkNinja Coffee Bar Single Serve System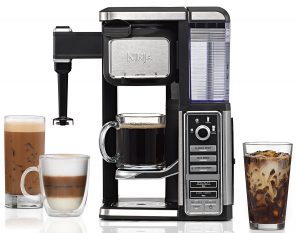 DESCRIPTION: The Ninja Coffee Bar Single Serve System provides you with great tasting coffee at any time of the day, and has the following features: 1400 Watts, 2′ Cord, 110-120V, Weighs 12 lbs., Color Black/Stainless Steel, 4 Brewing Sizes, 5 Brewing Types, Dimensions 12.2 x 11 x 16.3 inches, Permanent Filer, 1-Year Warranty, Model Number CF112.
CATEGORY: "Kitchen & Dining", "Coffee, Tea & Espresso", "Espresso Machines", "Steam Espresso Machines"
PRODUCT #: B01KA7VWXQ
REVIEW RATING: 4.3 stars, based on 620 reviews
Product Specifications
Manufacture: SharkNinja
Model Number: CF112
ASIN: B01KA7VWXQ
Color: Black/Stainless Steel
Material Type: Plastic
Dimensions: 12.2 x 11 x 16.3 inches
Product Weight: 12 lbs.
Built-in Frother: Yes, Hot & Cold
Brewing Sizes: 4 (Cup, XL Cup, Travel, XL Multi Serve)
Brewing Types: 5 (Classic, Rich, Over-Ice, Specialty, Café Forte)
Permanent Filter: Yes
Included: Measuring Scoop, Built-in Frother, 22 oz. Tumbler w/ Lid, Recipe Book
Wattage: 1400 watts
Carafe: No
Warranty: 1-Year
Product Pricing
The price of this product is provided so that consumers can compare them with other similar products.
Note: The price for this product is subject to change without notice and may not be the actual price the day you checkout.
Product Rating & Customer Reviews
This Coffee Bar System is rated 4.1 stars out of 5, by over 719 customers which is excellent.
You can read all of the customer reviews by clicking on the following link: Customer Reviews!
Questions People Are Asking
Below are some of the questions people are asking about this product.
Question: Does the cup plate have a heating element or do we need to rely on the brewing cycle to make the coffee hot? How hot can it get?
Answer: No, there is no heating element to the cup plate. You'll need to make it soon before you plan to drink it. The coffee itself should be pretty hot right after brewing, I usually need to let it sit for a couple minutes before drinking.
Question: Am I able to use paper coffee filters on this product as opposed to the reusable filter that comes with it?
Answer: Yes you can, and you would need to add your paper liners inside of the reusable basket provided.
Question: Can you use coffee pods with this (along with ground coffee) since I have a ton of Keurig pods left over?
Answer: Nope. Maybe you could open your pods and empty them in, but there is a two sided measuring scoop including telling you the proper amounts for the size cup/mug you are brewing.
Question: Does it make cappuccinos?
Answer: Yes it makes cappuccinos. It's one of the specialty drinks and then you can use the milk frother for the fluffy top.
You can also review the 217 answered questions concerning this product by clicking Here!
PROS
Five Brewing Types – Classic, Rich, Over-Ice, Specialty, Café Forte.
Built-in Frother – It transforms your milk to a silky microfoam, perfect for specialty brews like lattes, and great for adding a tasty touch to your morning coffee, hot or cold.
Advanced Thermal Flavor Extraction Technology – Ninja's patent-pending advanced thermal flavor extraction technology allows you to unlock the full flavor potential of your favorite ground Coffee and enjoy a hot, great-tasting brew with variable levels of richness.
Four Brewing Sizes – Cup, XL Cup, Travel, XL Multi Serve
Over Ice – Designed to brew fresh and hot over ice, leaving you with a refreshingly cold coffee that's never watered down.
CONS
Price.
Does not have a timer to make coffee ahead of time.
Makes only single cup or mug servings at a time.
Does not have a coffee grounds grinder.
Shop Espresso Maker
Shop the Ninja Coffee Bar Single Serve System. Click the Buy Now button below. Place your order now and be glad you did.
If you did not see your product here, enter a search term in the box below to search Amazon for other products.
Go back to the Pros Cons Shopping home page.