Make Great Tasting Juice Drinks & Smoothies Easy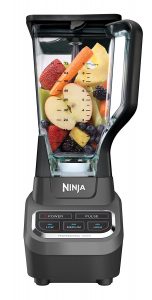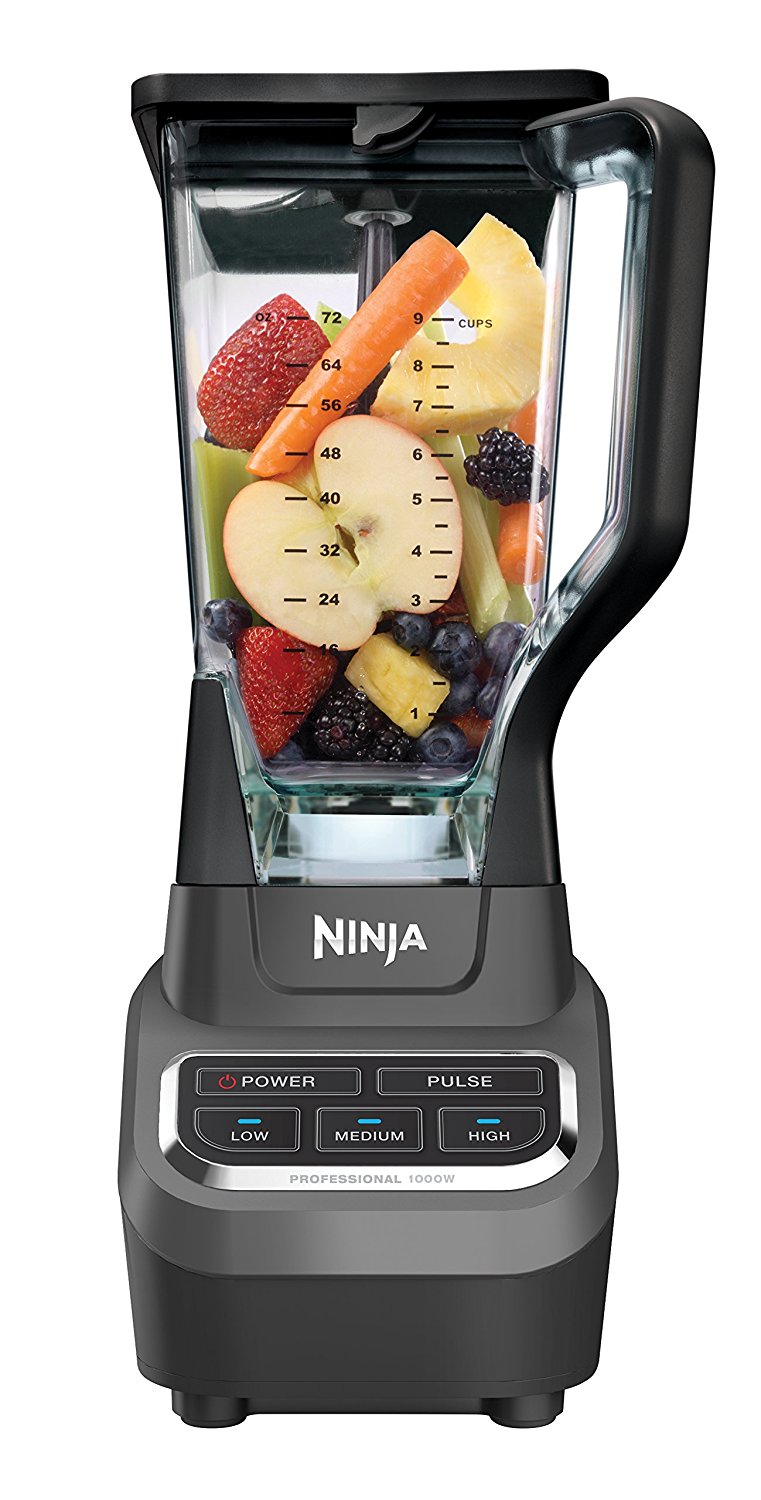 Every now and then you like to have a nice cool tasting juice drink or smoothie to hit the spot. Especially on a hot summer day. A nice quick smoothie or juice drink will provide that energy you need after coming home from a hard day's work or going to work. The Ninja Blender BL610 is just the ticket to give you great tasting smoothies and juice drinks with ease.
It has a 1000 watts of power to crush ice, blend, controlled processing, and puree for great tasting drinks for the whole family. What is nice about this model, it is BPA free and can be placed safely in the dishwasher for easy cleanup.
Another great feature it has removable blades for easy cleaning of the jar and blades. The jar holds up to 72 ounces. The BL610 has three speeds low, medium and high.
A safety feature of this model blender will not allow the blades to work or move unless the lid is locked in the proper position. This is great in preventing accidents if someone should accidently touch the low, medium or high button.
What is great about blenders is you get to choose the ingredients (fresh or frozen fruits and vegetables) that go into the machine. The result will be a great tasting and satisfying drink along with vitamins and minerals.
Ninja Professional Blender Video
Below is a short video on how this blender works. Take a look!
Product Description
The Ninja Professional Blender 1000 features a sleek design and outstanding performance with 1000 watts of professional power. Ninja Total Crushing blades gives you perfect ice crushing, blending, pureeing, and controlled processing. The XL 72 oz. professional blender jar is great for making drinks and smoothies for the whole family. All parts are BPA free and dishwasher safe.
BRAND: Ninja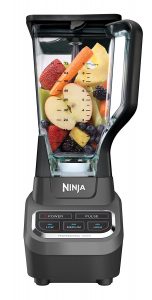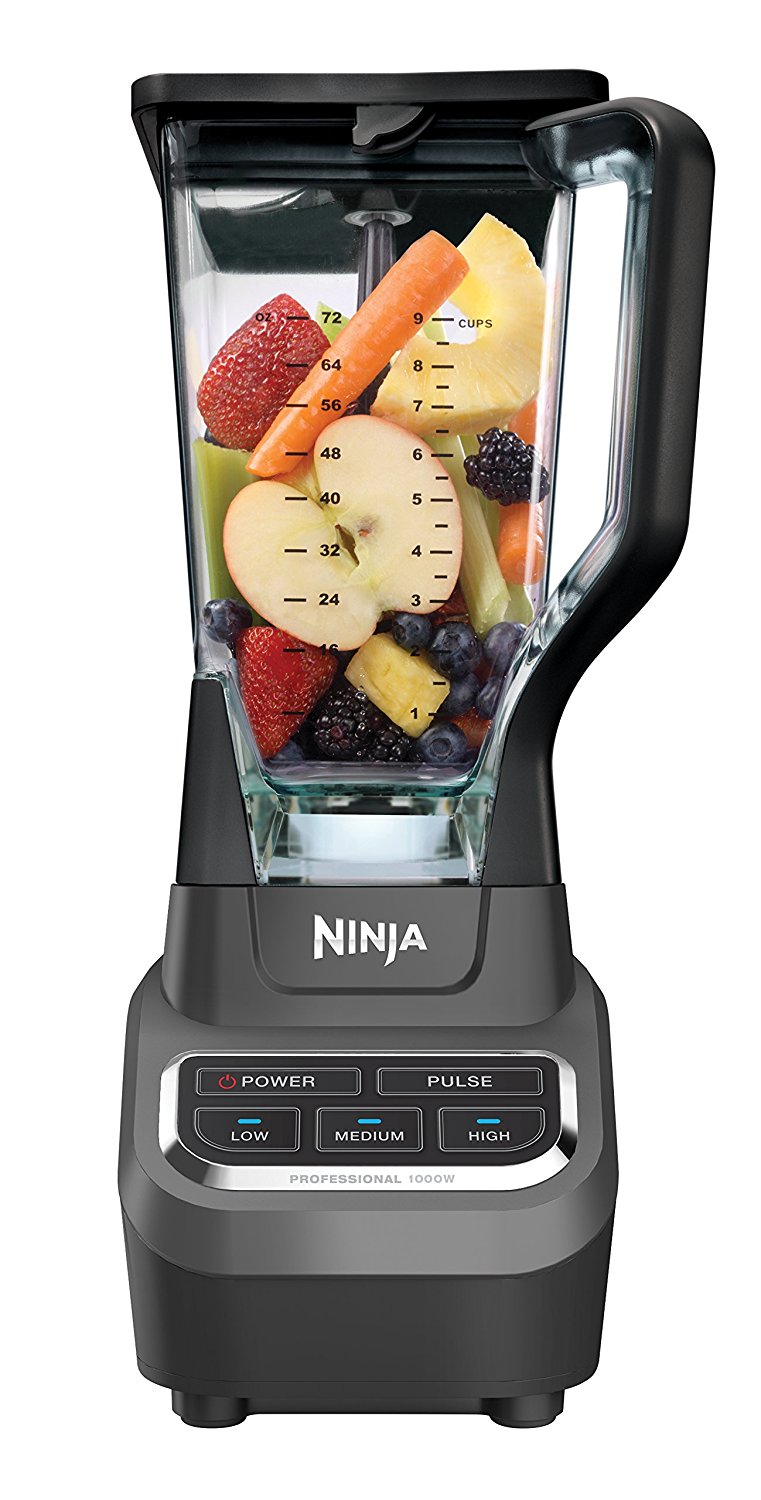 NAME: Ninja Blender BL610
DESCRIPTION: The Ninja Blender BL610 has a 1000 watts of power to crush ice, blend, controlled processing, and puree for great tasting drinks, and has the following features: 1000 Watts, 2′ Cord, 110-120V, Weighs 9.5 lbs., Color Black, BPA Free, Dimensions 10.6 x 8.2 x 15.8 inches, Safety Feature That Keeps Blades From Spinning, 72 oz. Jar Capacity, Instruction Book, 1-Year Warranty, Model Number BL610.
CATEGORY: "Kitchen & Dining", "Small Appliances", "Blenders", "Countertop Blenders"
PRODUCT #: B00NGV4506
REVIEW RATING: 4.3 stars, based on 2,105 reviews
Product Features
Model: BL610
Manufacture: Ninja
ASIN: B00NGV4506
Wattage: 1000 watts
Pitcher Jar Material: Plastic
Jar Capacity: 72 oz.
Color: Black
Weight: 9.51 lbs.
Dimensions: 19 x 10.63 x 15.75 inches
Parts: All are BPA free and dishwasher safe
Speeds: Low, Medium & High
Safety Feature: Keeps the blades from spinning unless the lid is secure
Warranty: 1 year
Instruction Book: Yes & 25 Recipe Inspiration Guide
Cord Length: 2 Feet
Base Height: 7 ¾ inches 
Product Ratings & Customer Reviews
The Ninja blender is rated 4.3 stars out of 5, by over 3,476 customers which is excellent.
You can read all of the customer reviews by clicking on the following link: Customer Reviews!  You will have access to read all of the 3,477 reviews.
Questions People Are Asking About This Product
Below are some questions people are asking about this product.
Question: What's the smallest amount of beverage this can make? Will it work if I just want 8oz of smoothie?
Answer: I have used it with 8 oz of liquid and fruits added. It worked fine.
Question: Can can you use it for hot foods and drinks? I love my smaller Ninja but I have had two small ones that cracked when blending hot coffee.
Answer: Owners manual indicates, "Do not blend hot liquids, doing so may cause excessive pressure buildup, resulting in risk of the user being burned."
Question: Does this blender good for spinach and other leaf vegetables, mostly I am planning to make green smoothies?
Answer: Yes! In fact, we purchased our Ninja for the same purpose and are very happy with it.
Question: Does this come with the smaller blade attachment that works with the cups?
Answer: No – just the pitcher with the blades inside of it. No attachments.
Question: How well does this machine crush ice for drinks?
Answer: It is great for crushing ice for smoothies and drinks.
Question: Are you able to use this blender to make baby food?  
Answer: You could definitely use this for baby food, it blends really well. With my first baby I used my food processor, I am now pregnant with my second and plan on using this to make baby food.
Question: Is the jar made of glass or plastic?
Answer: The jar is made of plastic.
You can also review the 631 answered questions concerning this product by clicking Here!
Product Pricing
Price: $73.99
Note: The price of this product is subject to change without notice and may not be the actual price you pay when you checkout.
PROS
Total Crushing Technology –  Crushes ice and frozen fruit in seconds.
1000 watts of power.
Safety Feature – Keeps the blades from spinning unless the lid is secure.
All removable parts are BPA Free.
72 oz. blender jar is dishwasher safe.
1-Year warranty.
CONS
Price.
The jar is made of plastic.
Cannot blend hot foods.
The blender is noisy during operation.
Shop Ninja Blender
Shop the Ninja Blender BL610. Click the Buy Now button below. Place your order now and be glad you did.
As an Amazon associate I earn from qualified purchases.
Go back to the Pros Cons Shopping home page.