Makes Chopping Fruits & Vegetables Easier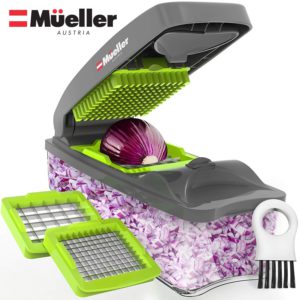 Most people in that work in the kitchen periodically have to cut, dice or chop fruits and vegetables. Do you get tired of doing this over and over again? Some people are more proficient at cutting, chopping and dicing of these foods with ease. While others struggle and would like help in this area. The Mueller vegetable chopper solves all these chopping and dicing problems you were looking for.
The Mueller Onion Chopper Pro comes with a 4-cup transparent container to hold the diced fruits and vegetables. Two extremely sharp blade attachments to dice things and a cleaning brush. The blades are made with German 420-grade hardened stainless steel that chop or dice and won't rust and stay sharp.
You can chop or dice fruit, vegetables, and cheeses all with one easy motion. Use them for salads, soups and stews. The unit is FDA Certified, and BPA Free. All parts are dishwasher safe for easy cleaning.
To assist you in dicing all types of fruits and vegetables, you get two blade attachments. One blade attachment is 6.8 mm and the other is 13.6 mm. The cutting surface of both attachments is 2.75 x 2.75 inches. It's is best to cut in halves or quarters the food items before dicing them on the machine because of the small surface.
The unit does come apart for easy cleaning by hand or in the dishwasher.
This appliance will make for a great gift for housewarming, birthday, anniversary, and Christmas. Or, for any other occasion.
This gadget comes with a lifetime warranty if you are not completely satisfied. What a deal!
Video
 Below is a short video of the Mueller Onion Chopper in action and the removing and replacing of the blades. Take a look!
Product Description
The onion chopper pro performs chopping or dicing of fruits, vegetables, and cheese. You get two (2) blade attachments for dicing and chopping. Both have a cutting surface of 2.75 by 2.75 inches. The smaller size blade is 6.8 mm and the larger size blade is 13.6 mm. You can dice tomatoes using the larger size blade attachment. Both blade attachments are interchangeable. The whole unit is dishwasher safe for easy cleaning. You can dice or chop, onions, carrots, potatoes, tomatoes, peppers and fruits. The diced or chopped material falls into a 4 cup container that is FDA Certified and BPA Free. Chopping and dicing vegetables has never been so easy. The best feature of this kitchen gadget it has a lifetime warranty.
Note: Because of the small size of the cutting surface of the blade attachments, it is advised that you cut into halves or quarters the vegetables or fruit before placing them on the chopper. Make sure that the piece being cut fits within the cutting surface.
Product Features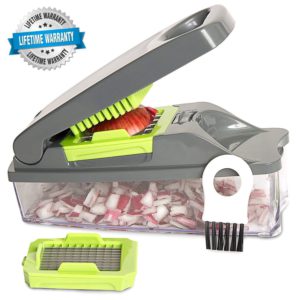 Below are some of the best features of this kitchen appliance.
Use It Anywhere – The Pro Vegetable Chopper is a non-electric appliance that you can use anywhere. It will be useful in or out of the kitchen. Since, it does not require electricity, you can use it on trips, camping, and barbecuing or anywhere you wish.
Safe To Use – When the lid is closed, the blade is covered and protected and the fruits and vegetables will be chopped or diced and stored in the convenient container that holds up to 4 cups.
Stainless Steel Blades – The 2 ultra-sharp German 420-grade hardened stainless steel blades will remain sharp and will not rust over time. You can cut the hardest and toughest vegetables like potatoes and will be easy using this appliance.
Useful Tips – When cutting fruits and vegetables make sure they are smaller than the blades' frame so you will not experience any problems trying to cut fruits and vegetables. Press the lid down in one swift strong motion, not slowly or bit by bit. Otherwise, they may stick to the blade. For cutting softer vegetables or fruits like tomatoes & peppers, use the larger 13.6 mm dicing blade. The smaller 6.8 mm dicing blade is suitable for hard vegetables and fruits. Note: Use the cleaning brush to remove any items stuck in the blades. Do not use your fingers as the blades are very sharp.
Versatile & Compact – This appliance will be very reliable in the kitchen. The tool is perfect for preparing salads, salsa, soups, stews, desserts and more. It's portable and easy to store. It will always deliver consistent results that you can see in the transparent container and easy to store.
Warranty Period – The warranty is for a lifetime. Which means it's unlimited. If you should experience any issues with your chopper just contact customer support at 1-888-632-9981, between the hours of 8 AM to 4 PM, Monday – Friday, and 8 AM to 1 PM on Saturday.
Note: Due to the sharpness of these blades, this appliance is not for children unless they are under adult supervision.
Product Specifications
Manufacture: Mueller Austria
Model Number: SYNCHKG100176
Dimensions: 10.6 x 4.6 x 3.6 inches
Weight: 1.6 lbs.
BPA Free: Yes
FDA Approved: Yes
Blades: 420-Grade Stainless Steel
Dicing Blades: 2
Dicing Blades Sizes: 6.8 mm & 13.6 mm
Cutting Surface: 2 ¾ x 2 ¾ Inches
In The Box: Vegetable Chopper, 2 Chopping Blades, 4 Cup Container, & Cleaning Brush & Instructions
Dishwasher Safe: Yes
Manufactured: In China
Warranty: Lifetime
Support: 1-888-632-9981 (M-F 8-4, S 8-1) or Email support@muellerdirect.com
Product Rating & Customer Reviews
This product is rated 4.6 stars out of 5, by over 7,347+ customers, which is excellent. We have provided a link so you to read all of the Customer Reviews!
Questions People Are Asking
Below is a small sample of the 338 answered questions about this product. Just click on the following link: Answered Questions! to read them all.
Question: What is the warranty on the product?
Answer: We offer a Lifetime Replacement Warranty and if anything happens to the product customers can reach us either at 1 888 632 9981 or email us at support@muellerdirect.com. In order to verify the purchase we will need only Amazon Order ID.
Question: Will it mince carrots & celery too? I'm reading conflicting answers in reviews/questions.
Answer: Yes it will. I put celery with the ribbed side up so it cuts through the hardest part first. You have to cut carrots at least in have length wise, but I usually cut mine in quarters. Cut in half then lay flat sides down and cut in half again.
Question: Does the container show food measurements?
Answer: No, it does not. But, it does hold up to 4 cups of chopped or diced fruits or vegetables.
Question: What are the size of the chopping surface?
Answer: 2.75 x 2.75 inches for both blade attachments.
Question: What metal are the blades made from?
Answer: They are stainless steel. This thing is amazing. I bought it around 8 months ago and it's so sharp you have to be careful. It makes cooking prep so easy and I prepped veggie soup in just minutes. It takes me longer to clean the veggies than it does to chop them up. No sign of the blades dulling either. I use it all the time and they are like razors.
PROS
It can be used anywhere.
Made with German 420-grade stainless steel.
FDA approved and BPA Free.
Lifetime warranty.
Easy to clean and all parts are dishwasher safe.
CONS
Price.
Small cutting surface.
Made in China.
Shop Mueller Vegetable Chopper Pro
 You can shop for the Mueller Onion Chopper Pro appliance by clicking on the image below. You will be taken to Amazon where you will see the latest price and can place the order.
As an Amazon associate, I earn from qualified purchases.
Mueller Onion Chopper Pro
$20.99
Dices & Chops Fruits & Vegetables
9.0/10
FDA Approved & BPA Free
9.5/10
Made with German 420-Grade Stainless Steel
9.5/10
Easy To Use & It's Dishwasher Safe
9.0/10
Pros
FDA Approved & BPA Free.
Lifetime warranty.
Easy to use and it's dishwasher save.
Made with German 420-grade stainless steel.
Blades are rust free
Cons
Small cutting surface.
Made in China.